What Everyone Wore to Kylie Jenner's 21st Birthday Party
Congratulations, Kris Jenner, for ushering your whole brood into legal adulthood.
---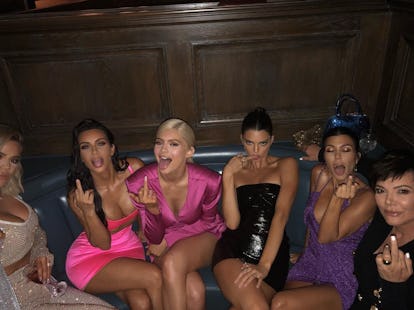 @kyliejenner
In case you missed it—you probably didn't, though—Friday, August 10 is the 21st birthday of the youngest Kardashian sibling, Kylie Jenner. First off, congratulations to Kris Jenner for ushering her brood into adulthood. Secondly, congratulations to Kylie Jenner for making up for lost time and becoming the Kardashian clan's foremost entrepreneur, despite having fewer years than the rest to do so. Kim… our condolences.
Jenner celebrated finally being of legal drinking age on Thursday evening with a Barbie-themed party at a Los Angeles nightclub, at least 12 hours before Nicki Minaj released "Barbie Dreams." Nicki… our condolences. For the occasion, Jenner incorporated a costume change, while her sisters and other party guests also didn't shy away from making a statement. (Though, of course, they were considerate enough not to upstage the birthday girl. It would have been hard to do, what with the custom Swarovski-embellished jumpsuit and all, but it was thoughtful nevertheless.) Here, take a closer look at what everyone wore to the party of the season, even though you probably haven't been able to avoid it on Instagram.
Kylie Jenner
Newly blonde, Jenner arrived in a hot pink silk dress from Peter Dundas's eponymous label, paired with Olgana Paris heels in a similar shade of mauve and a Martin Katz ring. "T-minus two hours," she captioned an Instagram of the look. Later, she slipped into a custom crystal-embellished bodysuit by La Bourjoisie, which Jenner reportedly had a hand in designing. (Okay.) That look she paired with Christian Louboutin heels in a lighter shade of pink as well as a Marzook bag. "Twenty one," she captioned that Instagram. There's a 20-year-old look, and then, there's a 21-year-old look.
Kendall Jenner
Kendall showed up to her younger sister's party in a black, strapless minidress by the Australian label Bec + Bridge paired with a Prada bag and the brand's flame heels. "We're 21 bitch," she captioned her Instagram.
Kim Kardashian
After soliciting recommendations on Instagram ("Hmmm what should I wear tonight?" she wrote on Instagram, captioning a photo taken in her decidedly-not-Barbie-toned closet), Kim eventually selected a hot pink minidress, a custom Yeezy look. The perks of having a designer in the family.
Kourtney Kardashian
In an Instagram captioned "thank you for all of my birthday wishes," Kourtney can be seen in a sparkly fuchsia minidress by La Perla with Stuart Weitzman shoes. She shared a stylist, Dani Michelle, with her newly 21-year-old sister. Last night, at the stroke of midnight, all the Kardashians turned 21.
Khloe Kardashian
"It's our 21st birthday," Khloe wrote on her Instagram, echoing her sisters. She wore a three-piece lounge-inspired set comprising a crop top, wide pants, and a robe, all in a matching sparkly material.
Bella Hadid
Bella Hadid and now-back-on boyfriend The Weeknd arrived together to the party, Bella wearing a black vest and trousers.
Sophia Hutchins
Caitlyn Jenner's friendly companions arrived in a silver slip dress by Alice + Olivia paired with Rag & Bone heels and a Gucci bag. Jenner also carried a Gucci bag—reportedly the same one that Kris Jenner accessorized her look with.
Kris Jenner
The Kardashian-Jenner matriarch wore a blazer that, as People magazine noted, looks pretty similar to a look by Olivier Rousteing's Balmain (which makes sense, given the Kardashians' relationship to Balmain) as well as the aforementioned Gucci.
Related: Go Inside Kylie Jenner's Over-the-Top 21st Birthday Party