Kylie Jenner Is Now Selling Kris Jenner Merch, Of Course
Looks like someone finally realized who is the star of the family.
---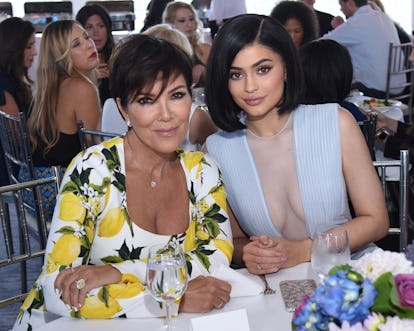 Vivien Killilea/Getty Images
Anyone who watches Keeping Up With the Kardashians is already aware that the reality TV family has a special relationship with momager Kris Jenner. Kylie Jenner's store is now profiting off that with her latest batch of merch with a white t-shirt emblazoned with a graphic of Kris sticking up her middle finger, while still looking as polished as usual in her signature black shades and Saint Laurent blazer.
The t-shirt, which serves as an expert lesson in trolling, hasn't hit Kylie Jenner's store yet, but a countdown on the website reveals we're 12 days and some change away from the next merch drop. Until then, you can see a sneak peak of the glorious item on Instagram, where the Kylie Shop has been teasing other new upcoming products like "Thick!" themed underwear, sweatpants, biker shorts, and hats modeled by the young business mogul and her BFF Jordyn Woods.
It's not surprising that Jenner chose to honor her mom with her latest merch rollout. In a recent interview with W, she admitted that Kris was her style icon. (Kendall named Audrey Hepburn.) "We like raiding our sisters' and mom's closets to get inspired," Kylie added. And she's been caught red-handed doing just that. Last summer Kris called out her daughter on Instagram after she noticed Kylie dug out an old swimsuit of hers. "Ohhhhhhh so THIS is where my vintage Body Glove bathing suit went!!!!," she wrote on Instagram. "@kyliejenner you are grounded! Wait, I can't do that anymore you're 18….#whoworeitbetter #80's #whoknewyouwouldlikemyoldstuff #recycle #love #mexico #acapulco1989"
Knowing the family matriarch, Kylie is probably laughing all the way to the bank.
Watch Kendall Jenner and Gigi Hadid recreate iconic pieces of performance art: