Kylie Jenner Says She Wants Another Baby, But She's "Not Ready Right This Second"
She's already thinking about Stormi's future little siblings.
---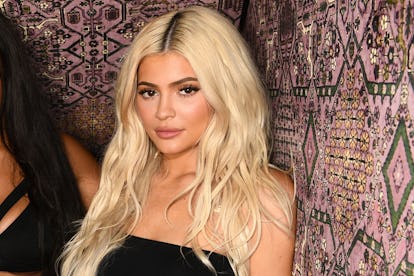 Getty Images
Over the weekend, Kylie Jenner revealed that she's already considering expanding her family with Travis Scott, in a Q&A she and Jordyn Woods conducted on Snapchat. But before you start prepping yourself for another nine months of radio silence from the makeup mogul—and nine months of wild speculation from everyone else—Jenner also assured everyone that, the next time around, she'll be much more open about her pregnancy with her fans and followers.
"Am I going to have another baby?" Jenner mused in one snap, according to BuzzFeed. "I want another baby, but when is the question. I'm definitely not ready right this second. And I don't know when it will be, but when I do, I'd love to share more of that with you guys." She went on to share that she's hoping she can give Stormi Webster a little sister. "Have I thought of baby names for my next baby? I have, but I haven't found anything that I love love. But I definitely want another girl, hopefully, and I want her to have a really feminine name. That's all I know," she said.
Earlier in the Q&A, the new mom opened up about her first born's personality, which she described as a mix of Kendall Jenner and Travis Scott's own personalities. "She is just like her dad, but she does look like me, so…" Jenner said, then added, "She is obsessed with her dad. They have this crazy connection and she's definitely a daddy's girl. It's cute to watch. When Dad's around, I'm not even there. It's like she doesn't even see me."
Jenner has also been sharing more photos and videos of Stormi online lately, following a brief break during which she deleted all posts showing her daughter's face after receiving offensive comments on those posts. Following the Q&A, she uploaded several videos of her kissing and feeding Stormi on her Snapchat Story, and posted a set of cuddly photos on Instagram in honor of Stormi turning 8 months old. "My little princess hit 8 months last week and i couldn't be more happy and sad all at the same time," she captioned the latter.
Related: Kylie Jenner Gave Stormi a Tiny Bracelet That Cost More Than a New iPhone