Life of Kylie Is Not Kylie Jenner's First Enviable Success, So Why Are Her Sisters Jealous Now?
An appreciation of 19 years of entrepreneurial spirit and "realizing stuff."
---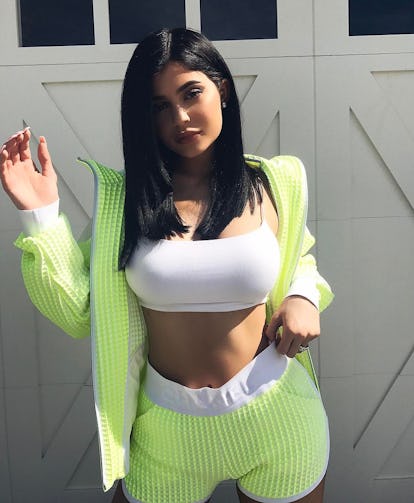 @kyliejenner
Kylie Jenner, beauty magnate, reality television star, and famed realizer of stuff, is getting her own series. Life of Kylie, the new E! show slated to premiere this summer, is the first Keeping Up with the Kardashians spinoff to focus on the youngest Kardashian — while her sisters have already had several short-lived parallel series like Kourtney and Kim Take Miami and Kourtney and Khloé Take Miami because, apparently, the eldest Kardashians are interchangeable when it comes to reality television. Jenner made some cameos in her siblings' spinoffs, but the new series will center its attention squarely on Jenner, the CEO of Kylie Cosmetics, who will also executive-produce the series. It's perhaps for this reason that the news of the spinoff series has sparked some envy among the sisters: "Overall, everyone is really happy about it," an anonymous source told People magazine earlier this week. "But of course, there's some jealousy that comes along with all the attention that Kylie is getting." There's a lot to envy: The multihyphenate beauty mogul is also best friends with such ladies like Simi and Haze Khadra, Justine Skye, and Hailey Baldwin. She's a music video star, model, acute business mind, and all-around media sensation. Even when she attends prom, it launches a thousand headlines.
And though we have some healthy skepticism where tabloid rumors are concerned (even if they do come from the more respectable People), when Jenner posted a throwback photo with her elder sister for National Siblings' Day, Kendall declined to return the favor. (That, of course, could also be because she's gone Instagram-dark in the wake of that Pepsi ad.) Kim, too, has been relatively quiet on the social media front, though as more time has passed since her harrowing robbery she has reemerged into the spotlight. All this has left quite a void for Jenner, the most entrepreneurial of the bunch (no offense, Khloé), to accede to the limelight. A reality show seems a good medium.
Still, why the rumored jealousy now? Kylie Jenner has had her share of envy-inducing successes in her brief 19 years, though not infrequently, they were collaborations with her siblings. In 2011, she partnered with OPI to produce a few exclusive nail colors, as did her elder sister Kylie; they each earned six figures for their efforts. By 2015, Kendall + Kylie achieved liftoff, debuting in Topshop in June. Two months later, though, Jenner struck out on her own, launching Kylie Cosmetics in August 2015. And that's where Jenner's personal fashion-world domination really got underway.
The Music Videos When Jenner began dating the rapper Tyga in 2014, it was only a matter of time before she started appearing in his videos, too. (Music video stardom is practically a prerequisite for any aspiring model-slash-whatever.) She made cameos in "Dope'd Up" and "Stimulated" in 2015 — and those weren't even her first video appearances. Then, late last year, she and Tyga broke the internet in their own way (giving credence to some theories that Kylie is the new Kim) with a steamy new video shot by Jenner's go-to photographer Sasha Samsonova. But no matter: elder sister Kim has also been a music video muse, appearing as far back as 2007 in Fall Out Boy's "Thnks Fr Th Mmrs."
The Novel In 2014, Kylie and Kendall Jenner co-wrote a novel, ghostwritten by an author named Maya Sloan. The science fiction-slash-dystopian young adult novel earned middling reviews, and the Jenner sisters' burgeoning authorial careers were soon scrapped in favor of more glamorous endeavors.
The Lip Kit In August 2015, Jenner announced she would be releasing a self-branded lipstick line in the fall, which quickly became the beloved Kylie Lip Kit. Lip Kit drops have become as hotly anticipated as any sneaker release, only drawing beauty aficionados in lieu of sneakerheads.
… And Then, the Cosmetics Line The Kylie Lip Kit was just the start of Jenner's biggest triumph to date: helming her very own beauty empire. The Lip Kit became such a success, Jenner soon expanded to release "Kylighter," a highlighter, and then, at the end of 2016, she broke ground in Los Angeles, opening a brick-and-mortar Kylie Cosmetics store, albeit temporary. Not content with this fast ascent, she then set her sights on the east coast, launching a Kylie Cosmetics pop-up in New York City in February 2017. Sure, she was nice enough to collaborate with Khloé on a few shades of lipstick, but this success has solely belonged to Kylie.
Last year, Jenner became the object of some mockery when she released a video in which she summed up 2016 as the year of "realizing stuff." And "realizing things." Yet with all she's realized, it's about time she had her own show. (Especially considering KUWTK ratings have been flagging in this, its 13th season.) But it's also perhaps to be expected that, as the capstone of several years in which Jenner has been unstoppable, the other girls might feel a little left out.
Related: Exclusive Video Premiere: Kylie Jenner's Christmas Gift to You Comes Already Unwrapped
Kendall Jenner gets real in a new video: