Platinum Status
Platinum Status La Prairie discovers promising skincare benefits in a precious metal.
---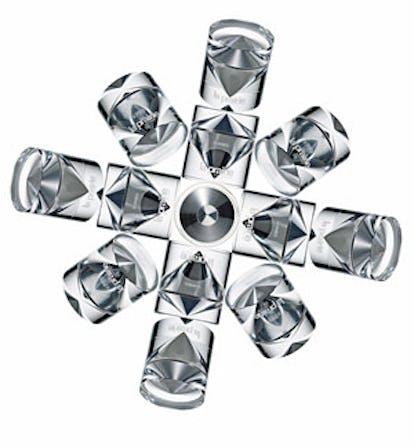 In the highly competitive beauty business, brands are in a never-ending contest not only to best one another but also to one-up themselves. If last year's moisturizer contained hyaluronic acid, this year's version must add stem cells to the mix. If yesterday's eye cream promised to erase lines in four weeks, today's must deliver results in three. A prime example is La Prairie, which last year debuted Cellular Radiance Concentrate Pure Gold, a serum laced with a micronized version of the precious metal. Now the company is upping the ritziness factor with Cellular Cream Platinum Rare, a silvery-hued soufflé of a moisturizer that contains the prized material better known for its use in multicarat engagement rings.
Over the years platinum has been used to commemorate hit records and to wire pacemakers and spaceships. The idea that it could also fight wrinkles was pioneered recently by Jacqueline Hill, a chemist at the Centre de Recherches Biocosmétiques, a Swiss lab that develops formulas for a number of skincare brands. The skin, explains Hill, has an ionic buffer zone that holds in moisture while protecting against free radicals and other damaging forces. One side of this zone is made up of positively charged electrons, while the other side is composed of those with a negative charge. When the balance between negative and positive is out of whack due to exposure to pollution, sun damage or stress, the buffer can't do its job properly, leaving skin both dry and more vulnerable. In 2006 Hill and her team came up with the idea of applying negatively charged particles of platinum to correct the problem. "Platinum re-established a good electrolyte balance, improving moisturization and helping protect the skin," she says.
The story of how Hill's colloidal platinum water—basically a mixture of negatively charged platinum and H2O—ended up in La Prairie's new cream is the beauty world equivalent of "Who's on first?" In a meeting with CRB's chemists, La Prairie's president, Lynne Florio, told them she was looking for "the platinum standard in a product," meaning the best of the best. Their response: "We have platinum." Says Florio, laughing,"It was kismet!"
In addition to platinum, Cellular Cream Platinum Rare boasts a bevy of other moisturizing and antiaging ingredients, including an antioxidant extract from malachite, the anti-inflammatory resveratrol, peptides that prevent glycation (a cellular process that hardens collagen) and a blend of hydrators that La Prairie is calling a "moisture matrix." According to Hill, the ingredients in this matrix work together to measure the humidity of the air and then provide skin with the appropriate amount of moisture. Platinum, however, gets star billing—not that everyone is convinced of its skin-saving powers.
"Although some precious metals are used in medicine as anti-inflammatories, they require large amounts to be effective," says New York dermatologist David Colbert. "Platinum is a very stable precious metal that can act as an antioxidant, but its use in a skin cream in nano amounts is unlikely to exert any visible effect on skin."
Hill disagrees. "Even if you put colloidal platinum alone on your skin, you'd be giving a great benefit to it," she insists. "And the other ingredients in the cream make the platinum work even better than it would alone."
As one would expect of a product that contains actual platinum, Cellular Cream Platinum Rare is pricey, with 1.7 ounces retailing for a whopping $1,000. While it's not the most expensive jar of moisturizer on the market—La Mer offers an industrial-size 16.5-ounce tub for $1,350—it is the most expensive per ounce. But Patricia Saxby, Bergdorf Goodman's vice president for cosmetics, doesn't think that La Prairie loyalists will mind forking over four figures. "La Prairie is very on top of the latest technology, and the consumer knows that," she says. "We believe it's a product that's going to live up to their expectations."
Meanwhile, Florio and her team are already searching for the next posh potion, which begs the question: How will they out-luxe platinum? Can a Bentley be micronized?