Surprise: Lady Gaga and Bradley Cooper's "Shallow" Is Probably Going to Be Nominated for an Oscar
The A Star Is Born Oscars campaign is under way with a push for "Shallow" and two other songs from the soundtrack.
---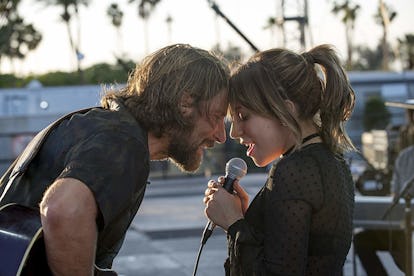 Courtesy Warner Bros.
Last week, in a café on the other side of the world in South Korea, "Shallow," a song most people will associate with the perfect and infinitely meme-able trailer for A Star Is Born, was playing over the stereo. It's not clear what role a song's ability to soundtrack a snack bar in Seoul, or anywhere, for that matter, plays in the Academy Awards nominating process, but it felt relevant to share given that "Shallow" is one of the three songs the powers that be at Warner Bros. have put forth for Oscars consideration.
On Monday, the Warner Bros. 2018 site—a website dedicated to the studio's Academy Awards campaigns for A Star Is Born, Crazy Rich Asians, and Ready Player One (??)—revealed the categories in which it hoped the film would compete. Naturally, this included Best Picture, Best Director (Bradley Cooper), Best Adapted Screenplay, Best Actor (Cooper again), Actress (Lady Gaga), and Supporting Actor (Sam Elliott)—as well as not one but three of the Gaga-penned songs that figure in the movie's soundtrack: "Shallow," "Always Remember Us This Way," and "I'll Never Love Again."
It's been sort of in the ether that A Star Is Born is almost certainly going to bring Gaga one step closer to EGOT; she's only won the "G" part of that acronym—six Grammys, in fact—but an "O" seems well within reach, given she might be up for the honor not one but three times. (Though Warner Bros. has offered up three songs for the Academy Awards, just two from any one film can be nominated. And then there's the Best Actress prize.)
Apologies in advance to "Why Did You Do That?"; the butt song might have been Ally's breakout single, nabbing her a spot on SNL, but it won't be the one that secures Gaga her Oscar. It elicited some confusion over whether it was supposed to be good or supposed to be bad or both or neither. But what does that matter when Diane Warren, who contributed lyrics to the track and who was nominated for an Oscar alongside Lady Gaga in 2016 for "When It Happens to You," stands behind it wholeheartedly?