Even Lady Gaga Can't Tell Isla Fisher and Amy Adams Apart
To be fair, she's not the first to mistake the two actresses.
---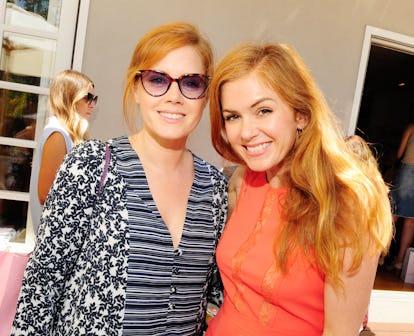 Amy Graves
Amy Adams is not Isla Fisher, and Isla Fisher is not Amy Adams (and for the record, neither are Jessica Chastain or Bryce Dallas Howard, who are also not each other). Though, the two redheaded actresses do look quite a like, and apparently some have trouble telling them apart. Even fame-obsessed Lady Gaga. In fact, one time at the Vanity Fair Oscar party, the singer complimented Fisher on Amy Adam's nominated role in American Hustle.
It was Fisher (not Adams) who told the tale of mistaken identities last night on Jimmy Kimmel Live!
"I'm excited, all dressed up at the bar, and schmoozing with showbiz types," recalled Fisher. "And the crowds parted and there was Lady Gaga, and she's heading right towards me. And she says, 'Thank you, your performance in American Hustle, Amy, was…"
"So, I just gracefully thanked her and bowed my head," continued Fisher.
Somehow, it only got more awkward from there.
"And I'm thinking, 'I don't want to be a liar,' and then I look over her shoulder and there's Amy Adams walking into the party," said Fisher. "So I'm like, 'There's Isla Fisher.'"
Sadly, Fisher did not take the opportunity to tell Gaga how much she loves "Genie in a Bottle," and that she thought Bionic was just too far ahead of its time for the general public to appreciate.
Though, such confusion isn't new for Fisher. Last year she admitted that she decided to cut and paste Adam's face onto herself for the family Christmas card she shared with husband Sacha Baron Cohen and their three children.
"No one noticed," she told the Today show. "Everyone was like, 'Oh, your card was so cute.' I was like, 'It was a joke. It's not me, it's Amy!'"
Of course, if you happen to be a world-famous pop star or someone of such stature who happens to encounter either Fisher or Adams at some place like the Met Gala or a Golden Globes party and can't decide which one she is, you could just open the conversation by complimenting her performance in Tom Ford's Nocturnal Animals. Both appeared in that one (though, they didn't share scenes).
That should be an easy fix. Unless, of course, it turns out you're talking to either Chastain or Howard. In which case you can back it up and say, "Did I say Nocturnal Animals? Whoops, I meant The Help, and you were wonderful in it." Though, maybe at that point you should just cut back on your complimentary champagne and think about heading home.
Related: Amy Adams, Self-Described Wallflower, Tried (and Failed) to Live Like the Impeccable Tom Ford
Isla Fisher Amy Adams Imitated Tom Ford in 'Nocturnal Animals' and He Didn't Even Notice: