Gaga Me With A Spoon
What happens when Lady Gaga invests in a hopelessly unhip Manhattan eatery? Celia McGee tucks in.
---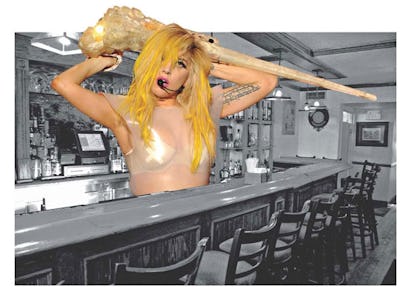 It's when she comes into the restaurant "in one of her getups where she's not wearing many clothes," says Vince & Eddie's owner Peter Digiuseppi, that he steers Lady Gaga away from her preferred perch at the bar. "Come sit with me in the back, Stef," he tells the seventh most powerful woman in the world (per Forbes)—meaning the cozy, secluded Yellow Room of the Upper West Side institution, which has been serving Italian-American fare since 1989. This year is different, however. Digiuseppi and his son, Eric, recently took on as co-owners Gaga's parents, Joe and Cynthia Germanotta; Stefani Joanne Angelina Germanotta is—talk about out of character—a silent partner.
Silent also in the sense, Cynthia says firmly, that "we never speak for our daughter." But now, suddenly, much about Vince & Eddie's does. "When she's in town she likes to come here with her friends," Cynthia acknowledges, "because it's very homey and very private. She'll come here on her time off." Scholars of Gagahood have noted several shout-outs to the restaurant on her Facebook page and website. Then there were the Monster Ball ticket lotteries that only Vince & Eddie's diners could enter.
Cynthia and Joe are seated at their regular table—the one opposite the framed reproduction of Edward Hopper's Tables for Ladies. "We've been coming here for around five or six years," Joe says. "A group of us from the neighborhood started gathering in the afternoons for a glass of wine—our friends are mostly writers and artists—and we came a lot as a
family." Their younger daughter, Natali (the girl in the big glasses in Gaga's "Telephone" video), chose the eatery for her high school graduation party. "Then Stef had a large party here with her management, and I decided this might be a good time to get involved. I always wanted to own a restaurant."
"He's being modest," says Cynthia. "He has a degree in restaurant and hotel management. This is letting him dip his toe in the water."
Among the dishes Digiuseppi prepares, the Germanottas each have their favorite—"Joe and Cynthia like my chicken Scapariello," he says. "Gaga, the chicken Milanese and the crab cakes." Digiuseppi also mans the bar up front. Does Gaga have a signature cocktail? "No." What does she order? "Jamesons." But he's up on his Lady arcana. "Did you see that someone bought her meat dress the other day?" he asks Eric during an afternoon break. "I wonder how much they paid." As for her music, despite his allegiance to doo-wop, he concedes: "She can really pound it, that's for sure. She's a sweet girl."
She's sweet even to the "little monsters" who recognize her in her hideaway, "especially the young ones," Cynthia says. "They're around six or seven. But she loves all her fans. They're her greatest love; they're her family." And they're not fooled by her dressing down—
because she doesn't. "She's always in her regalia," her mother says.
Some approach the bodacious barfly for different reasons. "We were here the other night," says Joe, "and a lesbian couple having dinner with their new baby came over to thank her for everything she's done [on behalf of gay rights]. It was great."
While the new co-owners haven't changed anything—besides a fresh coat of paint, new carpeting, and a brochure with a snappy new
Vince & Eddie's logo—a younger crowd is definitely showing up. Tuesday is the night of choice. "At first it was because the ticket drawings were on Tuesdays," Joe explains, "but then they just started coming anyway and bringing friends." Lincoln Center, and more to the point, the AMC Loews Lincoln Square megaplex, is around the corner, and a number of private schools are within cab-sharing distance. Natali is a freshman in fashion design at Parsons The New School for Design in Greenwich Village, further upping the downtown contingent. "They like all the nooks and crannies," Cynthia says. So do lunchtime habitués like Howard Stern and Beth Ostrosky Stern and well-known faces from nearby ABC. As with Gaga, "I tuck them away out of sight," Digiuseppi says. "Though when Beth is here, she likes to eat in the garden."
Since Vince & Eddie's remains popular for birthdays, bar mitzvahs, parties, and weddings, the Gagasphere is free to speculate about whether Gaga will someday tie the knot at the restaurant. The Germanottas already celebrate Thanksgiving and Christmas here. "We think it's a hidden jewel," says Joe.
Lady Gaga: Kevin Mazur/Getty Images; Vince & Eddie's: Hannah Whitaker