Princess Diana's Niece Lady Kitty Spencer Landed a Bvlgari Campaign
Fashion savvy clearly runs in the family.
---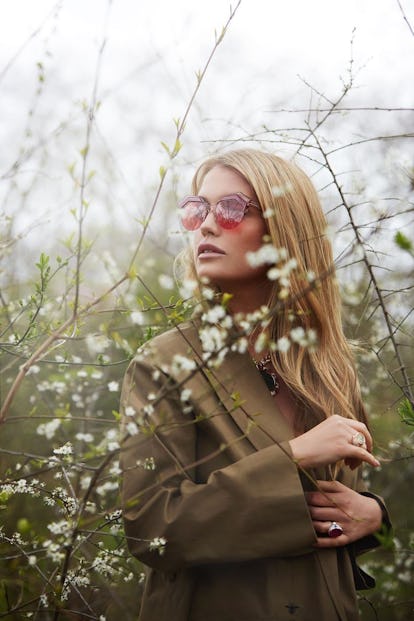 Bvlgari
As if there was any doubt that Princess Diana's niece Lady Kitty Spencer inherited her fashion savvy, her latest gig confirms it. The 27-year-old, who emerged as one of the best-dressed guests at her cousin Prince Harry's recent wedding to Meghan Markle, has just landed her first major fashion campaign.
Spencer has been tapped by Bvlgari to serve as a brand ambassador, which she announced with a peek at the campaign's stunning images. "It is an immense honor to be working with the most iconic Italian jewelery brand in the world," she wrote on Instagram, where she shared photos for the brand with her 375,000 and counting followers. "Bvlgari has always been synonymous with creativity, heritage, beauty, and glamour. I am, therefore, very excited to be part of the Bulgari family, as it means experiencing their passion and magic firsthand."
In the photos, Spencer stuns in pieces from the jewelry brand, showing a range of looks, from bohemian-vibe (in the photo at the top of this story) to formal, where she wears a diamond-laden serpent necklace and a gold gown. "So proud of this role with @bulgariofficial," she wrote in the caption of one photo where she wears a white blouse with her long, blonde waves flowing.
While the campaign is Spencer's largest one so far, this isn't her first time serving looks for a high-fashion brand. Back in February, she walked the runway for Dolce & Gabbana's fall 2018 Milan show. "What a DREAM ✨? Walking for @dolcegabbana in the #DGSecretDiamonds Show ? I love you guys so much, thank you for having me ?," she wrote.
Of course, three months later Spencer famously wore Dolce & Gabbana once again, this time to Prince Harry and Markle's nuptials. For the event, she wore the brand's hand-painted Alta Moda dress with a custom hat from Philip Treacy. The look was in line with how she described her style to Vanity Fair, as taking inspiration from Mad Men matriarch Betty Draper. "I'd wear that every day if I wouldn't get looked at strangely on the street, but it's absolutely the style I love—just the classic, feminine 50s style," she said.
While she's already lined up two modeling jobs, Spencer also shared that she's easing into the fashion world with a master's degree in luxury-brand management that she wants to "put to good use." "I have a relaxed attitude toward [modeling]," she told Vanity Fair. "I appreciate that it takes me to new places and you get to dress up and wear beautiful things and live in a little bit of a fairy tale for a day." Then again, when you're Princess Diana's niece, your whole life is somewhat of a fairy tale.
Related: Meet Lady Kitty Spencer, Princess Diana's Niece and Aspiring Royal Newsmaker
Princess Charlotte and Prince George Are the Ultimate Kid Jet-Setters
Catherine, Duchess of Cambridge, Prince William, Duke of Cambridge, Prince George of Cambridge and Princess Charlotte of Cambridge depart Victoria on October 1, 2016 in Victoria, Canada.

Getty
October in Victoria, British Columbia, can be a bit chilly, and young Princess Charlotte demonstrated that she knows the art of layering. Trading white ankle socks for warmer tights, the little Princess paired a burgundy cardigan over a floral printed dress (a signature of hers!) with of course, matching Mary-Janes.

Getty
Princess Charlotte of Cambridge and Prince George of Cambridge look out of the window of the plane as they arrive at Warsaw airport during an official visit to Poland. Prince George wears a blue and red checked button down shirt for his arrival in Europe.

Getty
A few days earlier, the young royals arrived in Warsaw, Poland, which was the first leg of their royal tour.

Getty
Prince George may be past his terrible twos, but the young royal did not seem as eagar as his younger sister to practice his royal wave and shake hands with German diplomats. However, he still looked the part by wearing on of his go-to pairings, a button-down shirt tucked into shorts, worn with a belt and black shoes.

Getty
Duchess Catherine looked fresh and lovely in an all-white ensemble, while Princess Charlotte stole the show in a red printed high-waist dress, with little white socks and red mary-jane shoes.

Getty
Last fall, the young royals performed had their first overseas adventure, accompanying Mum and Dad on an official Royal Tour of Canada. Charlotte's bow was a sweet touch, while Prince George's knee-socks were the perfect accessory for a growing toddler.

Getty
In Canada on her first Royal Tour last fall, Princess Charlotte received her first lessons in the royal wave, while dressed in a blue printed dress, white ankle socks, and blue mary-jane shoes.

Getty
The royal family is currently touring Germany, with stops in Berlin, Heidelberg, and Hamburg. Here, Prince William, little Prince George, Duchess Catherine, and Princess Charlotte arrive in Berlin to a red carpet welcome.

Getty
Prince George and Princess Charlotte arrive at Berlin's Tegel Airport during an official visit to Poland and Germany on July 19, 2017 in Berlin, Germany.

Karwai Tang
Duchess Catherine holds the hands of her two children, and walks with the young royals down the red carpet. She may have opted to dress Prince George and Princess Catherine in matching shades of blue in honor of Germany's flower, the cornflower.

Getty
Prince George and Prince William, Duke of Cambridge arrive at Warsaw airport ahead of their Royal Tour of Poland and Germany on July 17, 2017 in Warsaw, Poland.

Karwai Tang
Prince William, Duke of Cambridge, Catherine, Duchess of Cambridge, Prince George of Cambridge and Prince William, Duke of Cambridge arrive at Berlin Tegel Airport during an official visit to Poland and Germany on July 19, 2017 in Berlin, Germany.

Franziska Krug
Prince George, Princess Charlotte of Cambridge and Catherine, Duchess of Cambridge coordinated in pastel pinks and purples before departing from Hamburg airport on the last day of their official visit to Poland and Germany on July 21, 2017.

Karwai Tang
Prince George boards the helicopter in a button-down shirt and shorts.

Samir Hussein
Prince George, Princess Charlotte of Cambridge and Catherine, Duchess of Cambridge coordinated in pastel pinks and purples before departing from Hamburg airport on the last day of their official visit to Poland and Germany on July 21, 2017.

Pool/Samir Hussein