Big Wave Surfer Laird Hamilton Works Out for Three to Six Hours a Day
World famous surfer Laird Hamilton is hosting a health and fitness retreat at The Surf Lodge in Montauk this weekend. Here, he shares his workout and diet tips.
---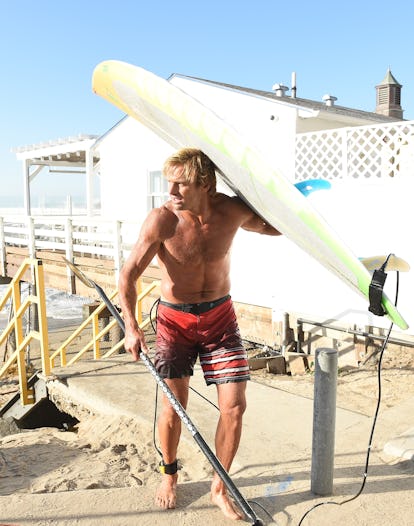 Photo by Jason Merritt/Getty Images.
At 52 years old, big wave surfer Laird Hamilton still spends between three and six hours a day working out. For anyone looking to replicate his regime, Hamilton – alongside his wife, former professional volleyball player Gabby Reece, and strength and conditioning coach Brian Mackenzie – will host a three-day XPT retreat (the fitness and lifestyle program developed by the three world class athletes) at The Surf Lodge in Montauk this weekend. From stand up paddle boarding, to breathing exercises and circuit training, it might be the perfect way to get that summer body back on track. Can't make it? Here, Hamilton shares his exercise routine, diet, and grooming essentials.
How often do you surf? It depends on the season. I'm not, like, every single day I have to go surfing. The main thing is, if I'm not in the ocean or on the ocean, I need to be looking at it. Sometimes in the wintertime we can be in the water for six hours straight. And during that time, we'll ride as many waves as some people ride in a month, or a couple of months.
Aside from surfing, what does your exercise regime involve? I have a pretty diverse fitness program in general. I do everything from eye training – if that counts as fitness – to a lot of balance work, flexibility stuff, yoga. All kinds of different breathing methods. I lift weights, I do thermos regulation, which is like ice and heat training. And then I have some programs like my pool work that's kind of a brand of training that I've developed myself.
Do you work out every day? I do. I try to take a day of rest just because it's actually healthier for the system and you can work harder when you're well-rested. Otherwise you're undermining it by overworking, which is what most people do. But even on those days I'll do some lighter activities or I'll do some ice and some heat just for therapy.
How long do you work for? It varies. This morning, I just did a bunch of different breathing stuff. We did it for an hour and a half. Then I was in the water for three hours–so that's four and half hours already. And then there will probably be another activity this afternoon. It could be anywhere from three hours to six hours on any given day. Earlier in the week you have a tendency to work a lot more, and then later in the week, from the accumulation of effort, you kind of have the tendency to taper off a little bit. I try to listen to the body, and use it as a barometer. When you feel strong and have energy you work hard and work long, and when you don't, you work less and take care of your system. I've learned that as I've gotten older.
Your wife, Gabby Reese, is a professional volleyball player. Do you work out together or with your kids as a family? We may all go ride bicycles together. Or a lot of times we'll do stuff at the beach or we'll all swim. The pool might be one of the most consistent things we all do together. I lift weights in the pool or swim with weights, do pool training. The girls participate in the pool training system that I developed. The pool's not for hanging out, and it's not for laps. You'd kill me if you made me swim laps. I need a little more action than that. My girls usually want to go in things that go fast–jet skis and ATVs and that kind of stuff…that's their idea of fun.
What's your diet like? I have a pretty high-fat diet. And I have a whole line of coffee products. So I like caffeine and fat, and that's what I start my day with. My first meal of the day is a larger meal, and that will consist of protein and veggies and stuff like that. I've minimized my fruit and sugar, and no pasta, no wheat, no grains. I usually eat nuts and seeds when it comes to that category. Mainly, it's lots of vegetables and all different kinds of proteins.
Do you have a go-to snack for when you feel like cheating? I go for macadamia nuts or cashews, because of the fat. Because I don't eat a lot of sugar, I don't have a big sweet tooth. My friend has a giant date farm, so I might eat a couple dates that I get from him. But if I get a sweet tooth, a date will suffice.
What are your favorite healthy spots in Malibu? My friends have a nice health food chain of stores called SunLife. I go there for smoothies and stuff like that. And then another friend of mine has a restaurant called Ollo, which I go to as well.
What are your grooming essentials? I only use non-fluoride toothpaste, so my favorite toothpaste is Weleda. Dr. Hauschka is one of my favorites, I only use his lip stuff. I use some Epicuren lotion. And I have these incredible Plackers Twinline Flossups which are the best floss tools in the history of flossing. I don't use a lot of hair stuff. I use coconut oil; I eat a lot of coconut oil, and I use coconut oil on my skin, probably not as much as I should. And then I use Dr. Bronner's, which is a castile soap.
What product do you always keep in your surf bag? Holocuren Miracle Lips.
Watch W's most popular videos here: