L'Amour Fou: Yves Saint Laurent and Pierre Bergé
Just six months after the death of Yves Saint Laurent in 2008, Pierre Thoretton began filming what he thought would be a documentary about the homes and collections of the legendary designer and his partner...
---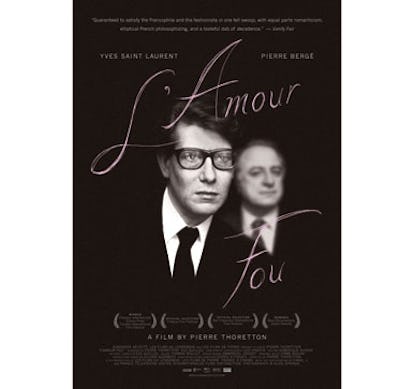 It took Bergé one week to consider moving the film in a new direction—a far more personal direction—but he agreed. The result is a startlingly poignant and intimate portrait, L'Amour Fou, narrated by a stoic, but still visibly saddened Bergé. It uncovers a fiercely creative, though "pathologically shy" Yves (as Bergé characterizes him during his eulogy), but possibly more importantly, it is a moving and honest portrait of love and letting go.
The film follows Bergé as he arranges to auction off the countless treasures that the couple had accumulated during their decades together. There's the set of vases they found together while walking their dog, the abstract Constantin Brancusi sculpture they both fell for, the Mondrian painting that inspired YSL's famous 1965 collection, "I never would have expected to own one. It belonged in the realm of dreams," he says wistfully.
Through awe-inspiring footage of their homes and objets, archival footage, and the present-day story of the pending Christie's auction, audience is let in to the lives of these two brilliant, somewhat enigmatic figures. There are enough flashy montages of runways, parties, and famous friends (and even an unusually unguarded Yves declaring that his idea of happiness is "A big bed. A full one") to add levity and capture the excitement of their lives together. But the beauty of the film is in Bergé's candid and sometimes heartbreaking honesty about the love he had lost—taking the audience from their first fateful encounter at Christian Dior's funeral to building their business, to Yves' struggles with drugs, alcohol, and infidelity, and the toll that celebrity took on Yves, and ultimately on both of their lives, "…suffering and more suffering," says Bergé.
When the movers arrive to take their treasures, or when we see Bergé surrounded by a sea of empty chairs before the Christie's auctioneers' gavels start falling, the sadness is palpable, but so is a sense of release. "The question begs to be asked: Would Yves have wanted this sale? No," says Bergé. But he, always the planner and businessman in their relationship, feels differently. "You know, losing someone with whom you have lived with ups and downs along the way for fifty years. Whose eyes I closed. Is another thing entirely than seeing our works of art leave."
L'Amour Fou opens May 13 in NYC, and May 20 in Los Angeles and in select cities nationwide.
Photos: stills by Pierre Boulat. From Pierre Thoretton's L'Amour Fou. A Sundance Selects release.