Lana Condor of To All the Boys I've Loved Before on Her Newfound Instagram Fame, and How She Unplugs
"Before the movie came out, I had 100,000 followers, and now I have almost three million followers. How did this happen?!"
---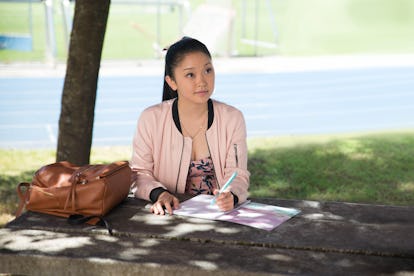 Masha Weisberg/Netflix
In just two weeks, To All the Boys I've Loved Before has become Netflix's biggest hit of the summer. The undeniable chemistry between the two stars of the film—Lana Condor and Noah Centineo—spawned a bevy of super fans online, clamoring to understand how the streaming platform adapted Jenny Han's novel to create a good romantic comedy that resulted in audiences feeling like they developed a crush on an entire movie.
Of course, after seeing the film, it's hard to not talk incessantly about Noah Centineo as Peter Kavinsky, the Internet's newest boyfriend, but it's Lana Condor's performance as Lara Jean Song Covey—the shy, always-in-her-head, hopeless romantic protagonist of the film who writes love letters that are one day mysteriously delivered to their recipients—that resonates as a relatable and vital depiction of teenage girlhood. The same week that Netflix released To All the Boys I've Loved Before, the box office was bursting with audiences flocking to see Crazy Rich Asians, and everyone was teaming with excitement for the release of Mitski's new album, Be the Cowboy. It was a record-breaking week for Asian-American media, and Condor, as Lara Jean, was positioned at the center of it.
While Condor has already worked her way to the silver screen (she appeared as Wolverine's sidekick in X-Men: Apocalypse), she will also star in the new SyFy television series Deadly Class, and later, she'll appear in James Cameron's cyberpunk project, Alita: Battle Angel. Her following grew rapidly after Netflix released To All the Boys I've Loved Before on August 17, but the 21-year-old actress remains as humbled as ever, managing her newfound Insta-fame with occasionally putting her phone down. Here, she told W all about it.
What do you think of the audience reception of your character within the two weeks that To All the Boys I've Loved Before has been available for streaming? And the obsession the Internet has with Lara Jean and Peter Kavinsky?
You know, you hope that it's gonna do this well, but I never thought that it would. So it's been crazy! I feel like I don't know what I did to deserve this, but I'm happy it's happening! I think I've handled it pretty well. It's funny, I'm doing a new show called Deadly Class and so balancing everything that's been going on with To All the Boys while also focusing on Deadly Class has been the most challenging part because I'm trying to spend my time equally. It's been really exciting, and we got really lucky because there's been an outpouring of love for the movie and for the characters. It's been very positive and I can't believe it! Before the movie came out, I had 100,000 followers, and now I have almost three million followers. How did this happen?! Mot in my wildest dreams did I think it was going to be this well received, and I think I'm still in shock. I haven't really been able to process!
Did you find yourself relating to Lara Jean at all when you read the script? What were you like in high school?
Absolutely! In high school, I went to a performing arts school for my freshman year, and then my sophomore, junior, senior years I went to an all girls private Catholic school, so I didn't have to deal with boys. I didn't have to deal with that high school crush. In high school, I was definitely more introverted than I am now, very much so like Lara Jean in the sense that she doesn't really feel like she fits in, but she's not apologizing for that. I never felt like I fit in in high school. I always felt uncomfortable, but everyone feels uncomfortable in high school, right? I think that my experience, I was able to kind of bring it in to portraying Lara Jean. There are a lot of similarities that she and I have! We're both equally awkward! I wish I wasn't this awkward in my life, but here I am! [Laughs.] I think we have similar senses of humor, we both live in our heads, I think, and you can ask any of my friends. I'm not 100% here. I'm living in a fantasy world all the time so it's been nice to play a character so close to who I am actually as a human being.
How do you think your 16-year-old self would have felt had you been able to watch To All the Boys I've Loved Before back then?
If I had had someone that looked like me that I could relate to when I was growing up, I would have had so much more confidence, I think. I would've felt so much more heard, and seen, and understood. You know, it's unfortunate because we should be way beyond this. Like, this should not be groundbreaking. It should be a normal occurrence, and unfortunately it's not. But we're getting there! I think this summer is the beginning of something possibly great, in terms of representation just being the standard. If I was in high school, if I'd seen this movie I would've felt more things are possible for me. I wouldn't have felt so different. The best part of this whole experience is younger girls and guys reaching out, and older women and men reaching out, and saying, "Oh my god, it's so amazing to see myself represented on screen." Or, from the older women and men, "I wish that I had seen this growing up." That's been the best experience of this whole thing! That response.
This movie has also firmly positioned itself as one of the 2018 films that reinvigorated the romantic comedy genre. What are some of your favorite romantic comedies?
I love How to Lose a Guy in 10 Days. Love that! I actually love High School Musical, because I was the perfect age for it, I was that audience when it came out. I love The Devil Wears Prada, even though that's not technically a rom-com, I kind of put it in that category. I love Easy A! It's so good, it's like, iconic. 13 Going on 30, there are so many. I'm so happy there's a resurgence of rom-coms right now because they just make people happy, you know? And they make people feel good. Right now, we all live in a world where we need to feel happier. There's a lot of crazy stuff going on so I'm happy about that.
You mentioned how rapidly your social media following grew. What was your first experience with Instagram? How'd you choose your handle and what was your first post?
Oh wow! Oh my gosh. I think with social media in general, it was probably with Facebook because I was the generation that just missed MySpace. Like, MySpace was kind of coming to an end when I got onto social media. So my first experience was with Facebook and there was like a penguin game where you feed your penguins and you have penguin friends. [Laughs.] And Tamagotchi, that's not social media but you still interact with other people via technology. Then I pretty much have had the same handle since the beginning of my social media experience. I jumped on it real quick!
Who are some of your favorite accounts to follow?
I love @tinygentleasians. It's an awesome account that literally just posts tiny, little adorable Asian babies. I look at that every day and it makes me very happy because it's so cute! I love this food blogger, her name is @stirandstyle on Instagram. It's literally just videos of her eating, but it makes me happy. Who else do I love on social media that I follow religiously? I follow Bella Hadid! I think she's awesome. I think all of her pictures are just, man, what art! All of her pictures are so amazing.
Your co-star Noah Centineo told me he didn't know what a thirst trap was, which was surprising to me. So now I feel like I have to ask you too, what are your opinions on the concept of the thirst trap?
I don't know what that is either! What is that? [Laughs.]
Okay, I'll give you the same definition I gave to Noah: When you know you look good, and you post a photo of yourself looking really good, knowing that it will attract people or trap people into liking your photos and looking at your account because they're thirsty, that's a thirst trap.
Oh! That's so funny. That's such a funny name. [Laughs.] What did Noah say?
He said the same thing as you, that it was funny. And also that lighting was everything when it comes to taking selfies.
Oh wow, I literally did just say the same thing. [Laughs.] We're two peas in a pod! I didn't know that was a thing, thank you for educating me! I didn't know that that was a thing, but I agree with Noah! Lighting is everything, lighting makes all the difference in the world. Good lighting and if you like it, and you think you look good, you post it! Honestly. At the end of the day, why not? If you think you look awesome, why don't you just celebrate yourself! We have to do more of that, I think. I guess that's my advice! You know, with reservation, like, don't post anything crazy! But be confident! [Laughs.]
What's the best way to slide into someone's DMs, especially if you're into the person?
Oh gosh. I don't really slide into people's DMS, but I imagine…okay, if you're trying to slide into my DMs, hmm. Maybe just say, "Hi, I'm so-and-so, how's your day going?" Straightforward. Ask how the day's going and see what happens from there. I don't really do a lot of sliding into DMs so I don't really know! [Laughs.] But I would imagine if I was sliding into people's DMs, I would say, "Hey, what's up? I'm Lana, how's it going?"
My last Social Q is, how do you unplug?
It's been really hard recently, but I've found that working out and going to the gym, not having your phone with you, and going to yoga. I've been doing a lot of yoga and you obviously can't have your phone on in yoga. Also, I'm not on my phone during work, so it's been nice shooting Deadly Class because I don't have to be on my phone. Yoga, working out, go to class, group settings where you can't be on your phone, that's a great way to unplug! When you're literally forced to unplug. [Laughs.] That's great. I like to do yoga because it centers me and makes me realize truly what's important. What if the internet breaks tomorrow? Then you'd realize that you're a human being and you're not validated by what other people think of you, it's how you think of yourself.
Related: Noah Centineo From To All the Boys I've Loved Before Responds to Becoming the Internet's Newest Boyfriend