Lana Del Rey Is Reportedly Engaged to a Fellow Singer
The feet in the foreground of a photo of Clayton Johnson has fans convinced.
---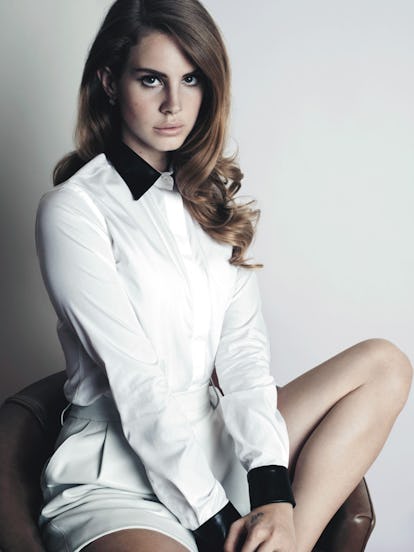 Jacob Sutton
It was a dark day for many Lana Del Rey fans when, back in 2019, they discovered that she was dating a cop. (Or, as he put it, a "full time popo" and "part time crossfitter.") But according to a mysterious source, Del Rey has officially moved on: People reports that the singer is now engaged to Clayton Johnson, who is also a singer. The outlet also reported that Del Rey's representative had no comment, and despite the deluge of comments on Johnson's Instagram, neither he nor Del Rey has publicly acknowledged the speculation.
Del Rey, 35, and Johnson, 31, apparently met on a dating app, and started following each other on Instagram in August. (Fans noticed after Johnson commented "I wish I was that card" on a video of Del Rey holding a playing card in her mouth.) They were clearly hanging out by the next month—Del Rey appeared on Johnson's Instagram and they were photographed together—and by Halloween, they were wearing a couples costume. (Del Rey was Dorothy and Johnson was the scarecrow from The Wizard of Oz.)
It was on that occasion, in late October, that Del Rey was first spotted wearing a ring. She also wore one in a photo she posted this past weekend. But speculation really took off on Monday, with another ring sighting during Del Rey's performance of "Love You Like a Woman" on The Tonight Show With Jimmy Fallon.
Before fans made the connection, Johnson's Instagram posts tended to get around 20 comments. His two most recent, though, have gotten more than 200. The most popular is a photo of Johnson, though the focus has been on a person who's just barely in the frame. "I know that foot arch from anywhere," a fan account commented, referencing the bare feet in the foreground. Another saluted "lanas curved ass feet" with a waving hand emoji. Comments were equally playful on a photo of Johnson wearing a cowboy hat. "Lana really went from riding motorcycles to riding cowboys," one follower wrote with a skull emoji.
The report is a rare bit of good news for stans of Del Rey, who's had to defend herself on numerous occasions over the past six months. First there was the backlash to her post about female pop stars, which only escalated as Del Rey repeatedly engaged with her critics. She was again criticized in September for taking selfies with fans while wearing a mask made of mesh. (Del Rey clarified that its inside was plastic a month later.)
Even if false, the rumored engagement has brought at least one truth to light: Her fanbase's devotion remains unwatered. Their response has been a mix of jokes, clearly made from a place of love; calls to stop with the said jokes; congratulations; and warnings to Johnson, lest he let Del Rey—and thereby her fanbase—down. "She's my queen better treat her right," one fan commented. "Take care of her."
Related: The Zodiac According to Lana Del Rey