Lana Del Rey Says She's Working on a Musical in Interview with Kim Kardashian
"I was sort of a late bloomer with style and everything really."
---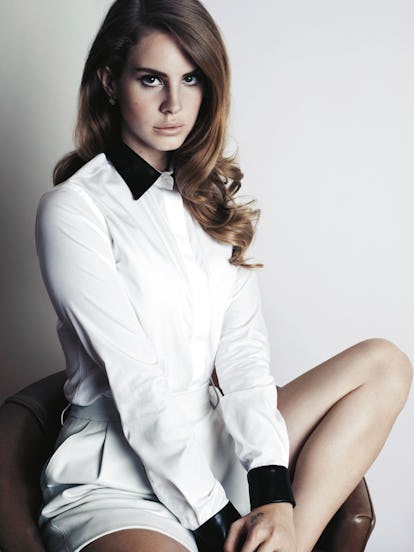 Sutton Jacob
Lana Del Rey isn't just captivating to the legions of fans who worship her; she's also beloved by her celebrity peers. Case and point: the singer was recently interviewed by a handful of other icons for the debut U.S. issue of L'Officiel including Kim Kardashian, Stevie Nicks, Courtney Love, Grimes, her recent collaborator Børns, and more. While there's plenty of nuggets to dwell on from the fascinating look at one of pop's most enigmatic artists, her exchanges with Kim Kardashian stand out.
As it turns out, Del Rey and Kardashian are mutual fans of each other (you may recall that in 2014 Kimye tapped the singer to perform at their engagement dinner at Versailles). When Kardashian asked about the evolution of Del Rey's style, she replied, "I was sort of a late bloomer with style and everything really. I loved Joan Baez—I just really identified with her character. I loved Lauren Bacall. I saw a rerun of The Dick Clark Show with Janice Joplin on it and she had feathers in her hair and I thought she was so cool, so her as well. And I really like what you're doing now. I love your style update, with your hair and the nudes and mauves. I'm watching you. I've got my eye on you." She also revealed to Kardashian that if she wasn't a singer she'd either be a "doula" or "working with kids."
Del Rey also talked about her obsession with all things retro to Gucci creative head Alessandro Michele, telling him, "I guess part of my retro sensibility comes from my love of old movies from when I was a teenager. I remember seeing films like A Place in the Sun with Elizabeth Taylor or films with Natalie Wood and thinking that they were so beautiful. As much as I loved '50s films, I loved '60s music, and still do above any genre."
Perhaps most notably, though, Del Rey talked about her future projects, including making her Broadway debut. "I was asked to write a musical, which I've started," she said in response to a fan question. "It was for Broadway. I may finish in two or three years. Me and Rick have written something, so we'll see." As for who would play Lana Del Rey in a piece about her own life, she said, "I'm thinking a big picture here, because I love Baz Luhrmann. Not sure who would play me though." Whoever it is, they'll have a lot to live up to.
Lana Del Rey's Style Evolution, From California Pop Star to Bewitching Songstress
Sporting her original blonde locks at concert in 2010, where she performed as Lizzy Grant.

Getty
Del Rey in a Prabal Gurung dress at the Q Awards in 2011 where she won the "Next Big Thing" award.

Getty
Leaving a hotel in Paris wearing a saffron colored dress and single white rose in her hair.

Getty
After a Cannes red carpet wearing jeans, loafers, and a Ferrari racing jacket.

Getty
Out and about in New York, wearing a simple white dress and nude pump.

Getty
At an event for fashion brand Mulberry, in a gown by the house.

Getty
Classic Hollywood siren in a dramatic black gown on the Cannes red carpet.

Getty
As the song goes, blue jeans, white shirt; at an event for her album "Born to Die."

Getty
At the Echo Awards wearing a gown by Versace.

Getty
On the Met Gala red carpet in a gown and cape by Altuzarra, sporting a vampy lip.

Getty
At the UCLA Institute Of The Environment And Sustainability Presents An Evening Of Envrionmental Excellence wearing a fur coat with jeans and converse.

Getty
At the EMA awards in an elegant navy dress made for her by a friend.

Getty
At the Cannes Film Festival premiere of Baz Luhrman's The Great Gatsby in a dramatic black and white gown.

Getty
Front row at the Versace Fall 2013 show wearing a full look by the house.

Getty
At an event for Nylon Magazine looking biker-girl chic

Getty
At an Academy Award party hosted by the Weinstein Company in all-white.

Getty
At the amfAR's 21st Cinema Against AIDS gala with Justin Bieber in a canary yellow ball gown.

Getty
At the 2014 British Fashion Awards in an emerald green dress and shawl.

Getty
Casual cool and glossy-haired at LAX airport in a navy cardigan.

Getty
In a floral-tiered frock on the red carpet for the Breakthrough Prize Ceremony.

Getty
Nautical-chic in a navy blazer and white trouser suit at the 5th Annual Sean Penn & Friends HELP HAITI HOME Gala.

Getty
Lana Del Rey attends 2016 Billboard Power 100 Celebration at Bouchon Beverly Hills in a white blouse and belted safari pants.

Getty
Del Rey at a 2016 pre-Grammy Gala wearing a stripped ruffle top and black satin skirt with a radical up-do.

Getty
In an elegant, all-over floral print caftan on the 2016 Brit Awards red carpet.

Getty
Every inch a 50's beauty queen in a shimmer gown at the 2016 Vanity Fair Oscar party.

Getty
Mermaid cool in a pleated turquoise gown on the red carpet for the Golden Globes.

Getty
Lana Del Ray attends the Gucci Bloom Fragrance Launch at MoMA PS.1 on May 2, 2017 in New York City.

Getty
Lana Del Rey performs during BBC Radio 1's Big Weekend at Burton Constable Hall, Burton Constable, Skirlaugh in Hull.

Getty