Lana Del Rey Adds a Rustic Echo Park Cabin to Her Real Estate Portfolio
It's all kinds of shades of white.
---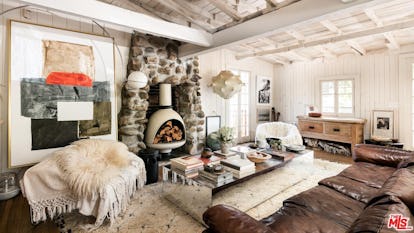 Trulia
A product of the pop machinery and an indie songwriter, a New York native but a California ambassador, a Silver Lake shaman and an HGTV fan—Lana Del Rey is a mash-up of things that don't normally go together, and her latest house is no different. The musician just purchased a new abode in Los Angeles's eastside neighborhood of Echo Park, and it could not be more perfect for her. It's a rustic cabin, strategically distressed and renovated to look even more rustic—in other words, it's a lightening rod for a debate on authenticity, much like the pop star herself.
It's all kinds of shades of white too. The 1,236-square-foot cabin, which consists of two bedrooms and one bathroom, has been given a facelift by the HGTV designer Leanne Ford, who called it home for the past couple of years. Over that time, the HGTV personality, who stars in Restored by the Fords, turned it into a Pinterest dream, with a weathered claw-foot tub next to a basket of pampas, a faux-vintage Smeg refrigerator, and a living room centered around a midcentury Malm hearth dotted with sheepskin throws and perfectly worn furniture. Per the description listed by Diana Braun of Compass, the home was "made to look old." "The entire cabin is painted a warm white and exploding with character," it reads. "Truly a hidden gem in a quaint area!"
Del Rey only had to spend $1,178,000 to buy the "quaint" home—quite an increase from the $800,000 Ford paid for it. It does come with a cool pedigree, though: The silent film star Clara Kimball Young, who broke barriers for women in Hollywood as the first female to open a film studio, once lived here. Ultimately, that price tag pales in comparison to the rest of Del Rey's real estate portfolio, which includes a nearly four-acre estate in the celebrity enclave of Coldwater Canyon that consists of two homes she scooped up for $5.9 million (one modern, one vintage), as Variety notes. She also owns a $2.5 million English Tudor home in Windsor Square. Her Echo Park cabin though—in its current, preciously curated state—couldn't be mistaken for anyone else's home.