Lana Marks: The Handbag Designer Trump Reportedly Wants to Make Ambassador to South Africa
"Mine is a much, much more upscale brand. My customer isn't carrying Louis Vuitton. They don't own one."
---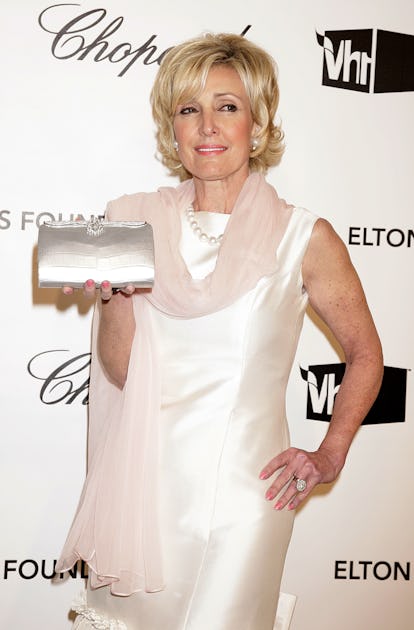 Yui Mok – PA Images
What do President Donald Trump and Helen Mirren's stylist have in common? Well, they've both reportedly called Lana Marks when they need a job done. For Mirren's stylist, that job would have involved providing a handbag from Marks's namesake line for a high-profile event. For Trump, it's rumored that he's tapped Marks to serve as the ambassador to her native South Africa—one of the many ambassadorships that have been vacant since Trump took office, almost two years ago.
Never mind that a career jump from luxury handbag designer to diplomat is an unusual one, the nomination has proved controversial because Marks, a fixture of the ritzy Palm Beach social scene, is apparently a member of Mar-a-Lago, Trump's private club with an initiation fee of $200,000 and a cap of 500 members. Marks would be the fourth Mar-a-Lago member tapped for an ambassadorship. (Incidentally, the report comes from The Palm Beach Daily News, which is not the main newspaper of Palm Beach County, but rather a low-circulation paper dubbed "The Shiny Sheet" that almost exclusively covers the goings-on in the wealthy enclave of Palm Beach proper.)
Lana Marks may not be a household name, but Marks's bags have made numerous appearances on the red carpet over the years, and Princess Diana, who Marks has said was a close friend, also carried her designs on occasion. Here, everything you need to know about Marks, her bags, and her controversial nomination.
She claims her bags are for consumers too discerning for Louis Vuitton.
"I don't compete with them. Louis Vuitton's market is not mine at all," Marks told Business Live in a 2006 interview. "Mine is a much, much more upscale brand. My customer isn't carrying Louis Vuitton. They don't own one." (However, she did add in the same interview that, in comparison to Hermés, her bags are a bargain).
Indeed, Marks says her line was inspired by her own discerning taste and a fashion emergency. The wife of a well-known Palm Beach doctor, Marks says she was invited to an event to celebrate Queen Elizabeth II's birthday, per People.
"My husband and I were invited on the Queen of England's Yacht Britannia to celebrate her birthday in 1984. I was going to wear a wonderful red and purple suit and wanted a red alligator handbag to go with it," Marks told Harper's Bazaar Arabia. "After looking up and down Worth Avenue in Florida's Palm Beach I still couldn't find one to match my tastes and realized that a void existed at the very high end of the handbag market for the finest exotic leathers in fabulous colours."
So she started her own line to fill that void, and she's found success. Both Charlize Theron and Helen Mirren carried Marks bags to the Oscars when they collected their best actress trophies. Actresses like Chloë Sevigny, Lucy Liu, Sarah Jessica Parker, and Angelina Jolie have also been spotted carrying her bags over the years. Blinged-out versions of Marks clutches can reportedly fetch prices of around $400,000.
She says she canceled plans with Princess Diana the weekend she died.
Princess Diana was spotted carrying a Marks bag in 1997, and Marks has posted a few pictures of herself with Diana on Instagram. In something of a bombshell, Marks told Hello magazine last year that she was supposed to go on vacation with Princess Diana in Lake Como the week she died, but Marks had to cancel the plans at the last minute after her father suffered a heart attack.
"It was a terrible time. I was supposed to be on vacation with Diana in Milan right then. We were going to go to Lake Como before flying back. I felt bad because she was at a loose end. I still feel the pain of it all. I constantly think, 'What if she'd been with me?' All that might not have happened."
Marks has appeared in several television specials over the years discussing Diana and their friendship.
She has a murky past with tennis.
Marks has previously claimed a former professional tennis career that saw her compete in the French Open and Wimbledon, but while journalists have found records of a professional career playing for Bermuda, there's no evidence she ever played in the French Open. "Her tennis career is also hard to find evidence of," reported Business Live. "The East London Daily Dispatch newspaper has no archived stories of her and a search of records on the WTA Tour website of professional women players yields no record, even though it has record of her contemporaries, Linky Boshoff and Ilana Kloss. When asked for details of her apparent appearances in Wimbledon qualifiers and first round of the French Open, Marks's memory is hazy."
She has Mar-a-Lago connections, obviously.
Marks's daughter Tiffany held her 2011 wedding at Trump's club, and Marks is said to be a longtime member. Incidentally, Trump's current ambassador to the Dominican Republic, Robin Bernstein, is a founding member of the club. Trump has previously tapped Mar-a-Lago members Patrick Park and Brian Burns for important ambassadorships, but both eventually decided to bow out.
In any event, despite Trump's pleas to the heartland and the "forgotten man," Mar-a-Lago members are pretty much the definition of the elite.
"It's the most exclusive part of the U.S. It's a small enclave, an island north of Miami," Marks once said of her adopted hometown. "One-third of the world's wealth passes through Palm Beach in season. The crème de la crème of the world lives there."
Of course, the Trump administration has made no public announcement of the nomination.
Related: Laverne Cox, Janet Mock, Carmen Carrera, and More Express Outrage at Reported Removal of Transgender Civil Rights Protections