Langley Fox Loves Leather Jackets, Loathes Heels
The illustrator offers a page from her style notes
---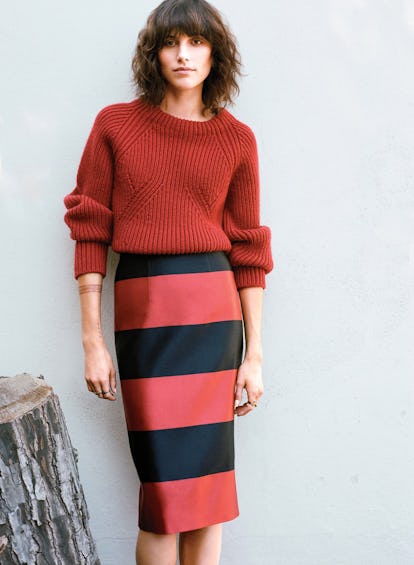 Illustrator and model Langley Fox has often found inspiration for her delicate, photo-realistic drawings in fashion. Now, it seems fashion is finding inspiration in her. Today marks a preview of her capsule collection with the brand TL-180, a hip handbag line founded by Tine Peduzzi and Luisa Orsini. (The duo first worked with Fox a year ago when she designed the invitation to their Fall 2013 presentation.) When they stumbled upon a book of other-worldly animal drawings, they hatched the idea to create a fauna-inflected collection. Fox, whose work includes elegant sketches of everything from her cat Jack Skellington to sharks and rabbits, was the perfect choice to realize it. The result is a languid, graceful squid, whose image TL-180 printed on circular leather cross-body styles. The bags go on sale in May for $550.
Here, Fox—who flew in from her sunny California residence for the New York preview—shares some of her favorite things.
Define your style in three words: Silly, contradicting, tough .
Daily uniform: (I never wear the same thing in a row…) Either a school uniform-style skirt with a button-up collared shirt, knee socks and a leather jacket, or skinny jeans with some sort of leopard print or striped top—probably with a brimmed hat.
Greatest hits: My black hat that I put a velvet ribbon on. My Edith A. Miller leather jacket and my Anine Bing leather jacket. My Coco + Penelope silver ankle boots.
Preferred footwear: Sneakers—Converse and Vans; loafers, or boots (RARELY heels) .
Finishing touches: My Meredith Kahn and Pamela Love rings and necklaces. My stackable Catbird NYC half rings. And my Indiana Jones hat, my leather black large brimmed hat, and a black beanie.
Nighttime look: I tend to wear a black mini skirt or short dress with a leather jacket, fur coat, or Little Red Riding Hood-style coat. Usually I'm in tights with knee socks and shiny black loafers. It does vary, though, and I go through colored phases.
Best recent discovery: I just discovered cute-looking sweats, like fashion sweats, rather than the beaten up old sweats you had in high school. I probably won't ever wear them out but now I can look cuter in my house.
Favorite stores: My favorite store is the health food store, particularly Lassen's and Erewhon Natural Foods. For fashion, I really enjoy vintage stores and finding hidden gems.
Style pet peeve: Flip flops
Style icons: Young Winona Ryder, Audrey Hepburn, Jane Birkin, Patti Smith, Mick Jagger, Rooney Mara in Girl with a Dragon Tattoo.
Last purchase: I rarely buy things—I have extreme buyer's remorse. Thinking back, it had to be a leopard print top from American Apparel and a velvet dress. I like their simplicity and how you can adapt their styles easily into your closet.
Lusting after: Pamela Love's whole new collection and also Australian jewelry designer ManiaMania's. Also, Saint Laurent has a black onesie suit and a leather skirt that I'm dreaming about.
Favorite haunts: My favorite restaurant in L.A. is Real Food Daily. Naturewell in Silver Lake has great juice and snacks. Bar Stella is a nice little bar with good drinks and always has the best smelling burning candles.
Winter survival tips: Go to California.
What's always in your bag: A switchblade.
Photos: Langley Fox Loves Leather Jackets, Loathes Heels
Langley Fox. Photo by Getty Images.
Langley Fox's Coco + Penelope silver ankle boots.
TL-180 x Langley Fox bag, $550, available in May.
Fox's Edith A. Miller leather jacket.