J'adore Nicolas
The Countess explains her obsession with Monsieur Sarkozy, France's intriguing new president
---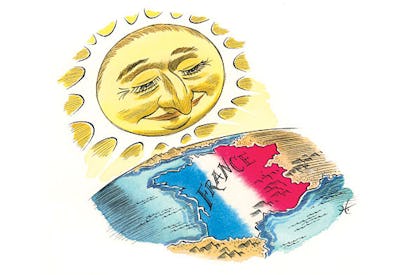 Finally, there's a president of France who likes America! It's been a while, as you know. So it's nice to be back in favor, and that is why I'm fascinated with this man Nicolas Sarkozy. I've been trying to read everything I can about him.
As luck would have it, there's a new book, L'aube le soir ou la nuit (which loosely translates as "Dawn, Evening or Night") by playwright Yasmina Reza, who is best known for the big Broadway hit Art. To capture the persona of the future president, she followed Sarkozy around all day and night in the months before his May election.
There are many fascinating tidbits in the book. Monsieur le President does not like anyone to depend on him; he doesn't like to depend on anyone. He's solid yet fragile—in his view, being fragile makes one strong. He tells Reza that his life started at the bottom, and he moved up to one of the top ranks in political France, as head of the Ministry of the Interior, and now there's only one more step to go—to be elected.
After he wins, our hero is in the Elysée Palace, sitting uncomfortably in a gilded chair fit for Napoleon, his legs always moving—perhaps they are sore from all the jogging he does.
One thing he cannot stand is bureaucracy (oh, how I agree!). When he has a meeting—Reza attended many—where everyone is yak, yak, yakking, he wiggles his legs and asks only for conclusions, nothing more. He has a childish charm and dresses like a young man, in Dior Homme. (Clearly Sarkozy loves fashion—as my favorite newspaper, Women's Wear Daily, has reported, he even recently had lunch with former Dior Homme designer Hedi Slimane and Dior jewelry designer Victoire de Castellane.)
His humor is fantastic. During a visit with Abdelaziz Bouteflika, president of Algeria, Bouteflika discusses how his future depends on God. Sarkozy responds, "My future depends on voters." On a campaign appearance at an employment center, a young man asks him if he is looking for a job. "Perhaps," Sarkozy says.
The new French president is a man filled with contradictions (isn't everyone?). He hates the countryside, yet would love to have a second house. After he's elected, Sarkozy boasts, "I'm going to get a palace in Paris, a château in Rambouillet, a fort in Brégançon. This is the life." Even his marriage seems different. His phlegmatic yet beautiful and chic wife, Cécilia, doesn't feature at all in Reza's book (the author says she was never around).
Sarkozy is immensely impatient, getting frustrated in one scene because he can't open a box of candy. He likes neither being alone, or social life, though he loves people. When passing a cathedral and seeing monks, he thinks he might want to have a life filled with meditation. Instead, after the election, he is eating langoustine—on a yacht.
He loves Rolex watches and chocolate. Unlike predecessors such as the late François Mitterrand, who wrote some 20 books, Sarkozy is a fan of trashy television and raves about, believe it or not, the movie Silence of the Lambs.
He never thinks about the past, claiming he's a stranger to it (very Albert Camus). "The only thing that interests me is this afternoon, tomorrow," he says.
Sarkozy is clearly ambitious—in his first 100 days in office, he engaged in more activity than Jacques Chirac did in his last five years. He always seems to be moving, with trips throughout Europe and to America, vacationing in New Hampshire and lunching with President Bush and his father in Kennebunkport. He talks of grand ideas, declaring recently that the French "want a president who acts and gets results."
And so far the French love it—his approval rating is above 60 percent. Clearly something is working: When was the last time the world was so fascinated by a French president?
Bravo to Mr. Sarkozy. Some of our presidential candidates could take lessons from him. He's no pompous world leader, always pontificating about nothing. In the end, he also recognizes the truly important things in life. In a rare bit of introspection, he tells Reza: "Love is the only thing that counts."