Late Nights Playing Boggle With Hillary and Bill: Photographer Todd Eberle Recalls His Time in the White House With the Clintons
In 1993, President Bill Clinton's first year in office, the photographer Todd Eberle traveled to the White House on assignment for W to photograph then-First Lady Hillary Clinton, a portrait now on view at New York's 56 Henry gallery through Election Day. It turns out that day was just the first encounter of many with the Clintons: Eberle would even move into 1600 Pennsylvania Avenue for a spell, capturing its interiors and spending intimate evenings with the Clintons. Here, he recalls his time with the candidate and her family.
---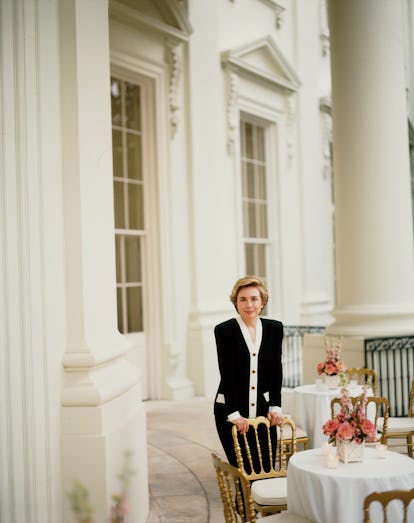 Todd Eberle
I started working for W when it was still a fold-out newspaper format, so I'd been working a lot with Dennis Freedman and James Reginato, the creative director and the features director at the time, respectively. The three of us took a shuttle from New York down to Washington, D.C. one day in July of 1993 when we got the sitting appointment with Hillary. I'd never been to the White House before, and of course I was nervous — I was very, very, very nervous. And I was very rushed: I probably had about 10 minutes with her, which was a bit stressful because I don't think we were even told in advance we'd get such a short window. They'd set up the situation so that she'd be on the South Portico, which was set for a kind of tea party scenario with café tables and little flower arrangements and gold bamboo party chairs. I think that this shoot was an effort to soften her image a bit, because until that time the First Lady was not politically active, and President Clinton had appointed her to become Chair of the Task Force on National Health Care Reform. That did not sit well with a lot of the political establishment in Washington, even though she already had a deep history of public service.
Still, I think she was a little uncomfortable about being photographed. It's not one of her favorite things to do, but she understands it. I've taken some very elegant portraits of her over the years, even though you can always tell she just wants to push up her sleeves and get to work. And with that first portrait, taken on the afternoon of the Clintons' very first formal dinner, they were trying to give the impression that she was going to be an entertaining, cookie-baking, housewife-y First Lady, though of course that wasn't the case. I think it was maybe one of the last times she wore a skirt instead of a pantsuit. Her style, of course, became one of the most famously covered parts of the Clinton administration; her hairstyles also always made the news. In the private rooms of the White House, there was a hair salon with a framed poster of 50 or 100 of her hairstyles — Hillary definitely has a sense of humor about herself.
In early '99, I got a phone call out of the blue from Philippa Polskin, an art PR consultant who'd done some work on Hillary's cultural projects. She said, "Darling, I'd like to know if you're interested in some pro bono work." And I said, "Well, I took Latin in high school, and I don't think so." She said, "No no no, it's going to be a very interesting project, but I need your portfolio, and I can't tell you what the project is." So we played this funny guessing game, and I asked a number of questions — including if it would be photographing a house, to which she said, "I won't say it wouldn't be." And I asked, "Is the address possibly 1600 Pennsylvania Avenue?" And she said, "I won't say it isn't." So she got my portfolio and FedExed it down there, which of course included the portrait I'd taken in '93. Hillary, apparently, really liked it, and remembered our 10 minutes together. I guess I made her feel comfortable.
After that, I flew down to Washington with Philippa, and I ended up living on and off with the Clintons for a few days at a time for a number of months during 1999 and 2000, the last of their administration. They wanted me to photograph the rooms in the White House for posterity, which apparently no President in history had ever commissioned before. The White House photographers, of course, had photographed some of the rooms, but they didn't have the proper equipment or even use tripods. Hillary, though, was very involved working with J. Carter Brown, the director of the U.S. National Gallery of Art, to do authentic, historical restorations of the wallpapers, carpets, drapes, and furniture. I think since Jackie Kennedy's efforts, not much had been done to the White House, even though the state rooms had become kind of sad and shabby. She and J. Carter Brown also realized that not a single woman or black artist was represented in the official White House art collection, so they fixed that, somehow acquiring a Georgia O'Keeffe and a 19th-century artist named Henry O. Tanner. And she also brought a lot of sculptural work to the Rose Garden over time, mostly on loan from the Cantor collection — but none of this was really promoted. Even though Hillary had a very involved role in bringing culture and art to the White House, it wasn't greatly talked about.
Hillary Clinton's Early Days in the White House, Captured Up Close by Todd Eberle
Hillary Clinton at the entrance to the East Wing of the White House, 1999.

Todd Eberle
Waiters at the Clintons' first formal dinner at the White House by Todd Eberle for W magazine, August 1993.

Todd Eberle
Hillary Clinton by Todd Eberle in an unpublished outtake for W magazine, August 1993.

Todd Eberle
President Clinton's Desk in the Oval Office, April 1999.

Todd Eberle, "Todd Eberle: Empire of Space," Rizzoli, 2011
I didn't see her very much when I was there, though I lived on the floor above her, in a room called the "Prince's Suite." It had a bed frame that was abnormally high — about four feet up the ground — that turned out to be from Lincoln's era. I did the pictures more on my own, and with Kaki Hockersmith, the decorator. We'd go out to dinner every night because working in the White House all day starts to feel a bit like living in a fishbowl, and when we'd come back to the White House, almost every night the President and First Lady Clinton would be playing a game of Boggle with some friends on the third floor, so we'd come and hang out. I saw her mostly at night.
The night before President Clinton boarded his last official Air Force One flight, to Little Rock, Arkansas, for a homecoming, I got a call asking me to accompany him. I went on Air Force One with the President, and it was very weird, the sensation of taking off sideways. But the most extraordinary memory was the night before, when I wanted to have a cigarette. Because the Clintons were the first Presidents to ban smoking in the White House, Kaki suggested we go to the Truman Balcony. We crept down the stairs from the third to the second floor, which is the President's private floor, and I swear to god, Bill was standing there, probably right before midnight, in his khakis and golf shirt with a cigar. I'd just met him hours ago, but he said, "Hey Todd, have you seen the Treaty Room yet?" He gave me an hourlong tour of his private sanctuary, in which he'd curated every single object from the inventory of objects and books and paintings and furniture that belonged there over time. Apparently Presidents used to take chandeliers and anything they could get their hands on when they would leave, but Jackie Kennedy had a law established that the Presidents couldn't take things when they moved out, to preserve it for the people. So they now have these enormous warehouses containing things a President might want — even Washington's mess pail as his wastebasket.
Clinton was probably the most informed person about presidential history, or perhaps obsessed is more accurate. I think he'd read something like 800 presidential biographies. So he had a very specific reason for bringing in all the specific things that he had there, and it was so extraordinary how he'd personally selected each and every painting and object for their historical details that were meaningful to him. He pointed to a picture of Ben Franklin hanging on the wall behind the desk and told me this crazy story about how it'd gone missing for 150 years until it was found in Canada and returned to the White House. And under that was a photo of a Native American, and he turned to me and said, "Todd, you're a photographer, you know [Edward S.] Curtis!" It was as if he'd known me — the level of his charm and focus on a person was like all the lights went out and the spotlight came on you. And there were other things in there, too, like a collaged box of golf stuff above the mantle he told me was a gift from Barbra Streisand. There was also a stereo behind the desk he pointed to and said, in his honey-dripped Southern cadence, "See that? That's called a Bang & Olufsen. The Queen of Denmark gave that to me. You turn that up, it fills the whole house up with sound." It was as if I'd never seen a Bang & Olufsen. It was very sweet.
Looking back, it was really an extraordinary assignment, especially because there were so many unexpected moments. I was actually sitting in the President's kitchen the night that Al Gore gave his concession speech to George W. Bush in the Old Executive building, so I was literally looking down and watching the same thing out the window as I was seeing on the TV. And the Clintons very nicely invited my boyfriend Richard Pandiscio to the Millennium Gala dinner at the White House as a thank you.
For me, it was the best project ever. I'm hoping to have the opportunity again.
As told to Stephanie Eckardt.