Laura Dern Heads To Quibi To Play the Bartender-Therapist You Wish You Had
Laura Dern will add some prestige sheen to the short-form mobile content platform known as Quibi.
---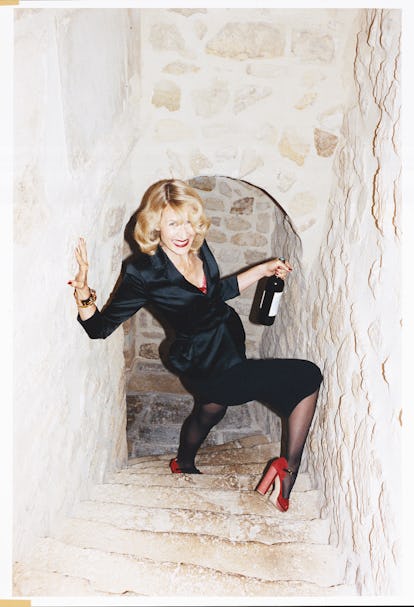 Juergen Teller
Take a quick scroll through Laura Dern's Instagram comments, and you'll see the inert desire fans have for her to be their parent manifesting itself. Followers regularly coronate her with titles such as "mom" or "icon" or "queen" (and when she recently played Marmee March with such sensitivity in Little Women, who could blame them?).
Well, Dern is not your mom—she already has two children of her own to keep track of—but she did just sign up to play a bartender who counsels her customers on Just One Drink, a series on the upcoming mobile-centric streaming service Quibi. And we all know bartenders, like moms, are good listeners. Even better than therapists, sometimes.
Just One Drink apparently comes from the mind of Nick Hornby (writer of High Fidelity and About a Boy, both of which were adapted for the big screen nearly two decades ago and have recently been re-adapted into series for the small screen). In the series, which will be comprised of one-act vignettes, Dern will star as a sympathetic bartender, pouring drinks and lending her ear to hear all about her distressed patrons's woes. She will also executive produce the series. Presumably a rotating cast of character actors who need a quick resumé boost will play Dern's customers in each episode.
In someways there's actually benefits to more streaming services launching than ever, especially when it gives creatives with fresh ideas more space to share. Quibi, which hasn't even launched yet (be ready for it on April 6), certainly has space (and cash) to spare. It seems like every week, the short-form mobile network adds varying levels of Hollywood talent to its shows like it has endless resources.
Still, it is not surprising that Quibi eventually managed to nab a prestige actress like Dern for its platform (just look at how Cate Blanchett recently pivoted to TV and will add some prestige to FX with Mrs. America, or how Meryl Streep was welcomed with open arms the cast of HBO's Big Little Lies), and maybe it is finally time we all take Quibi seriously. At this point, though, with Dern's addition to Quibi's roster of increasingly idiosyncratic content, the better question would be, who doesn't have a Quibi show?
Zac Efron has signed on for a Bear Grylls-style adventure series called Killing Zac Efron. Kendall Jenner will produce a series about her "twin," an influencer known on Instagram as Kerby Jenner, Cara Delevigne is set to host a prank show while Alexander Wang will host a bathroom talk show, and of course there's also Chrissy's Court, a riff on Judge Judy starring Chrissy Teigen. Quibi is even reviving MTV's Punk'd and Singled Out (to be hosted by Keke Palmer and Joel Kim Booster).
And though we are already in the thick of this year's awards season, we can't help but wonder how a short-form platform like Quibi, with all of its A-list talent attached, will affect next year's Emmy Awards (particularly in the Outstanding Short Form Comedy or Drama Series category).
If the streaming wars don't end us all, maybe we can call up Bartender Dern to listen to us cry about it.
Related: Laura Dern Recruits Timothée Chalamet Into Her Hunt for Baby Yoda