Lauren Bush Lauren Welcomes Son Max Two Days After Loss of Grandmother Barbara Bush
Congratulations to Lauren and David on the birth of their son!
---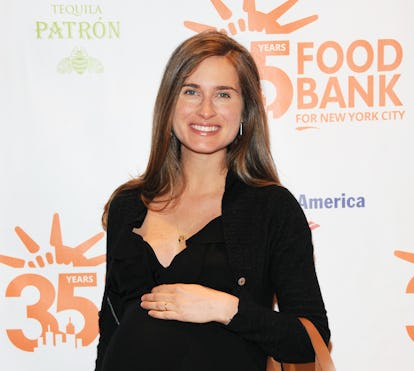 Photo by Desiree Navarro/WireImage
Two days after the Bush family lost matriarch Barbara Bush at the age of 92, they are welcoming a new addition: Lauren Bush Lauren, daughter of Neil Bush and granddaughter of former president George H.W. Bush, has just given birth to a son, Max. This is the second child for Bush Lauren and her husband David Lauren, son of American fashion designer Ralph Lauren. The couple are also parents to James Lauren, who was born in 2015.
David announced the news on his Instagram, posting a photo of the newborn with the caption, "We feel lucky and blessed to introduce our son Max Walker Lauren! He was born yesterday (April 19) at 5:33 am weighing 7lbs 8oz. He is happy and healthy and enjoying his new world!"
Those Bush kids really like the middle name Walker, it seems.
Last week, Bush Lauren posted a sweet snap of herself and her son at a park in New York City, anticipating the arrival of their new baby. "Soaking in the ? and my final weeks (or days ?) as a mama of one and a family of three! Can't wait to meet the little bub in my belly, but for now it's also nice to just relish in what we already have," she wrote on Instagram, taking advantage of that one day that spring actually happened this month.
Neil Bush, now a grandfather of two, also remarked on the changes in the Bush family in a post on Facebook, writing, "Maria and I were so blessed to spend lots of time with mom and dad during mom's last weeks and we are so grateful for the condolences and the outpouring of love expressed towards her by many, many friends. Barbara Bush was loved by everyone. She lived a remarkable life blessing family, friends, and total strangers around the world…And then two days later, yesterday morning, two weeks before her due date, Lauren Bush Lauren gave birth to a beautiful 7 lb 8 oz baby boy Max Walker Lauren. The circle of life. God is good."
Related: Barbara Bush, Former First Lady, Has Died at 92
Since When Can George W. Bush Actually Paint?
George W. Bush, "Sergeant Daniel Casara," U.S. Army, 1994 – 2008.

Grant Miller
George W. Bush, "Sergeant First Class Michael R. Rodriguez," U.S. Army, 1992 – 2013.

Grant Miller
George W. Bush, "Sergeant Leslie Zimmerman," U.S. Army, 2001-2004.

Grant Miller, courtesy of President George W. Bush
George W. Bush, "Sergeant Michael Joseph Leonard Politowicz," U.S. Marine Corps, 2010 – Present.

Courtesy of President George W. Bush
George W. Bush, "Lieutenant Colonel Kent Graham Solheim," U.S. Army, 1994 – Present.

Grant Miller, courtesy of President George W. Bush
George W. Bush, "Lance Corporal Timothy John Lang," U.S. Marine Corps, 2005-2010.

Grant Miller
George W. Bush, "Sergeant First Class Ramon Padilla," U.S. Army, 2000-2009.

Grant Miller