Lauren Jauregui Is Here to Reintroduce Her Real Self After Fifth Harmony: "I Feel Liberated"
The singer gets vulnerable about her solo career, her voice, and her first single, "Expectations."
---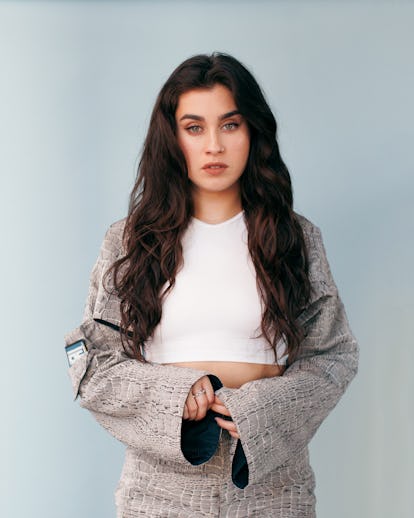 Photograph by Michael Beckert for W Magazine.
Lauren Jauregui knows her solo career comes with plenty of expectations, even before dropping a single note of music. After six years in the spotlight as a member of the most popular girl group since the Spice Girls, she's savvy enough to subvert her own narrative. That's why her first single, out Wednesday, is called "Expectations."
"Obviously, there are so many expectations that people have for me and my music, and what I'm going to do and who I'm going to be," she explained earlier this month. "That's another reason behind [the song]; there are no expectations. Everything that's coming up is going to be of that nature—unexpected."
For the past few years, Jauregui has been traveling the world and topping the pop charts as one-fifth of Fifth Harmony, the girl group who placed third on America's version of X-Factor back in 2012, before going on to global musical domination with an adoring fan base (the Harmonizers, of course). This May, the band decided to call it quits to focus on their solo careers. Now, with "Expectations" and a full album to soon follow, Jauregui is ready to start hers.
"I've been wanting to put my vision out there since I first auditioned [for X-Factor]," she said. "That was the point. I auditioned by myself because I had a vision for what I wanted to be. But I know for a fact that the vision coming to life right now, I would not have been able to do that if I had not gone through what I did and had I not experienced what I did. I learned so much about myself, about the industry, and people in general and working in a team setting—all of those skills that I didn't have sharpened at that point. Had I gone in dull, I would probably have been really jaded and hurt by the criticism that you're met with. It's really jarring, especially to a young mind. Everything you're told, you take with a lot of intensity. I'm grateful that I got to grow through that and figure out who I am."
Jauregui can sound like a seasoned professional, speaking in long sentences with confidence and self-awareness. But she is also a 22-year-old woman who, as she'll be the first to admit, is still figuring out her life out."This time around, I was so adamant about it being my vision, my voice, and my energy being given to the creative process," she continued. "I've been very vocal about that, and thank god the label has been very supportive of that and has been very dope about that. I really didn't consider that I need to be any type of way for anybody. I'm taking this as my first attempt to be myself. We're all doing that all the time—it never really stops—but this is me figuring out me right now, with no boundaries."
Jauregui began writing her album back in May, after the band's decision to split and a month-long getaway. "I went to Egypt and I went to Thailand with Ty [Dolla Sign, the rapper and Jauregui's boyfriend of a year]. I was gone for a month. I was like, 'Fuck the world, I'm taking this trip for myself to learn about things and grow.' And I did exactly that. I learned a lot about myself, a lot about history, and got connected with my spiritual self through it. Both places are very sacred, and I felt like a new person," she said. "At the very end of that trip, the girls and I had the conversation that we were not going to be together anymore, so it was this crazy culmination of growth that led to this moment of, Oh, I'm free."
She means that in the most positive way. "I feel liberated. I don't feel like I have any boundaries about who I can or cannot explore as an artist within myself."
But that doesn't come without a fear of the unknown. Beyond a few attempts in middle school and high school, this album marks the singer's first real foray into songwriting, following the verse she wrote for Marian Hill's 2016 song "Back to Me." "I was really scared of giving that piece of myself, because I didn't want to be bad at it," she said. "I love music so much and it means so much to me that I didn't want to attempt to make music and then it sucked. I was so insecure about that. But that vulnerability helped me grow. Diving in headfirst is one of those things you need to do to ever get good at your craft. Nobody ever started perfect. Even Beyoncé, who is like the most magical being of life, started somewhere and built over years and years to get where she is now."
Of Fifth Harmony's music, Jauregui noted, "It wasn't anywhere near personal." This time around, it couldn't be farther from that. In fact, there won't even be any collaborations on the album. "I feel like people have heard my voice with other voices for the entire time I've been on the scene. I just wanted to give them a piece of work where they could just hear my voice for the first time."
Jauregui has never been afraid to speak out, at least, when it comes to political matters. In 2016, she wrote an open letter to Donald Trump supporters via an op-ed on Billboard.com where she came out as bisexual and addressed "hypocrites" who "voted for a person who built an 18-month campaign off the back of your hatred," writing, "your actions have led to the single-handed destruction of all the progress we've made socially as a nation."
"When people say, 'You should just sing and dance and shut up,' I'm like, 'Really? I'm an active participant in this world. I'm a U.S. citizen," she said. "Do you really want me to not know about politics? Do you really want me to be unconcerned and ignorant?' That makes me wonder what kind of individual you are, more so than making me question myself and what I'm doing. Anytime you can get a chance to spread light, it's not pretentious. It's necessary."
And, she noted, some songs on the forthcoming album are inherently political. "Being yourself is political. Some of things that I identify as, some of the things that I speak about, the fact that I'm a woman—being a woman is a political debate, ironically enough. I'm not my own autonomous woman in this current administration, let alone around the world. I can't shut the fuck up. I have to be vocal. For myself."
Lest you forget, "Expectations" is just the start of things to come. "I'm ready to fucking work," she said. "I'm ready to eat the world."