Leonardo DiCaprio's The Beach Has Ruined the Real-Life Beach Maya Bay in Thailand
Leonardo DiCaprio would not approve.
---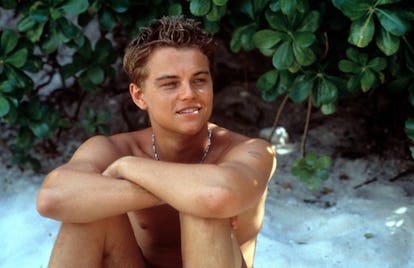 20th Century-Fox/Getty Images
If there's one thing Leonardo DiCaprio cares more about than models, Oscar snubs, and Rihanna, it's the environment. DiCaprio has become one of the faces of climate change activism in recent years, using every platform from his Oscar acceptance speech for The Revenant to his Instagram to advocate for change. So DiCaprio would be totally heartbroken to learn that one of his films, 2000's panned The Beach, has brought about environmental destruction to its filming location, Thailand's Maya Bay.
Ever since its release, tourists seeking out the calm waters DiCaprio frolicked in for the film have ruined the real-life paradise. The average of 200 boats and 4,000 visitors a day have pillaged the surrounding coral reef and chased out sea life, as CBS News reports, forcing the island of Phi Phi Leh to take action. The Andaman Sea destination will now prohibit boats from docking in the area, as well as capping the tourist population to 2,000 visitors a day. Not to mention, the beach will be shutting down altogether for four months annually, beginning in June.
"It's like someone who has been working for decades and has never stopped," Thon Thamrongnawasawat, a marine scientist part of Thailand's national strategy committee on environment development told CBS. "Overworked and tired, all the beauty of the beach is gone. We need a time-out for the beach. The locals know that and we all know that. This would be a good way to start managing our tourist destinations. And we can improve on what we learn after the first year. We know that it's important we manage our resources well. It's not about more numbers of tourists but about sustainable tourism that benefits locals as well."
Since 2000, Thailand has seen a boom in tourism, from 10 million at the time to 35 million, so the fact that Maya Bay isn't shutting down completely is promising. Other wanderlust-worthy beach destinations in Thailand, like Koh Yoong and Koh Tachai, in the Similan Islands National Park, have had to do just that, as CBS notes, which has helped the sea life and coral recover.
Related: Leonardo DiCaprio's Climate Change Documentary "Before the Flood" Is Surprisingly Moving