What We Know About Leonardo DiCaprio's Rumored New Girlfriend, Lorena Rae, Based On Her Instagram
A deep dive into the brunette model's social media.
---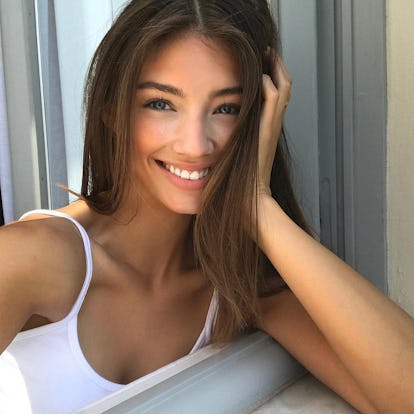 Exactly three months after breaking up with girlfriend Nina Agdal, it seems like Leonardo DiCaprio has seemingly moved on. While Agdal has been spending her summer months in the Hamptons, taking up seemingly permanent residence at Surf Lodge with new beau Jack Brinkley Cook, DiCaprio has been keeping a relatively low profile (if throwing a major, star-studded fundraiser in St. Tropez is low-key, that is.) All of that changed, however, when DiCaprio was spotted with 23-year-old German model Lorena Rae earlier this week. According to Page Six, the pair were spotted having lunch on Park Avenue after spending the day at MoMa's PS1. The real pièce de résistance, however? The duo were seen riding CitiBikes together, one of DiCaprio's known favorite past-times to share with model girlfriends.
Of course, nothing has been confirmed at this point—DiCaprio is notoriously private when it comes to his private life—so we have little to go on about the rumored new relationship. Of course, there is always Instagram to give us a peek into even the most mysterious celebrities. Here, a look at what we know about Rae, based on her Instagram.
She's Adventurous!
Rae proved that she's not the squeamish type last June, when she posted an image holding a slithering snake. The model also often posts pictures of herself riding jetskis,
She Wears Glasses!
And they aren't just for show. "Fun fact: I'm totally blind and wear contact lenses all the time," she wrote on a post. It has helped out career-wise, seemingly: she's now the face of Hugo Boss's eyewear campaign.
She's a Cancer!
Rae posted a selfie on July 9th to commemorate her 23rd birthday, meaning that her astrological sign is a Cancer. According to the Astro Twins, this summer was a time for Cancers to find love. Many of the people you've been obsessed with will come to you some night at the bar or in your inbox," they wrote. "Don't be suspicious of all this potential and movement." Interesting…
She Met Leo In Cannes! (Maybe)
This one may be pure speculation, but back in May—right when it was announced that Agdal and Dicaprio had split—Rae posted a picture from the annual amfAR Gala—an event that the actor famously attends every year. Curious…
She's Brunette!
Okay, that one is a bit obvious, but given DiCaprio's very blonde track record, it bears repeating.
Related: When He's Not with Nina Agdal, Jack Brinkley-Cook Spearfishes and Keeps Up with His Mom Christie Brinkley's Instagram
Leonardo DiCaprio's Notorious Dating History
A Photographic Guide To Everyone Leonardo DiCaprio Has Publicly Dated
Leonardo DiCaprio dated model Kristen Zang for a year back in the '90s, where she acted as his date to the premiere of Romeo & Juiet.

Getty
Perhaps DiCaprio's most famously ex is Gisele Bündchen, whom he dated from 1999 to 2005.

Getty
The pair were serious for nearly six years, often spotted walking their dogs together.

Getty
The pair also often took in sporting events, a popular past time for DiCaprio and his girlfriends.

Getty
After splitting with Bündchen, DiCaprio moved on to Isreali model, Bar Rafaeli. The couple made a rare high profile appearance together at Berlin's Annual Cinema For Peace Gala in 2010.

Getty
The couple often took in basketball games, sitting courtside, of course, making for a few rare moments of DiCaprio allowing himself to be photographed with a girlfriend. Here, they watch the Lakers in 2010.

Getty
The pair dated for six years—the exact duration of his relationship with Bundchen—before splitting in 2011.

Getty
And again, the same year, DiCaprio shielded by a hat, as has become his fashion go-to.

Getty
In 2014, DiCaprio was spotted at the amfAR Gala in Cannes with his new lady, Toni Garrn, whom he dated for just over a year.

Getty
Before eventually getting together with Nina Agdal—whom he was never photographed with at a high profile event like a few of his other girlfriends—the actor dated a model Kelly Rohrbach in 2015, during which the pair were spotted together at the US Open. Agdal would go on to star in this weekend's Baywatch, while DiCaprio would continue to date models.

Getty