Leonardo DiCaprio Condemns the Trump Administration's Record on Climate Justice, Pledges $20 Million to Environmental Organizations
The actor and environmentalist—and reformed taker of private jets—excoriated the administration's "willful ignorance" in a recent speech at Yale.
---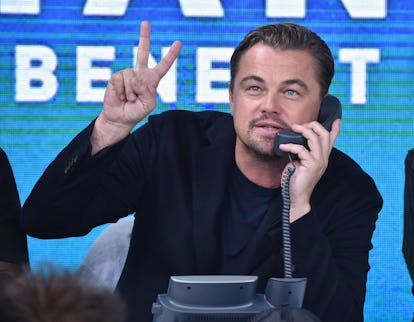 Theo Wargo/Hand in Hand/Getty Images
Actor-turned-climate justice advocate Leonardo DiCaprio took the opportunity to excoriate the Trump administration's inaction on climate change over the past nine months during an address he delivered at the Yale Climate Conference Tuesday. DiCaprio appeared, to rapturous applause, alongside former Secretary of State John Kerry: "Who better to talk about the dangers of climate change than a man who has first-hand witnessed the damage caused when an iceberg breaks off from a glacier?" Kerry deadpanned in his introduction to DiCaprio's keynote speech. (Plus, The Revenant was also plagued by global warming, preventing the production from shooting its final snowy scene at their intended location.)
DiCaprio has been an outspoken activist for environmental justice since he founded the Leonardo DiCaprio Foundation in 1998; his Twitter bio, the arbiter of fact, describes him as "Actor and Environmentalist," his feed largely comprising retweets about water and air pollution, clean energy, and post-hurricane recovery projects. He spent three years traveling the world to make his documentary, Before the Flood. He's made some personal sacrifices, too: After criticism that he took too many private jets—a mode of travel perceived to be at direct odds with his climate-justice advocacy—he flew commercial to the fourth annual Leonardo DiCaprio Foundation gala earlier this summer.
Last December, shortly after Donald Trump was elected president, DiCaprio met with Trump to discuss a strategy to take on climate change while creating jobs in clean energy research, development, and manufacturing. That plan, apparently, went unheeded: Since then, Trump invited Scott Pruitt, an outspoken climate-change denier, to head up the Environmental Protection Agency; withdrew the United States from the Paris Climate Accord; and has continued to deny the effects of climate change even in the aftermath of storms like Hurricanes Harvey and Irma.
"The cost of our inaction these past couple weeks has become even clearer," DiCaprio told the audience at Yale. "Yet with all this evidence, this clear evidence from the scientific community and the mounting economic price tag, there is still an astounding level of willful ignorance and inaction from the people who should be doing the most to protect us and every other living thing on this planet."
He proceeded to condemn, in no uncertain terms, the attitudes and policies emerging from the Trump administration: "This utter lack of leadership by officials who prefer to preserve their short-term political power rather than ensuring the livable future on our planet means that we all must do more now than any other time in human history," he said. "I still believe that the United States has the potential to lead the world on this issue. We can only hope that the president begins to see it to, before it is too late for all of us."
To that end, DiCaprio also concluded his speech by pledging $20 million, through his foundation, towards various environmental advocacy groups working across a range of different climate-associated issues. (The foundation also recently donated $1 million to Hurricane Harvey relief efforts through United Way.)
"The current events have become a global wakeup call," he said. "It is too late for any of us to be too timid or too ignorant or too silent."
Related: Leonardo DiCaprio Attends Climate Change March in Washington, D.C.
Mya Taylor loves the Titanic love scene: