Leonardo DiCaprio Donates $1 Million to Hurricane Harvey Relief
He's the latest celeb to make a huge donation.
---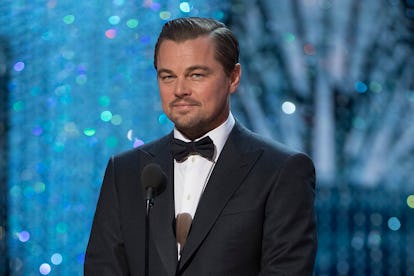 Eddy Chen/Getty Imagese
Leonardo DiCaprio has become the latest Hollywood darling to pledge a significant amount of money to the Hurricane Harvey relief efforts. Per Variety, DiCaprio donated a remarkable $1 million (!) from his Leonardo DiCaprio Foundation to the just-established United Way Harvey Recovery Fund, which was set up with the sole purpose of assisting with post-hurricane recovery efforts in Texas and the Gulf Coast.
While DiCaprio didn't offer up any words regarding his pledge, the people behind the Recovery Fund naturally fawned over his donation. "We are incredibly grateful for the generosity of Leonardo DiCaprio and his foundation," the president and CEO said in a statement. "Responding to Hurricane Harvey requires the best of all of us — and that's what this gift represents." As Variety notes, DiCaprio's donation isn't an anomaly — he has previously given large checks to disaster relief aid, as evidenced by his equally big donations to assist the aftermath of the 2004 Indian Ocean tsunami, the 2010 Haiti earthquake, and Hurricane Sandy in 2012.
With his hearty $1 million, DiCaprio has now joined a slew of other celebs who have opened their wallets for the sake of assisting Harvey's victims. Earlier this week, Sandra Bullock revealed that she also donated $1 million to the cause. "There are no politics in eight feet of water," Bullock explained. "There are human beings in eight feet of water. I'm just grateful I can do it. We all have to do our part." Other prominent figures including the Kardashian family, Nicki Minaj, DJ Khaled, Jennifer Lopez, and Dwayne "The Rock" Johnson have also donated large chunks of change to the relief efforts, many of whom were encouraged to by comedian Kevin Hart's viral social media campaign.
Meanwhile, President Trump has been trying to sell his hats while in Texas.
Watch: The Fashion Industry Stands Up for the Rights of Immigrants