Laverne Cox and Beyoncé Are Collaborating on a Secret Project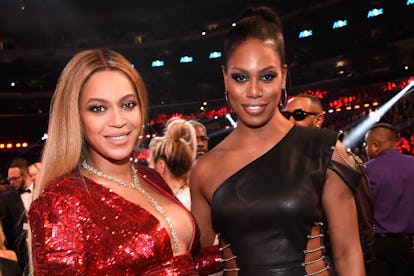 Kevin Mazur/Getty Images
Between speaking out on behalf of the trans community and receiving multiple Emmy nominations for her role on Orange Is the New Black, Laverne Cox has become a full-fledged star in her own right, but that doesn't mean she no longer gets starstruck. It just means she gets more opportunities to be starstruck by her idols—and sometimes even collaborate with them.
On Tuesday, the actress posted a clip from an Access Hollywood interview in which the hosts reveal that she will be teaming up with Beyoncé on an upcoming project. "Yes it's true. I am collaborating with @beyonce on a new project. #QueenBey herself. More details Sept. 6. #Beyonce #TransIsBeautiful," Cox captioned the video. In the full interview, Cox remained mum on what exactly her collaboration with Beyoncé entails, but she did reveal that she was just as pleasantly surprised by the news as the rest of us. "So, I have no idea [how this came about] to be perfectly honest," she said. "I'm like, does she pick out her biggest fans ever and let them work with her? It's pretty amazing."
She also described what it was like to meet Queen Bey at the 2017 Grammy Awards earlier this year. "I thought the first time that I would meet Beyoncé I would totally, like, start crying and freak out, and I was always—literally, for years I've been like, I don't want to freak out, I want to be, like, really calm," she said. "And I thought I would cry, [but] I swear to you, a sense of calm comes over you when you meet the queen."
Not long after the fortuitous meeting, Cox told People all about it, saying, "I walked over and I was strangely calm and she was sitting there and everyone was surrounding her—because she's Beyoncé and she's the queen. And then she saw me and her face lit up, and she was like, 'Help me up!'—she's pregnant so she needed some help up. I was like, 'I'll help you up,' and she got up and gave me a big hug." She added, "I was like, 'I love you,' and she's like, 'I know you do… I love you, too.' And she's like, 'Your Lip Sync Battle was amazing,'—she had seen I did Destiny's Child."
Hmmm, might Beyoncé be putting Cox's lip syncing skills to work or could it be something completely different? We'll find out soon enough.
Related: It's No Longer a Big Deal to Cast Trans Models in Fashion Shows—And That's a Big Deal
See What's Trending in W Video: