Seductive Seydoux
Léa Seydoux stunned in Prada at the final "Spectre" premiere.
---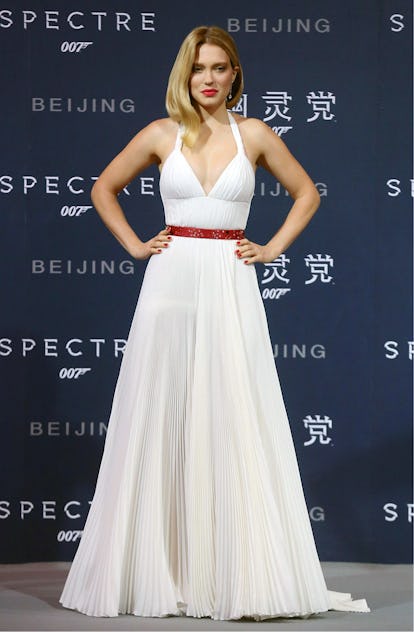 Who: Lea Seydoux
Where: The premiere of her new film, "Spectre," in Beijing.
When: Thursday, November 12th
What: A long white gown with a red belt and Chopard diamond earrings and rings.
Why: Seydoux's been on a winning streak throughout her "Sprectre" tour. In this seductive white stunner, she goes out with a bang.
Lea Seydoux's Stunning "Spectre" Tour
In Miu Miu at the brand's Spring 2016 show at the Palais d'lena in Paris.
An instant addition to our Best Dressed list in a sparkling gown and Chopard golden jewelry at the "Spectre" world premiere.
Going for retro in Miu Miu at the film's Amsterdam photocall.
Photo by Splash News
And a modern queen in another Miu Miu number for the film later that day.
Photo by Splash News
Wearing a pink Prada gown and stunning Chopard diamond jewelry at the film's Paris premiere.
Photo by Julien Hekimian/Getty Images