Legendary Costume Designer Arianne Phillips on Building a Make-Believe World with Tom Ford
Amid preparations for Madonna's Rebel Heart tour, costume designer Arianne Phillips reprised her role as Tom Ford's go-to costumer for his sophomore film, Nocturnal Animals. Here's how it all came together.
---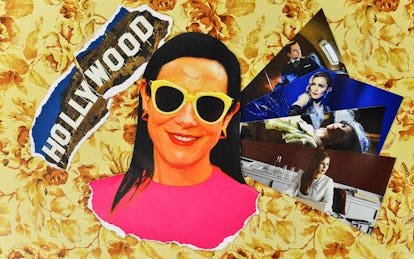 Collage by Alex Hodor-Lee
It was over lunch at the Beverly Hills Hotel that Tom Ford asked Arianne Phillips to design the costumes for his debut directorial effort, A Single Man. The resulting 60s period piece, and the accompanying ensembles outfitting Julianne Moore and Colin Firth, earned a BAFTA nomination for best costume design as well as an Oscar nomination for Firth.
Seven years passed. Ford launched a womenswear collection, debuted a cosmetics line, got married, and had a baby with longtime partner Richard Buckley. Then, last year, while Phillips was in the midst of preparing for Madonna's Rebel Heart tour (she's worked with the Queen of Pop for 19 years), Ford reached out to her again with another proposition — would she collaborate again, this time on his sophomore film Nocturnal Animals?
Set across three distinct timelines, the Hitchcockian drama Nocturnal Animals posed a distinct challenge for Phillips, who navigated time period, geography, and socioeconomic class distinctions while costuming the film. The primary timeline, in which the film opens, finds Amy Adams's character Susan Morrow in the present day, a successful gallerist in an unhappy marriage to Armie Hammer. She reconnects with her novelist ex-husband Edward Sheffield, played by Jake Gyllenhaal, who sends her the manuscript for his new book, the titular Nocturnal Animals. The novel, a haunting thriller set in West Texas, occupies its own, distinct storyline, playing out as Susan reads the manuscript; the third storyline goes back in time to chart the early romance — and eventual betrayal — of Adams's and Gyllenhaal's characters.
"These three worlds, we really treated them independently," Phillips said over the phone. "We used color a lot to weave a story through the story." Red in particular recurs throughout the film: in Gyllenhaal's buffalo plaid shirt, Ellie Bamber in a red shirt and a yellow plaid wrap, and in one disconcerting scene, Adams's character sits in an office, clad entirely in white against a red wall.
"Tom was very clear that her exterior does not mirror her interior. It's more of a veneer," Phillips said. "It's a distraction. It's her armor."
Susan is a gallerist, once an artist, and her artistic eye infuses the whole film, reminding the viewer that the flashback scenes, the reading of Nocturnal Animals, and the contemporary timeline are all depicted through her character's perspective. Each frame is crafted with painterly precision; Phillips and Ford pored over art by the likes of Ed Ruscha and Mark Rothko and photographs from Jack Pierson, Larry Clark, and Jeff Burton as part of their research prior to filming. The film opens on an image of gyrating, corpulent nude women wearing epaulettes and brandishing sparklers. Accompanied by a sobering score, it's a poignant, yet empowering moment, women owning their bodies. It turns out to be an installation at Susan's gallery, demonstrating from the outset that Nocturnal Animals's perspective is radically unstable.
The West Texas world is hyper-saturated and hyper-realistic, each scene something torn out of an old West picture book; Aaron Taylor-Johnson's bad guy Ray wears classic cowboy boots in an iconoclastic kelly green and a pink child's pinky ring as a creepy reminder of his villainy. The vivid colors serve as a reminder that, as immersive as Nocturnal Animals may be, it's ultimately fictive — "We're creating make-believe," Phillips said. (Ford is himself from Texas; while he directed much of the film in his standard suited uniform, he reportedly went casual for the desert scenes, opting instead for a Canadian tuxedo.)
Susan in the contemporary is sleek and polished against a backdrop of art-world peacocks — the glittering Los Angeles art scene offered Phillips the opportunity to costume even her extras in extravagant fashion. Phillips and Ford called upon designer friends like Alessandro Michele at Gucci, John Galliano at Maison Margiela, and Marc Jacobs to contribute to the project.
"Those were the best-dressed extras I've ever dressed," Phillips said, laughing. She toyed with the absurdities of society ladies and art collectors — Jena Malone plays a curator outfitted in a vintage Comme Des Garçons corset. In one flashback scene, Laura Linney, who plays Susan's mother Anne Sutton, a cosmopolitan doyenne, wears pearls, a Judith Lieber bag, and a custom Chanel tweed suit by Karl Lagerfeld based on an archival design. With eerie premonition, she tells her daughter, still resistant of the upper-crust society she'll eventually belong to, "All these bourgeois things are going to become very important to you. … We all eventually turn into our mothers."
Though Phillips reaped the benefits of working under a director who is also a designer by day — she had his atelier at her disposal — she and Ford agreed to forego Tom Ford designs, for fear of displacing the viewer from within the film at any sight of a Tom Ford logo. (Despite that, Phillips admitted that the director's designs "would be an obvious choice, because Amy Adams's character would definitely wear Tom Ford.") Indeed, in a final scene, Susan wears a hunter green gown that could easily have emerged from Ford's own sketches, but was instead designed by Phillips in collaboration with Tom Ford design consultant David Bamber.
Ford's knowledge of both the fashion and cinematic worlds proved to Phillips's advantage in terms of direction: "The role of a fashion designer is to create a point of view for his customer," she explained. "Tom knows how to impart his ideas, his vision. He can speak in aesthetics."