Hood by Air's Leilah Weinraub on the Debut of Her Film About a Black Lesbian Strip Club at the Whitney Biennial
During the label's hiatus, CEO Leilah Weinraub screened her film Shakedown, about an L.A. strip club run by and for black lesbians, which has been in the making since 2002.
---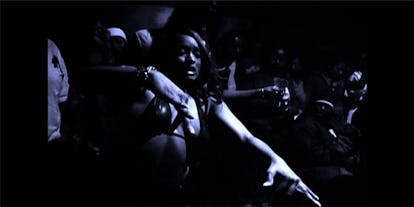 Courtesy the artist
Over the last few years, in their headquarters on Hester Street in New York, the designer Shayne Oliver and his assorted creative directors, including the filmmaker-turned-CEO Leilah Weinraub, set about quietly rebranding Oliver's label Hood by Air—and revolutionizing streetwear in the process. At the same time, though, something else was brewing: In that same office, Weinraub was also hard at work on Shakedown, a film she produced and directed that just screened this past weekend as part of the Whitney Biennial.
Weinraub had in fact been hard at work on Shakedown, which documents the titular South Central Los Angeles strip club run by and for black lesbians, since 2002, when she first started attending its events as a 23-year-old. That quickly led to a job, off the dance floor. "I was the person that taped all of the shows," Weinraub said.
She wasn't the only one roaming with a camera, but she was the only one to offer the tapes up to guests and dancers for free—which has since become raw material for the documentary, even if she's still not sure that that's the appropriate label for the film. (The version shown at the Whitney was simply a cut of Weinraub's 400-plus hours of tape, which includes every Thursday and Friday night show for six years in a row.)
As it stands now, though, at 64 minutes, Shakedown follows the lives of dancers like Egypt, who got into the scene by accident, and Mahogany, who kicked off her 30-plus years as a performer when she accidentally exposed one of her breasts during another show. Featuring appearances by the dancer's children, plus the club's neighbors and security guards, it's essentially a portrait of a tight-knit community. Many of the women call Mahogany "mother," or recount how they shut down the club early one night to visit one of the dancers in the hospital when she was having a baby. There was a lot of fun had, by all accounts, before things came to an end after persistent police raids lead the owner, Ronnie, to call it quits on Shakedown's eight-year run.
Weinraub initially sought to model the film on Studs Terkel's Working, showing what labor looks like at home and behind the scenes. And while the film delves into the lives of the dancers, Weinraub is very much a presence herself. In between the many interviews, footage of provocative performances going back to the '90s, and early aughts show fliers, there are scenes where subjects explicitly ask Weinraub to explain why she has a camera, and shaky footage of the asphalt as she sprints from a police raid.
The first time we see her, Weinraub is wearing a Hood by Air sweatshirt. She may be better known for her work with the brand, but it's the film that's influenced Hood by Air rather than the other way around, according to Weinraub. When pressed, she protested the influence can't be defined, but what has been more explicit is the influence of Tony Kaye, the American History X director whom Weinraub worked with directly in Los Angeles (after boldly asking him to pay for her college tuition), especially on his "passion project" documentary on abortion, Lake of Fire, which took 16 years to produce.
Weinraub studied film in the graduate program at Bard College, and while she's produced and screened a number of "environmental narratives and essay pieces" over the years, Shakedown is her first feature—one that got a little help from Kickstarter, where her backers included Ryan McGinley. And while she's more eager to hear opinions on the film rather than offer her own—"I've kind of had it in isolation, so I'm at this point where I'm just super interested in what other people think"—she's still unclear on its distribution and next steps.
"I don't have a plan right now," she said. "I'm just interested in seeing what happens."
After all, given her lack of business background and Hood by Air's determination to do things unconventionally, Weinraub's role and mode of operating as CEO (she referred to herself as "one of the founders") has looked, from the outside, rather contrarian. Over the last few years, she's remained immune, and even resentful, of the attention the brand has garnered after landing the support of A$AP Rocky, and is proud of the almost unheard of fact that the company has never accepted any outside investment.
For the time being, Weinraub is entirely focused on the 400 hours of footage she has to mess around with for the final cut. Hood by Air, in fact, has been on hiatus since April—a decision, the brand said at the time, that was made so that Oliver and Weinraub could "focus on their current projects"—but which Weinraub added was actually more complicated than her film and Oliver's new role designing for Helmut Lang.
"I think that's a longer story than I can get into right now," Weinraub said. She added, though, that Oliver has stood by her film the whole way, and vice versa. "We're definitely both supportive of each other's practices."
Defiant Hood By Air Show Casts "Real People" Models Like Wolfgang Tillmans
Watch a Young, Pre-Hood by Air Shayne Oliver Vogue for Rashaad Newsome: