Also Known As @LenaPerminova
The stylish mom and Instagram sensation answers our social q's—just in time for Mother's Day.
---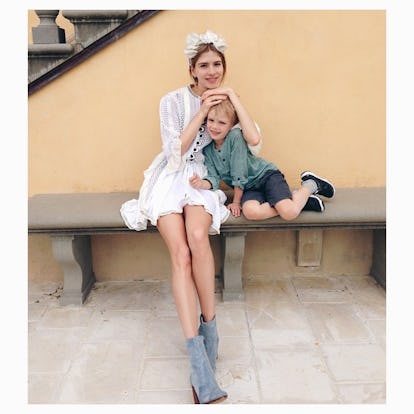 When Lena Perminova isn't posing for street style photographers in the season's best looks, she's caring for her children, doing charity work, traveling the world—and documenting it all for her 852,000 loyal Instagram followers. Here, the stylish mom shares her tips, tricks, and secrets for social media success.
Occupation: Happy mum of 3, model, and founder of charity fund @sos_by_lenaperminova.
Define your Instagram style in three hashtags:
fashion #love #charity
What is your favorite thing to post? Kids no doubt.
The one thing you would never post: How I'm eating at night.
What's your secret for taking a great family photo? Count to three—its maximum timing to get three kids all together and in focus.
#Nofilter or filter?
nofilter
Insta-gram or #latergram? Insta.
Most geo-tagged location: My favorite Umbria—our family's secret place in Italy.
Greatest hits: My kids are the most liked and I can understand— they are too cute.
Your first Instagram: Me walking around Moscow 3 years ago in denim shorts, a denim jacket and flats.
Your secret to social media success?
Do what you do best.
Be honest with your followers.
5 favorite accounts to follow: @ClareWaightKeller — She has a terrific sense of taste and style, and to see her inspiration is incredible. @TaylensMom — The cutest little girl, her mom is posting such pictures that will leave no one indifferent. I watch over her style and even use some styling tips for my daughter Arisha. @Home_Squats — Helping me to be fit wherever I go. @Anja_Rubik — For her cool style and amazing beauty—this girl is just perfect. @SOS_by_LenaPerminova — I'm obsessed with my new case. I am so happy that it works; we are collecting a lot of money to help children.
Social media pet peeve: Sometimes when I hold charity auctions on Instagram under my project SOS… unfortunately my team and followers have to cope with cruel people who give the highest bid for the lot and than just disappear. Thank God it's very rare and we know how to make them responsible for it!
Photos: Also Known As @LenaPerminova
"Our Umbrian dailies #louisvuitton" Courtesy of @LenaPerminova.
"Messing around with the kids." Courtesy of @LenaPerminova.
"Everything you could wish for… And more! At Landaa Giraavaru." Courtesy of @LenaPerminova.
"A postcard 'From Umbria with love' to our grandmas." Courtesy of @LenaPerminova.
"Loving my new @Chloe bag." Courtesy of @LenaPerminova.
"#relaxtakeiteasy" Courtesy of @LenaPerminova.
Courtesy of @LenaPerminova.
"My treasure, my everything, my life @alexanderelebedev #birthdayparty" Courtesy of @LenaPerminova.
"Paris #latergram photo credit @aleksandrakirienko." Courtesy of @LenaPerminova.