Lena Waithe Used Her MTV Movie & TV Awards Speech to Shine a Light on Paris Is Burning
From one trailblazer to another.
---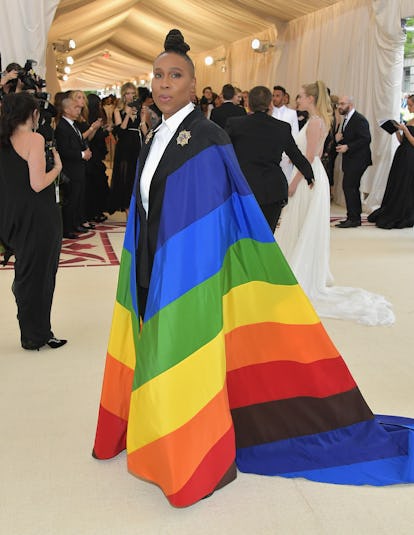 Neilson Barnard
During the 2018 MTV Movie & TV Awards, Common presented Lena Waithe with the Trailblazer Award for her incredible work creating The Chi, appearing in Ready Player One and mentoring so many young people. Oh yeah, and becoming the first black woman to win an Emmy for writing a comedy series (Master Of None). And she's something of a queer icon, going to the Met Gala dressed as a damn rainbow! She also attended the awards with her fiancée, it's all really sweet.
And since she's Lena Waithe, she used her acceptance speech to teach all the young people in the audience about the incredible, groundbreaking 1990 documentary Paris Is Burning and its drag queens stars. Paris Is Burning showcases the voguing and drag ball scene of 1980s New York as marginalized people, most of them trans women of color, who find vibrancy, family, love and acceptance in their art, even as they battle ignorance, hate, and the AIDS crisis. Many of the stars, as Waithe pointed out, have since passed away, but "they live on," she said, in the culture they created. Waithe reminded us that when we talk about serving face, or reading someone, or throwing shade, we owe those terms to queens like Carmen Xtravaganza and Pepper LaBeija.
They didn't just blaze trails. They "strutted through brick walls," as Waithe said.
Related: Lena Waithe: There Are More Donald Glovers, Sterling K. Browns, and Lena Waithes Out There
What the Kiki Ballroom Scene Looks Like Now: A Family Photo Album
Zay Lanvin performing in the Vogue Femme category at the Latex Ball. Photograph by Anja Matthes.

Anja Matthes
Twiggy Pucci Garcon, overall overseer of the House of Garcon and Pose consultant. Many marginalized and at-risk groups like LGBTQ youth, can gain self-acceptance and confidence through the surrogate families formed in the Kiki community, and Twiggy Pucci Garcon has organized and advocated for LGBTQ youth with various collaborative organizations to create safe spaces for over nine years. Photograph by Anja Matthes.

Anja Matthes
Christine Rachel Ebony performing in the "Butch Queen Vogue Femme" category at The Legends Ball. (Christine has transitioned since this performance at The Legends Ball.) Photograph by Anja Matthes.

Anja Matthes
Members of the House of Bangy Cunts after their practice in East New York. Photograph by Anja Matthes.

Anja Matthes
Legendary Mother Afrika Juicy performing in the "Runway" category as a house at the Old Navy Ball. Kiki balls are a celebratory component of the Kiki subculture, offering a safe and empowered space for performers to enact various genres of gender expression, including stylized femininity. Photograph by Anja Matthes.

Anja Matthes
Aniyah celebrates her 21st birthday with her family Nash, Starasia, Jocelyn, Diamond, and Denim. The familial structure of Kiki houses—mother, father, sister, brother—often acts as a surrogate for a biological family. Photograph by Anja Matthes.

Anja Matthes
A mysterious performer at Live a Metallic Life, METALIKA Ball. Photograph by Anja Matthes.

Anja Matthes
Eyricka and members of the Iconic International House of Mizrahi at the Latex Ball. Photograph by Anja Matthes.

Anja Matthes
NYC Mother Iggy Unbothered-Cartier and Omari Gabbana performing at Live a Metallic Life, METALIKA Ball. Photograph by Anja Matthes.

Anja Matthes
Legendary DaeDae, father of the House of Bangy Cunts, with his brother Dutch Gotti. DaeDae is photographer Anja Matthes' godson. He passed away last year. Photograph by Anja Matthes.

Anja Matthes
The House of La Familia Margiela. Left to right: overall mother Candice, founding mother Diamond, overall NYC mother Natalie, and Tyler. The Kiki Yearbook symbolizes a coming-of-age milestone for many youths in the Kiki scene who have been abandoned by their parents, and often were not able to finish high school. This project was made possible with the support of IWMF (International Women in Media Fund). Photograph by Anja Matthes.

Anja Matthes