Heidi Klum's Daughter Starts Her Modeling Career With a Bang
Introducing Leni, who joins the ranks of Kaia, Lila, Bella, and Gigi.
---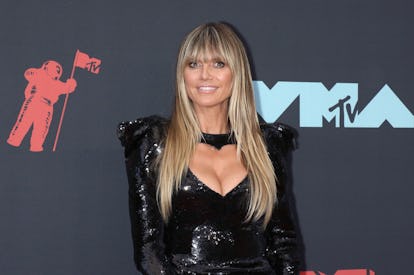 Just last week, Heidi Klum hinted in an interview that her 16-year-old daughter Leni Klum was perhaps interested in modeling. She played coy, but apparently Leni's burgeoning career was already in the works. This morning mother and daughter appeared together on the cover of German Vogue, the elder Klum's homeland. Quite suddenly, Leni Klum joins the ranks of the Hadids, Kaia Gerber, and Lila Grace Moss as the daughters of models looking to walk in their mothers' foot steps.
Appearing in color-coordinating Versace suits, Heidi clearly lets Leni take center stage on the cover. The younger Klum says "It was only a matter of time before I would try" modeling for herself, though her mom made her wait a minute. When she was around 12 years old, Leni begged her mother to let her star in a campaign for popular teen store Brandy Melville, but Heidi resisted. Ultimately, mom decided that if you can get a driver's license at 16, you can get a public Instagram account and a Vogue cover as well. (Though, apparently Mom still has her rules. She won't let Leni and her boyfriend get matching mouth tattoos.)
The younger Klum says she not only grew up on sets with her mother, but that being photographed on the streets by the paparazzi was just a fact of life. "I've been photographed on the street since I can remember," says Leni. "Even if most wouldn't call my childhood normal, for me, it was. My mother did a pretty good job there, I think. And that's why I now feel so ready to take this step."
Leni, who was raised by Klum's ex Seal (though Formula 1 executive Flavio Briatore is her biological father), is also relatively new to Instagram, but already has over 285,000 followers.
The younger Klum clearly sees this as the first step in a larger career, and that career may end up looking very different than her mother's should everything go right. Heidi came to note for her work in Sports Illustrated's swimsuit issue and Victoria's Secret rather than on the high fashion runways, though even the chicest fashion brands in the world love nothing more than a young model with a famous last name.
Of course, whether or not she also takes up her mother's mastery of over-the-top Halloween costumes remains to be seen.