Lenny Kravitz Got Into a Very Fancy Fight about Chocolate at a Paris Opera
It's really a story about the transformative power of ballet.
---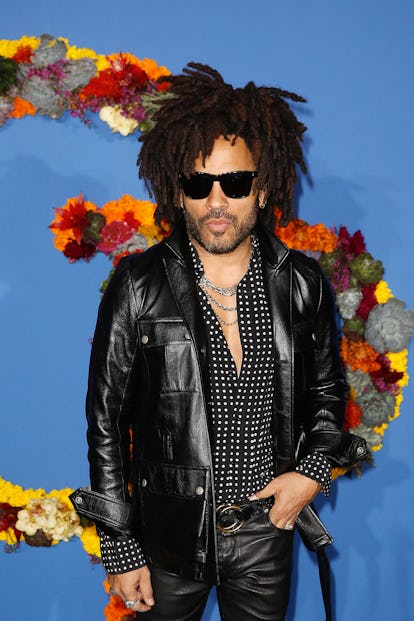 Stephane Cardinale – Corbis
Can a hard-working Lenny Kravitz just have a quick snack to get his blood sugar up in peace? No, apparently not. At least not at Paris's Palais Garnier opera house. Kravitz was one of a handful of VIP patrons at the Paris Opera Ballet's opening night gala on Thursday, where he was joined by the likes of Charlotte Casiraghi, Haider Ackermann, Rick Owens, and others.
Kravitz just happened to be in town because he's recording a new album in the city, as a rockstar like Kravitz is wont to do. In fact, according to Page Six, he's been logging many a late night recording session. Which might explain why he showed up to the affair in black leather pants, a black leather jacket, and a shirt with several buttons left strategically undone (to be fair, do you really invite Lenny Kravitz anywhere and really want him to be dressed in any other way than this?).
The late nights also explain why, minutes after the lights went down, he unwrapped a piece of chocolate and had a quick bite. Page Six reports it was to keep his blood sugar stable.
Well, a man sitting in front of Kravitz didn't appreciate the snack or the sounds of the crinkling wrapper.
"Shhhh!" is how Page Six's source remembers the ensuing dialogue. "Stop eating! Stop eating!"
Kravitz reportedly got up to confront the man, and told him, "Don't tell me what to do."
"This is France," replied the man, apparently disenchanted those who believe everyone in France is allowed to partake in tiny, sweet delicacies at any time they please.
The confrontation continued until Kravitz decided to get up, exclude himself form the narrative, and cool down. He returned 15 minutes later, presumably without offensive chocolate, and took in the end of the show.
Naturally, however, this story is really about the healing powers of ballet:
Kravitz, "clearly moved by the dancing," was later seen with the same man who'd complained, but the two were "apologizing and hugging it out, making amends for their misunderstanding," we hear.
We can only hope that Kravitz commits the story to song and produces a music video featuring clearly moving ballet dancing.
Related: Once Upon a Time, Nicole Kidman and Lenny Kravitz Were Engaged
55 Years of Celebrity Airport Style: