Leonardo DiCaprio Bought a $4.91 Million Storybook Home From Moby and You Can Take a Look Inside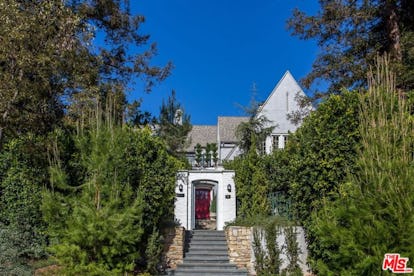 Trulia
Leonardo DiCaprio's extracurricular activities are mostly talked about in terms of his fondness for the environment and, well, models. But, what's lesser known is his impressive real estate portfolio. The latest addition? A Storybook home in Los Feliz's coveted enclave, the Oaks, which the actor just purchased for $4.91 million.
What makes it so special? Aside from its enviable location and picturesque curb appeal, the home is tailor-made for a celebrity—especially one desiring as much privacy as DiCaprio. Enveloped by tall pine trees, the 4,464-square-foot home was recently molded into a luxe hideaway by dance music artist Moby (who now lives next door to DiCaprio). Moby himself had bought the home in 2016 for just $3.4 million, so he's made a nice profit.
As for the home, the backyard is safe from the clicks of paparazzi and the inside has a secret getaway and passageway. On the first level of the home, there's a guest suite with a "speakeasy" entrance that leads to a steam room and bathroom, as Trulia notes.
Upstairs, there may not be any other surprises, but there are two full master suites with closets big enough to cater to awards season. One of them even has a loft space that can be used as a studio for yoga, which DiCaprio is a fan of. (In 2010, it was during a yoga class when DiCaprio reenacted his "King of the World" pose from Titanic with his then-girlfriend Bar Refaeli, as the Daily Mail pointed out. The home, on a 9,704-square-foot lot, also includes another three bedrooms and six bathrooms, in addition to the master suites—which is to say it has plenty of room for a growing family should he want to travel down that road.
When asked point-blank if he plans to have kids, DiCaprio told Rolling Stone in 2016, "Do you mean do I want to bring children into a world like this? If it happens, it happens. I'd prefer not to get into specifics about it, just because then it becomes something that is misquoted. But, yeah. I don't know. To articulate how I feel about it is just gonna be misunderstood."
DiCaprio's new home comes on the heels of the actor reworking his real estate investments. Back in 2016, he listed his home in Studio City, California, for $2.395 million and his Malibu estate for $10.95 Million. Take a look at his latest purchase below.
Related: Inside Leonardo DiCaprio's Malibu Dream House (On Sale For $10 Million)