Will Leonardo DiCaprio Play The Joker in a Martin Scorsese-Produced Movie?
Jared Leto isn't pleased.
---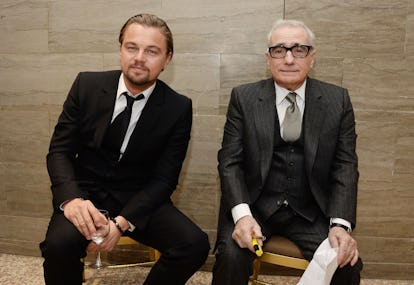 Jamie McCarthy
Save for a teenage role in Critters 3, Leonardo DiCaprio hasn't had much use for movie franchises in his career. He's never led a sci-fi reboot, suited up as a famous spy, or stepped into tights for a superhero film. Could Martin Scorsese and one of the most famous roles in comic bookdom persuade him otherwise?
Hollywood is awash with rumors this morning that Warner Bros. desperately wants DiCaprio to following in the footsteps of fellow Oscar winners like Jack Nicholson, Heath Ledger, and Jared Leto and don the famous face paint of The Joker. In fact, the project is shaping up to be almost tailor-made for DiCaprio.
The studio caught almost everyone off-guard last month when they announced they're pursuing a standalone Joker film with Scorsese attached as producer (though The Hangover's Todd Phillips would actually direct). The film would be under a new banner allowing filmmakers to explore the mythos of D.C. comic book characters outside of the interconnected D.C. Universe that currently includes Gal Gadot's Wonder Woman and Leto's own take on The Joker.
This new Joker film would be very much patterned after the look and feel of Scorsese films, and it seems DiCaprio does just about anything Scorsese asks of him. They've made five films together by now and already have two more in the works.
The idea is curious, very curious indeed. So much so that The Hollywood Reporter warns its far from a done deal. Scorsese's deal is not actually complete, and DiCaprio hasn't even been officially asked yet. The situation seems very much similar to Universal's rumored wooing of Angelina Jolie to play the Bride of Frankenstein in their troubled Dark Universe franchise (that film has a director and release date, but supposedly Jolie hasn't even been officially asked yet either).
There's also the matter that Leto, who played the Joker in Suicide Squad, and is signed on to the sequel and a just announced film starring his Joker and Margot Robbie's Harley Quinn, is none too pleased.
"Leto is said to have made his displeasure with the notion of multiple Jokers known to his CAA agents, and rival agency WME has been using the concern to court him," claims The Reporter.
Still, all the buzz and controversy may be worth it for Warner Bros. even if the film doesn't come together. If anything, it serves as a loud signal about their intentions for a new banner of D.C. films.
Surely there's several actors who would love the chance to tackle an iconic comic book role (and to collect the check that comes along with it), but are wary about signing on to an entire cinematic universe that may dominate their schedules for at least a decade. Likewise, directors may be in the same boat, but don't want to deal with their vision and creativity being hampered by the demands of making sure their film ties into the storylines of dozens of other films.
This new Joker film would set a precedent allowing for unique comic book movies outside of the constraints of cinematic universes. It also makes sense considering actual comic books have multiple versions of their characters running around in alternative universes or out-of-continuity one-offs. It's also worth noting that Christopher Nolan's Batman trilogy allowed certain actors to sign on for just a one-film commitment and was free from dealing with a wider universe. Aside from this summer's Wonder Woman, those films were the last time Warner Bros. and D.C. found both critical and commercial success.
So whether or not DiCaprio as the Joker ever comes to pass, the rumors do stand as an interesting signal of some very intriguing comic book movies to come.
Related: Leonardo DiCaprio Is Developing Two New Projects, and They're Both True-Crime Dramas
Jared Leto Reveals His Crush on Grace Kelly:
Photos: Leonardo DiCaprio Brings Millionaires to St. Tropez
Leonardo DiCaprio. Photo by Getty Images.
Lara Lieto, Natasha Poly, Adrian Brody, Emily Senko and Valentina Zeylaeva. Photo by Getty Images.
Naomi Campbell. Photo by Getty Images.
Chrissy Teigen and John Legend. Photo by Getty Images.
Irina Shayk. Photo by Getty Images.
Jessica Stam. Photo by Getty Images.
Heidi Klum and Julian Schnabel. Photo by Getty Images.
Sylvester Stallone and Elton John. Photo by Getty Images.
Michelle Rodriguez. Photo by Getty Images.
Bianca Brandolini. Photo by Getty Images.
Goldie Hawn. Photo by Getty Images.
Marion Cotillard. Photo by Getty Images.
Petra Nemcova. Photo by Getty Images.