An Angelina Jolie Bride of Frankenstein Movie is in the Works (But No One Has Actually Asked Angelina Jolie Yet)
Universal Pictures really wants Angelina Jolie to star in its upcoming Bride of Frankenstein picture. They just haven't signed her yet.
---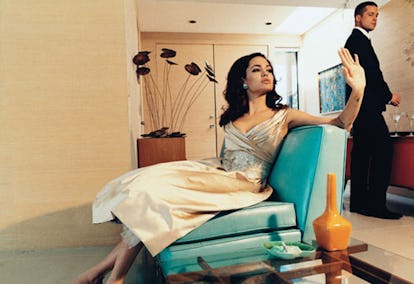 Angelina Jolie may play big time into Universal Picture's somewhat quixotic bet on turning classic movie monsters into the next big shared cinematic universe mega-franchise to rival those created by Marvel and DC Comics. The studio has already signed on megastars like Tom Cruise, Javier Bardem, Russell Crowe and Johnny Depp, as they unveiled in (what turns out to have been) a composite group shot last week, but they very much wish Jolie was in the mix as well to play Frankenstein's Monster's bride.
The problem: negotiations with Jolie haven't even begun.
What's even more interesting is that they've already set up a director (Beauty and the Beast's Bill Condon) and a release date (February 14th, 2019 — yes, Valentine's day). Yet, still no star.
In a deep dive into the future of the franchise, which Universal has officially dubbed "Dark Universe," The Hollywood Reporter relates that, "The studio wants Angelina Jolie for its Bill Condon-helmed Bride of Frankenstein." Then adds, "But negotiations with Jolie have yet to begin."
Rumors that Universal has been eyeing Jolie for the part have gone back for years.
Back in 2015, word circulated that the only reason Universal backed Jolie's passion project By The Sea (a critical and commercial dud that she directed and co-starred in with ex Brad Pitt) was so that they could snag her for the Monster's bride part. That same year, Variety also reported that they even planned on offering Jolie not just the lead part, but the director's chair as well (with Condon on board, that seems to be off the table, obviously).
Yet, more than a year-and-a-half after those reports, Jolie is still not signed on to the project despite a solid past and ongoing relationship with the studio. Granted, she's gone through some personal issues in the interim.
For Universal's sake, at least most of the rest of the major players are set. Cruise is set to star in the reboot of The Mummy franchise as adventurer Nick Morton, and will recur throughout the flicks. Relative newcomer (and former Madonna backup dancer) Sofia Boutella stars as the titular Mummy. Their first flick is set to be released on June 7th. Depp has signed on as the Invisible Man (his first starring title is set for 2020), Crowe is Dr. Jekyll/Mr. Hyde, and Bardem gets the honor of playing Frankenstein's Monster in future installments.
Dwayne "The Rock" Johnson is also on the wish list to play the Wolfman. A Creature from the Black Lagoon remake is also in the works (though no words on who will star), and Van Helsing and Dracula will likely pop up as well (the recent Luke Evans-starring Dracula Untold will not, as first assumed, be part of the universe). Interestingly, the franchise could include a selection of A-List-starring, big budget block busters mixed in with more modest budgeted horror movie fare.
Yet, as the Reporter notes, Jolie won't come cheap. She got about $20 million to play Maleficent for Disney, and if Universal doesn't nab Jolie, then the question is "who?" (Well, besides the question of "Do people really want these movies in the first place?")
Jolie, for her part, hasn't acted in a live-action film since 2015's By The Sea, but is reportedly considering several future projects. There's Maleficent 2, of course, rumors about sequels to both Salt and Wanted, as well as a project about Catherine the Great (currently in development with — guess who? — Universal) and another about WWII spy Christine Granville.
Related: Angelina Jolie: What My Late Mother Taught Me About Parenting
10 Famous Actresses Who Drastically Cut Their Hair Short For Movie Roles: