Leonardo DiCaprio Is Making His First Scripted TV Series With The Devil in the White City
The Devil in the White City is now a show heading to Hulu, and DiCaprio might be starring in it, too.
---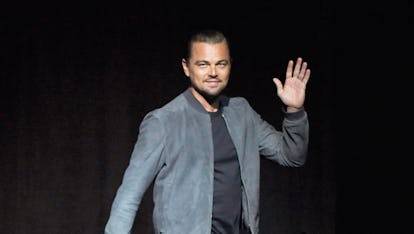 Ethan Miller, Getty
In the early '90s, shortly before Titanic and What's Eating Gilbert Grape and becoming, you know, a star, Leonardo DiCaprio acted on television. His first onscreen roles were in Growing Pains and Parenthood and, very briefly, Roseanne and The New Lassie. But then he was a big movie star, and he made The Departed and The Wolf of Wall Street, and won an Academy Award for The Revenant, and even though a plethora of movie stars were making their way to television, it looked like Leonardo DiCaprio was not looking back.
Until now: Among the three in-development projects DiCaprio is making with his longtime collaborator, the director Martin Scorsese, is an adaptation of Erik Larson's true-crime book The Devil in the White City. And while it was initially announced as a film project (along with an adaptation of David Grann's Killers of the Flower Moon and the biopic Roosevelt), now it's heading to Hulu—as a television series. According to The Hollywood Reporter, this update was first revealed during an event at the Television Critics' Association press tour on Monday—and while the outlet said it's not totally clear what role DiCaprio will play, if any, beyond producing, IMDb, at least for now, has him down as playing Dr. H.H. Holmes, the serial killer whose spree at the 1893 World's Fair is the subject of the story.
If true, The Devil in the White City would mark DiCaprio's first foray onto the small screen since 1992—nearly 30 years ago. And in any case, it's his first venture in making a scripted television series: Although he shares producer credits on 35 projects since 2004, including a handful of documentary miniseries, nowhere on that resume is a scripted series. (Many of them, however, center on climate justice, his cause célèbre.)
The Devil in the White City has metamorphosed a bunch of times since the rights were first secured more than 15 years ago. Tom Cruise was going to star at one point; Kathryn Bigelow was going to direct; Warner Bros. and Paramount were each going to back the then-film. If that's what it took for Leonardo DiCaprio to end up on television, playing a notorious serial murderer, well, okay.