Two of a Kind
Fashion, kismet and cattle play starring roles in the married life of designers Ana Beatriz Lerario and Robert Geller.
---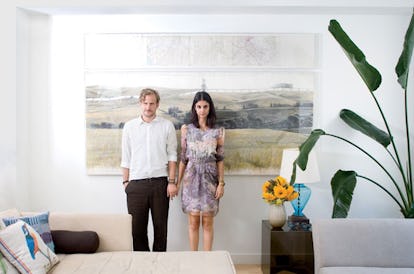 It's a late-summer morning in New York, and designer Ana Beatriz Lerario is giving a tour of her two-bedroom apartment inside a Financial District high-rise. Against one wall is a World Cup pinball machine, and next to that sits an eggplant Egg chair by Arne Jacobsen. A few steps further, a small chicken sculpture stands guard in a corner, while bunches of carved wooden bananas are nestled under a nearby side table. The eclectic modern-meets-magpie decor is a marriage, explains Lerario, of her Brazilian heritage and her husband's German roots. The lush greenery and flea market finds are hers; the Andy Warhol portrait and Erik Offermann and Christo and Jeanne-Claude paintings, his. "That's Robbie's mom, Katharina," she remarks of the blue-eyed blond in the first, which is one from the quartet of works Warhol did of the family; the other three are of Katharina's children.
The Robbie in question is Lerario's husband, men's wear designer Robert Geller, who bounces into the apartment late from his tennis practice. "Did I miss anything? I was going to bring flowers," he says, laughing, before slipping away for a shower. Geller is this year's GQ/CFDA Best New Menswear Designer in America, as well as a recent CFDA Swarovski Award nominee. Lerario, meanwhile, launched her women's wear line, Lerario Beatriz, in 2005 and is founder of the downtown showroom Fiftytwo, which reps such labels as Rosa Cha, Kaylee Tankus and Suzie Wong. Although fashion couples aren't unheard of—husband-and-wife teams are installed at Helmut Lang, Roberto Cavalli and others—a duo helming two different collections is less common. And that's just one reason Lerario and Geller's partnership is unique. "Ana and Robbie have this really genuinely beautiful relationship," says Richard Chai, a close friend. "I think they were destined to find each other. I really believe that."
Indeed, happenstance was key in how they met, as was Marc Jacobs, who was the unwitting matchmaker. Lerario was working under Chai, then design director at Marc Jacobs, and Geller was her intern. (But this is no fashion cougar situation; at 33, Geller is six months older than Lerario.) "I remember being introduced to her and being, like, wow," says the Rhode Island School of Design grad. "She thought I was gay." Lerario, as soft-spoken as her husband, pipes up in her own defense. "He had this Gucci leather jacket he wore all the time," she remarks. "He was really fashiony and came to a dinner with a gay friend. I thought they were a couple."
Yet whatever sparks flew, they didn't fully ignite until years later. After his internship, Geller joined men's label Cloak with Alexandre Plokhov, in 2002. (Geller launched his namesake line in 2006.) Chai, meanwhile, left Jacobs for TSE, took Lerario with him and named her head of the firm's secondary line, Tsesay. Then kismet finally came calling: Geller and Lerario bumped into each other during a lunch break at Chelsea Market. One thing led to another and, after a flirtatious friendship, the two were married in her native Brazil in 2008. She wore a custom silk and lace gown by Chai. "It was a huge honor but a big stress," Chai says of making her dress. "He's a designer; she's a designer. In a weird way, I would say it's more stressful than doing a show." The groom, for the record, wore Yves Saint Laurent. "I thought about making my own tux," Geller says, "but I wanted to get that experience of being pampered. If you do it yourself, it loses a bit of that romance, you know?"
In the couple's home, an Andy Warhold portrait of Geller's mother and Erik Offermann paintings.
Nowadays, the two not only live together in that über designed pad, they share working quarters as well. This summer Lerario rented out the rear part of her design studio–cum–showroom, which she opened in 2004 after her two-year stint at TSE, to none other than Geller. "We're so busy, it's really two different worlds," he says. "But we're close enough that we can talk to each other and go for lunch." Lerario adds that when she makes the mental switch from showroom exec to designer, she shuffles over the hundred feet or so to Geller's office to sketch and "go into my creative mode."
Yet for all that crossover—the pair also admits to researching their collections together—Geller and Lerario manage to keep their design sensibilities separate. Of course, catering to completely different markets certainly helps. The Hamburg-born Geller works an elegant yet edgy vibe in his men's wear. Lerario, on the other hand, is all about gentle femininity offset with homespun details: raw wooden beading and exquisite embroideries. If their clothes have one thing in common, it's their sense of melancholy romance, a theme both acknowledge has amplified since they came together as a couple.
As for fashion's ever-stressful demands affecting the relationship, neither Lerario nor Geller will cop to it. "We both get crazy at the same time," explains Geller. "When she doesn't have any time to spend with me, I don't have any time to spend with her anyway." At home, he adds, they prefer to keep shoptalk at bay. Asked if one day the two might join creative forces, Lerario and Geller at first respond in the negative. "We're keen on keeping it separate," he says but then concedes that they haven't exactly closed the door on smaller collaborative projects. "It could be jewelry or accessories." Or, Lerario adds, "a store with beautiful things."
Turns out they are, in fact, in the midst of a business partnership, albeit one as far from the fashion fray as can be: cattle raising. Come December they will make the trek to Montes Claros, Brazil, to build a vacation house and farm with the help of architect Fabio Storrer, who designed Fiftytwo and is part owner of the Manhattan eatery Casa. (Storrer also served as "art director" of the couple's wedding.) "We're going to buy some cattle, about one hundred," says Lerario, who received the plot of land as a wedding gift from her father; he owns a large cattle ranch nearby.
From top: Lerario with Geller on her father's cattle ranch in Brazil; the couple and Richard Chai at their wedding.
Geller's father, meanwhile, is a photographer, currently living in a windmill near Hamburg; his mother is a former journalist–turned–horse breeder outside Frankfurt. It's Lerario's mom, though, who had a bit of mother's intuition going on. She knew well before Lerario that her daughter would end up marrying Geller. "I dragged my mom around at the 2001 Marc Jacobs after-party to introduce her to Robbie," the designer says. "Then afterward, when we started dating, my mom goes, 'I knew it. Why else would you be on a mission to introduce your intern to your mother?'"