Let NYC Dance! Activists Are Calling For a Historically Racist Nightlife Law to Finally Be Repealed
"Let NYC Dance" is a petition and event created by Dance Liberation Network and NYC Artist Coalition to repeal one of New York's most antiquated laws.
---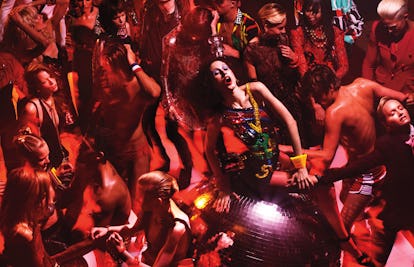 If you've ever found yourself dancing with two or more others in a New York establishment without a cabaret license, you've technically broken the law. Of course, this is a common occurrence in a city with over 12,000 clubs—only 127 of which were registered as of last year—which is why the Cabaret Law, as it's called, hasn't been enforced since its creation in the 1920s.
Nevertheless, it's still on the books along with a number of other head-scratching laws, like one barring you from performing a puppet show or comedy skit from your apartment window. But the Cabaret Law in particular has roots with Jazz Era racism, and a group of activists think it's high time that it was finally repealed.
So, on Thursday, the Dance Liberation Network and NYC Artist Coalition will host an event called "Let NYC Dance" in Brooklyn that aims to raise awareness about the outdated law and encourages people to sign a petition asking the Department of Cultural Affairs for its repeal.
"This law should have been taken off the books years ago," said Let NYC Dance organizer Adam Snead. "The fact that it remains is not only an ugly blemish on a city that is seen as the cultural capital of America, but also a reminder that we are still not truly free to live out loud. If we cannot express ourselves through the simple, natural movement of dance, then how can we claim to truly be free?"
Back in the Prohibition era, the Cabaret Law was first put into effect by Mayor Jimmy Walker to give police an easy reason to raid speakeasies and clubs that were suspected to be serving alcohol. It also claimed to regulate "fire safety" and the "moral character" of cabaret owners.
But as a 1987 New York Times article explained, these precautions were all perhaps a distraction from the racial subtext of the law, as it targeted jazz clubs in particular, most of which were located in the predominately black neighborhood of Harlem.
In addition to the Cabaret Law regulating patrons' dancing, it also stated that musicians in clubs could only play the strings, keyboards, and electronic sound systems. (No drums; no horns.) Plus, it limited the number of musicians playing to three, which was nearly unheard of for live jazz bands.
"The law is based on the simple fact that white parents from Manhattan found out that their daughters were going uptown to Harlem late night to hang out with African American jazz musicians," said Snead.
In 1943, the Cabaret Law somehow got worse under Mayor Fiorello H. La Guardia, when it required musicians carry a "cabaret card" with their photo and fingerprints to perform at any venue. Charlie Parker had his revoked and even Frank Sinatra called it "demeaning," and helped to have the the system be abolished by 1967.
By 1988, the jazz-specific rules pertaining to musicians were removed, but in the '90s Mayor Rudy Giuliani revived the law once more in his effort to make New York "safe" again. Under both Bloomberg and Bill de Blasio, attempts were made to either soften or work around the law, but it was still not removed completely. And finally, in 2009 a group of Greenpoint community board members used the Cabaret Law to shut down the popular hangout Studio B, which is when Snead first became aware of the law's repercussions.
Today, one could argue that there are larger, more pressing political issues to spend time and energy tackling than an outdated dance law, but the activists involved in this week's protest believe that the Cabaret Law is a glaring symbol of larger systemic issues in America.
"Small issues are always the catalyst for massive change," said Snead. "We need action on this to get the ball rolling."
To learn more and sign the Let NYC Dance petition, click here.