Life in a Year Finds Cara Delevingne Tragically in Love With Jaden Smith
The model-actress finally dropped the trailer for a love story filmed back in 2017.
---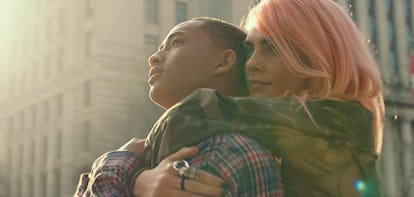 © Sony
All the way back in March of 2017, news broke that Cara Delevingne would be starring in a tragic love story opposite Jaden Smith. And for two years and roughly eight months, that was the last we heard of Life in a Year. But on Monday afternoon, Delevingne shared the trailer with a surprise announcement: The film comes out on Amazon Prime later this week.
The trailer begins with Daryn (Smith) shamelessly begging Isabelle (Delevingne) to go on a date. From there comes another date—and another, and another. Daryn quickly starts falling in love, and while Isabelle seems to feel similarly, she keeps her distance. There's a reason she won't commit: "I have a year to live, if that," she eventually tells Daryn, referring to her stage-three ovarian cancer. Distraught, Daryn copes with a plan to help Isabelle hit as many milestones as she can before then, from sky-diving to buying a house to simply giving a speech.
Delevingne and Smith had met previously, when the latter's dad, Will Smith, starred opposite Delevingne in Suicide Squad. But it wasn't until Life in a Year that the 28-year-old actress and the 22-year-old actor really clicked. "Us having to shave our heads at the same time—he'll be in my life forever," Delevingne told Entertainment Weekly of Smith having to part with his dreadlocks and Delevingne with her full head of hair. (She also had a buzzcut for what was arguably her acting career's peak: a spot-on impersonation of Gollum.)
"It's definitely not a pretty sobbing film," Delevingne continued in her interview with EW. "It gets you right in the gut. Oh my gosh, I cried all the time [during filming]." She wasn't the only one. Will Smith, who executive produced the film along side his wife, Jada Pinkett Smith, openly sobbed during script readings.
Director Mitja Okorn hadn't heard of Delevingne before her name came up in the casting process. He then watched all of her films, but it wasn't until he went down a "YouTube rabbit hole" of the model-actress's funniest moments that he became convinced. As for Delevingne, she was ready to jump right in—to the point that she was willing her shave her signature eyebrows, too. Okorn demurred, but you can at least see Delevingne's shaved head (and listen to her distinctive American accent) when the film premieres this Friday, November 27.