Just the Two of Us
How do Angels celebrate Valentine's Day? We asked Lily Aldridge and Candice Swanepoel.
---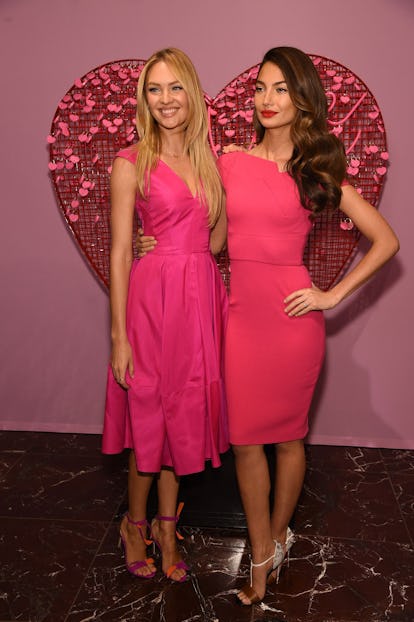 If you thought Victoria's Secret Angels spent their Valentine's Days in exotic locations having dates worthy of a Nicholas Sparks novel, think again. On February 14th, Lily Aldridge will be at home with her husband Caleb Followill eating a homemade dinner—though we suspect there will be some lingerie involved. "Doing dates, making time for each other, and doing things like home-cooked meals is just more thoughtful and romantic," she says. "And I love that my husband cooks—it's very sexy."
Though fellow Angel Candice Swanepoel isn't even sure what country she will be in on that day, ideally she will celebrate Valentine's Day in a similarly low-key way. "Something casual, something authentic just at home with a bottle of wine and a movie," she says. "I love Notting Hill," she confesses. When she finally does celebrate, Swanepoel says she goes all-out with hair and makeup. "I step it up a notch. I'll get kind of creative and do a big winged eye or a nice red lip. Make yourself into a goddess," she says. As for lingerie? "You can't go wrong with black lace. Onesies are also amazing because you don't have to deal too much with garters and that kind of thing and it's flattering, too." The rest of the outfit remains to be determined. "Some days, it's really easy for me to get dressed and then other days I turn the whole house upside down and have a breakdown," she says with a laugh. Angels, they're just like us.