Former Model Lily Cole vs. the Brontë Society Is Already 2018's Best Feud
The highly specific drama, which started from the depths of WordPress, has so far invoked the names of everyone from Emily Brontë to Rita Ora.
---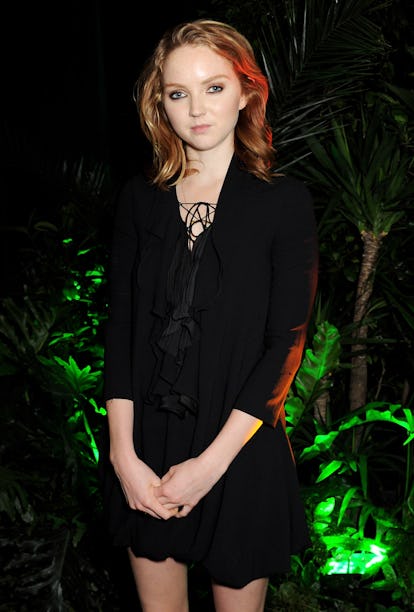 Getty Images
"If you don't know Lily Cole, and you'd be in the majority, she is described as 'a model and social entrepreneur' (whatever that is)," begins the screed that, just a few days into 2018—also marking the 200th anniversary of Elizabeth Brontë's birth—just might end up being the most delightfully petty drama of the year.
The British drama first surfaced on the WordPress blog of one Nick Holland, a Brontë expert and historian whom you most certainly would be in the majority for never having heard of—unless, that is, you have anything to do with the Brontë Society, one of the world's oldest literary groups which manages the authors's legacy and runs the Brontë Parsonage Museum in the family's Yorkshire hometown.
But you don't have to be at all familiar with Holland, Cole, or even novels like Jane Eyre or Wuthering Heights to become one of the many now utterly fascinated by Holland's meltdown over the society's appointment of the "model and social entrepreneur" as this very special year's creative director. At this, Holland—apparently unfamiliar with the fact that in addition to having been a face of Chanel and Prada, Cole, now 30, graduated from Cambridge University with honors and has spent the last few years immersed in a charitable social network she founded—took extreme personal offense and decided to resign. "It's best that I leave the society now, before they announce James Corden as the creative partner for 2019, a year in which Patrick Brontë is being remembered, and Rita Ora as organiser for Anne Brontë's celebrations in 2020." (Rita Ora!)
From there, Holland writes so passionately that one would start to think that he has something personal against Cole—which, he readily admits, he actually does: "I am unfortunate enough to have encountered Lily before as a few years ago I had a front row seat of a new play about Helen of Troy at Manchester's Royal Exchange Theatre. Lily had the title role, and the play was so bad that it is the only one I have ever walked out of at the interval." (Cole is, by the way, by all accounts quite an accomplished model-turned-actor: She landed her first leading role as Christopher Plummer's daughter in 2009's The Imaginarium of Doctor Parnassus, which also starred Heath Ledger and Johnny Depp, and most recently appeared in Star Wars: The Last Jedi.)
Confusingly enough, Holland continues that he has "nothing against Lily herself, other than her terrible acting, but against the people who selected her," whose "talk of increasing multimedia presentations [like films] at the parsonage" he describes as "complete anathema" to him and "silly" enough to make people "choke." Still, true to the post's title "Emily Brontë, Lily Cole and the Shame of The Brontë Society," he made sure to return to the topic of the "terrible" actress: "The central question should be, what would Emily Brontë think if she found that the role of chief 'artist' and organiser in her celebratory year was a supermodel?"
On Thursday, Cole responded to his query. "I would not be so presumptuous as to guess Emily's reaction to my appointment as a creative partner at the museum, were she alive today," she wrote in a statement to the BBC. "Yet I respect her intellect and integrity enough to believe that she would not judge any piece of work on name alone."
Emily Brontë and her sisters did, after all, publish works like Wuthering Heights under a pseudonym, so as to avoid "prejudice" for being a woman. That detail was already on Cole's mind when she took the job, which includes making a short film, seeing as it's also the 100th anniversary of women's suffrage in the U.K. Apparently, however, the recent drama has made her start to consider it from a different perspective: "Now I find myself wondering, fleetingly, if I should present the short film I am working on for the Brontë Parsonage Museum under a pseudonym myself, so that it will be judged on its own merits, rather than on my name, my gender, my image or my teenage decisions."
Not that it seems like she is, but Cole shouldn't be taking any of this personally. The Brontë Society has in fact been serving up drama for years, with meetings so heated that the president has had to resort to using her shoe as a gavel to keep order. Over two decades after the war between its modernists and traditionalists cost the society a much-needed £1,000,000 donation, the Guardian reports that things have barely scaled back, with incidences like one member repeatedly "screaming" until he was threatened with expulsion, and another saying she "felt like [she] had come into the Stasi" after reading the society's new rules. Inflammatory blog post aside, all things considered, it's fortunate Cole has so far remained fairly unscathed.
Dior's silk chiffon bustier dress, at Dior, 800.929.DIOR. Silk Gardens and Trees flowers (worn in hair).

Photographer: Juergen Teller Styled: Camilla Nickerson
Alberta Ferretti's silk chiffon dress, to order, 212.632.9300. Anthony Maxwell hat; Lanvin earrings and necklace.

Beauty Note: To maintain a pristine complexion, try Dior Beaute Capture Totale Resurfacing Peel.

Photographer: Juergen Teller Styled: Camilla Nickerson
Yves Saint Laurent's silk dress, to order, 212.980.2970. Isaac Manevitz for Ben-Amun, Loewe and Marc Jacobs bangles.

Photographer: Juergen Teller Styled: Camilla Nickerson
Louis Vuitton's silk crepe jacket and embroidered silk shorts, louisvuitton.com. Marc Jacobs earrings and necklace; Louis Vuitton shoes.

Photographer: Juergen Teller Styled: Camilla Nickerson
Lanvin's silk gazar top and silk satin skirt, at Barneys New York, New York; Bergdorf Goodman, New York. Lanvin necklace and ring.

Photographer: Juergen Teller Styled: Camilla Nickerson
Missoni's rayon viscose bikini, at Missoni, New York; Adrienne Landau's Mongolian lamb coat, adriennelandau.com. Lanvin necklace; Marc Jacobs bangle.

Photographer: Juergen Teller Styled: Camilla Nickerson
Escada's silk duchesse jacket and pants, at Escada, 877.206.4135. Jennifer Behr hairpins; Louis Vuitton necklace and bracelet.

Beauty Note: Lids shimmer with CK Calvin Klein Tempting Glimmer in Vinyl Indigo.

Photographer: Juergen Teller Styled: Camilla Nickerson
Roberto Cavalli's plastic and silk dress, to order, robertocavalli.com. Marc jacobs cuff and bangle.

Beauty Note: Pamper curls back to silky softness with Jonathan Stylist Professional Series Curl Creme.

Photographer: Juergen Teller Styled: Camilla Nickerson
Gucci's silk jersey gown with amethyst embroidery, at select Gucci stores, 800.456.7663.

Photographer: Juergen Teller Styled: Camilla Nickerson
Blumarine's sequined silk dress with tulle underpinning, at select Neiman Marcus stores, 888.888.4757. Tom Binns collar.

Photographer: Juergen Teller Styled: Camilla Nickerson
Photographer: Juergen Teller Styled: Camilla Nickerson
Michael Kors's stretch wool crepe dress, at Michael Kors, New York. Lanvin necklaces.

Photographer: Juergen Teller Styled: Camilla Nickerson
Ralph Lauren Collection's silk jacket and silk crepe pants, at select Ralph Lauren stores, ralphlauren.com. Kenneth Jay Lane earrings; Louis Vuitton bangles.

Photographer: Juergen Teller Styled: Camilla Nickerson
Versace's silk dress, at select Versace boutiques, 888.721.7219. Louis Vuitton shoes.

Photographer: Juergen Teller Styled: Camilla Nickerson
Emporio Armani's silk satin jacket and pants, emporioarmani.com. Jennifer Behr hairpins; Alexis Bittar bangles; Louis Vuitton necklace and belt; Gucci shoes.

Photographer: Juergen Teller Styled: Camilla Nickerson
Tommy Hilfiger's silk dress, at Tommy Hilfiger, tommy.com; Adrienne Landau's ostrich-feather and silk coat, adriennelandau.com. Lanvin earrings; Yves Saint Laurent belt; John Galliano shoes.

Photographer: Juergen Teller Styled: Camilla Nickerson
Donna Karan's rayon viscose dress, at Donna Karan, 866.240.4700.

Photographer: Juergen Teller Styled: Camilla Nickerson
Louis Vuitton's wool mohair blazer, louisvuitton.com; Carolina Herrera's silk satin pants, at Carolina Herrera, New York. Jennifer Behr hairpin.

Photographer: Juergen Teller Styled: Camilla Nickerson
From left: Etro's rhinestone-encrusted silk tank top, to order, Etro New York, 212.317.9096; Louis Vuitton's ostrich-feather and silk cord skirt, louisvuitton.com. Lanvin earrings; Marc Jacobs necklace. Yves Saint Laurent's silk cloque dress, to order, Yves Saint Laurent, New York, 212.980.2970.

Photographer: Juergen Teller Styled: Camilla Nickerson
Salvatore Ferragamo's cotton and polyester jumpsuit, at Salvatore Ferragamo, 800.628.8916.

Hair by Luigi Murenu/Streeters USA; makeup by Dick Page/Jed Root Inc. Models: Devon Aoki/One Management; Lily Cole/IMG; Ajuma Nasanyana and Raquel Zimmermann, both at DNA Models. Production by Katy Baggott. Photography assistant: Georg Rulffes. Fashion assistants: Patrick Mackie and Stephanie Sollers.

Photographed on location at The White River, Moses James Estate, Soufriere Hot Springs, Dominica Botanical Gardens, Live & Die Bar at La Plaine Beach and Jungle Bay Resort & Spa.

Special thanks to Samuel Raphael, Glenda Raphael and Nancy Atzenweiler at Jungle Bay Resort & Spa, where the crew stayed while in Dominica, West Indies.

Photographer: Juergen Teller Styled: Camilla Nickerson
Related: Lily Cole's New Magazine Stars Paul McCartney, Vivienne Westwood, and Joss Whedon
Hear Gigi Hadid Dramatically Read "Popular":