Linda Evangelista Gets Skin Deep on Melasma
The model and skin-care obsessive reveals her issues with melasma and the one thing that has been her saving grace—plus, she imparts some product wisdom.
---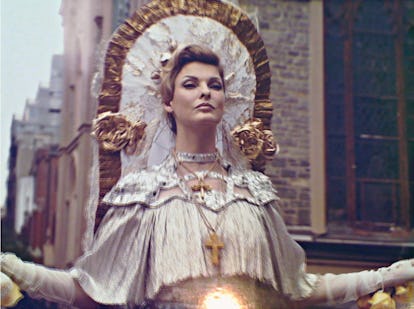 Pierpaolo Ferrari
"Sometimes people would be talking to me and all I would think about was, are they looking at my melasma…are they looking at my melasma!?"
These words came from Linda Evangelista—the last person you'd expect to utter such a sentiment. But for the millions of women who have melasma, the skin condition often triggered by hormones, genetic predispositions or sun exposure, this agita is a relatable concern with few easy answers. Particularly in the winter, when the sun is at its weakest and likely to do the least amount of damage, women desperately turn to dermatologists, beauty counters and the Internet to search for the most effective skin treatments.
It may be hard to imagine that Evangelista—a muse for venerated fashion photographers and runways, someone who has reached unparalleled levels of creative artistry in the modeling world—has had any uncomfortable issues relating to her appearance. But the Canadian-born beauty has dealt with melasma since she was 33. She reveals to W in a wide-ranging Q&A her issues with melasma and the one product that has been her saving grace in dealing with this skin issue. Appeasing our inner fangirls, Evangelista—a proudly self-proclaimed beauty product junkie—imparts her experienced skin wisdom to better ours.
Like so many women around the world, you've struggled with melasma. You've spoken out about how transformative Erasa XEP30 has been on your skin; so much so that you're now a part of the company as the vice president and creative director. What specifically are the most effective components of Erasa XEP30 that make it work?
Its' a combination of many properties. First off, there are two particular ingredients that lighten and brighten the skin. The first one is a 97% grade of Glabridin, a very expensive molecule derived from licorice root to help brighten skin. The second key component to help with discoloration is Niacinamide. But in terms of effectiveness, it goes beyond those ingredients. Erasa XEP30 has tons of anti-inflammatory properties, which not only have I come to learn to appreciate, but our chemist and founder of this product, Jules Zecchino, firmly believes benefit the skin. He has taught me this and using the product proves it; that if your skin is calm and happy, it has the ability to repair and heal itself. I initially started using it because of the smoothing, botox-like effects it has, but then I saw that my melasma started to fade. It's almost all gone, I have a few spots on my neck but I have never experienced anything like this.
The time of year especially, many women investigate different treatments for melasma. Be it lasers or peels, some treatments may not always be ideal. Some can be too harsh and do more damage than good. Did you partake in the other preventative measures such as peels, acids and laser treatments?
I personally think all of these peels and acids meant to treat melasma and discoloration end up irritating the skin, making the skin angrier. I learned early on not to anger your skin or your melasma. I went through three or four Fraxel treatments a year to try and get rid of it. It never really did the job and the second I got caught without a hat, even if it was for five minutes, it would pop back out again. It would bring me to tears. Also, the resurfacing from Fraxel took away my beauty marks. Peter Lindbergh loved my beauty marks. He never wanted to cover them up with makeup. Since I started using Erasa, I have not had any Fraxel treatments and my beauty marks have started to return, they are in the exact same places as they were. I'm happy they are back, and I have some of my original character.
Melasma can bring about insecurities when it comes to one's appearance. You can't always effectively cover it up and it's the first thing someone looks at when you're in a direct conversation, right?
One thing I know is that when you have melasma, it makes you self-conscious. I was so self-conscious. I really thought when I was having a conversation with somebody that all they noticed was my melasma. By the way, same thing with my two girlfriends, one with rosacea and the other with heavy discolored acne scars. We are all self-conscious. I will mention that since using Erasa, (I gifted them), my one girlfriend's rosacea is all gone and my girlfriend with heavy discolored acne scars has an even tone now.
Do you use it continuously or do you give yourself a break from it for a period of time?
I only use Erasa at night, because I am a product junkie, so I have to entertain that side of me that wants to try new things. Initially I used it morning and night and one will see results faster using it twice. I went through a year of only using the Erasa. Currently, in the morning I use a Vitamin C serum and then a moisturizer. At night, I sleep next to a humidifier; that's key in New York because it's so dry. I apply Erasa and a lot of times I will put hyaluronic acid over my Erasa. I don't use the $300 kind of hyaluronic acid, which I think is [a] ridiculous [price]. Now that I know how to read ingredients from a lab and decipher compounds, I'm far more intelligent about which products need to cost at what rate.
What new products are you using that you love?
Because it's winter now, I'm trying a gentle type of retinol called Medik8 r-Retinoate. I'm doing it once or twice a week. Another thing I've been using, which I think can really help better skin is BeautyStat's Vitamin C skin refiner. I think it's the best vitamin C on the market and I've seen great results. Plus, it's encapsulated so it stays stable and you don't have to have any fear of it oxidizing. I think Vitamin C is key. I don't use it every day, I use it in the morning under my moisturizer. Also, another thing I do once a week, which gives me great pleasure is those Dr. Dennis Gross Alpha Beta Wipes. I use the gentle one. I don't really need to exfoliate either because Erasa exfoliates very gently.
Give us a great skin tip from your routine.
Any set of products that I put on I give a good three to five-minute wait before I apply the next product on. I want the delivery system to absorb and lock in the active ingredients. I don't have any scientific background on it, but I think it's the way to do it. Let the delivery system do its job.
What is your relationship like with the sun now?
I am very proactive with sun. I always have a hat, even in the winter I carry one. I always use the UV index rating app that I have placed on the face of my Apple watch. If the sun is low, I still have my hat on. I also carry a bandanna-size scarf and tie it under my chin, around my face like a babushka, and cover my cheeks and jaw with it. As far as sunscreen, I love our moisturizer with SPF 30, but it's not out on the market for public consumption just yet. If I'm actually outside in the sun and being active, I use La Roche-Posay's Anthelios sunscreen stick for the eye and lips. I actually use it over my entire face, neck and hands. It's so waxy and thick, it doesn't move. If you get wet or perspire, it just rolls off. I should point out that I only get the one with the ingredient Mexoryl that is only sold in Canada or Europe. I really believe in that compound.
Which skin-care products can you currently not live without?
Because I am a beauty junkie and because Erasa XEP-30 is so multitasking, there isn't really a need for a lot of other products. That's why I like to indulge in little things like a rose water spray, or I like the Caudalie Beauty Elixir Spray. I love the smell and it makes me happy. I also use something called Amlactin on my hands, especially in the winter because I get eczema from washing my hands far too often. It keeps the eczema away.
A makeup product you cannot live without?
Not much I can't live without makeup-wise, but I'm into my La Mer lip plumper. That I am totally into. It's always in my pocket—or Lanolips. Or my lip treatment that has plenty of actives that I'm concocting in the lab for Erasa.