Lindsay Lohan
The rumors run rampant: crazy partying, a father from hell, diva behavior and, of course, that incredible poitrine. At least, the leader of the teen-queen pack sets the record straight.
---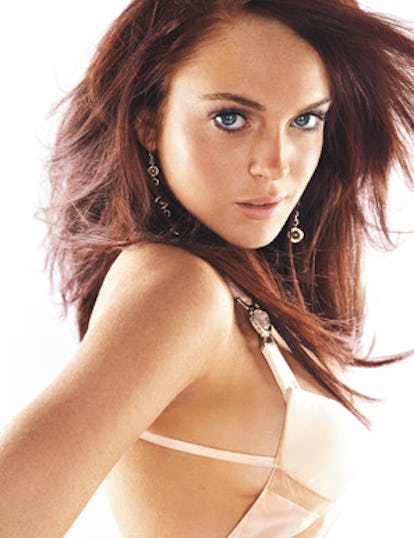 Ten miles east of New Orleans, past the Mary Ann Trailer Park and a billboard that reads repent across a dark swirl of fire, a film provisionally titled the Lindsay Lohan Lucky Project is underway in a giant hangar next to the Dollar General strip mall.
But Lindsay Lohan, the otherwise ubiquitous teenage sex goddess, is nowhere to be found. "Oh God, nobody told you?" a crew member asks, dragging his hand through a Dunkin' Donuts box. "Lindsay got sick and went to the doctor. We're awaiting word." An hour later, another man in a headset approaches. "Lindsay's been taken to the hospital," he whispers. "It's still too soon to tell. Apparently they're doing a chest X-ray."
Lohan stars as Ashley, the luckiest girl who ever walked the earth, but the preceding week gave the ingénue a painful reality check. Four days earlier, at a press conference held in the Long Island law office of Dominic Barbara (whose client list includes Joey Buttafuoco), Michael Lohan, Lindsay's father, announced his intention to sue his estranged wife, Dina, for a portion of their daughter's earnings, or about $3 million annually. He went on to describe both women as "emotionally unsound," and demanded that they submit to drug and alcohol testing. The next day, Lindsay's attorney sent a seven-page cease and desist letter to news outlets across the country, warning them against publishing any aspects of the account of a man who is prohibited by 14 court orders from approaching his wife and daughter; who has had numerous arrests for assault, disorderly conduct, jumping bail and issuing bad checks; who has a long history of alcohol and drug abuse; and who was incarcerated in 1990 after defrauding people in connection with commodities futures trading. Later that day, Lindsay Lohan was sued by two Los Angeles residents who claim she injured them in a traffic accident last year.
But when Lohan opens the double doors of her New Orleans hotel suite that evening, nothing about her smiling, heart-shaped freckle-face, with its giant, gleaming eyes, or the astonishing warmth of her body language, conveyed by a pair of endless arms that wag and flail ebulliently, suggests that she has just returned from the hospital—or that the gruesomely public collapse of her parents' marriage has shaken her out of the rapture of young stardom.
"I think I should have a press conference," she says, bouncing into the impeccable sitting room of an otherwise disastrous suite, with piles of clothing everywhere and empty Wendy's boxes strewn beside an orange Birkin bag. "He didn't do anything for my career, except go out and not come home at night and make my mom and me stay up and wonder where he was and then show up three days later. So I don't think he deserves anything. He doesn't even deserve my respect." She rolls her eyes. "I didn't even know about the press conference, actually. I've asked everyone who works with me not to tell me anything because I'm trying to focus on my job. And I already have people saying I'm dancing on tables at bars where there aren't even any tables—so I don't know how that's physically possible—and then people on the set are like, 'Well, maybe you're sick because you were going out too much.' So I have enough to deal with. Oh, but I did hear that my dad was suing me for alimony, and I'm like, I was never married to you!" She giggles. "So what is it for, abandonment?"
Lohan has so completely embodied the current cultural fascination with young Hollywood starlets gone wild—the Paris Hilton types, conspicuously consuming, frantically text-messaging on rhinestone-encrusted cell phones from inside big Mercedes-Benzes, boozing, dancing, tanning, popping out of dresses, making out with high-profile lotharios—that when she scrunches into the corner of the sofa, hugs her knees to her chest and talks candidly about her dad, it comes as a delightful surprise to find that she is, after all, about 10 percent vixen and 90 percent sweet kid. But kids in show business grow up fast, and Lohan, who at age three became the first redheaded child model signed to Ford, has long since surrendered the right to a normal adolescence. And, media be damned, she's not embarrassed about being a party girl.
"I'm the type of person who doesn't really hide anything," she says. "I go to clubs and everything, and if I hang out with Paris Hilton, I don't think that's a bad thing. She's a nice girl. I relieve my stress by going out and having fun. Some people may go and take a yoga class, but people don't care about that. I'll be in L.A., and if I drive to the gym, they take that picture but they never use it because that doesn't sell. Because people like the drama. That's kind of what Hollywood's become in a way, as sad as it is, especially for younger girls." She tries out a disapproving baritone. "'Lindsay's 18 and she's at a club and she's probably drinking.' And, 'Oh, she was seen making out with Colin Farrell.' I mean, I like older guys. It's easier for me to relate to an older guy. I have a career, and, maturitywise, to be with a guy that's in college, it's going to be a little difficult. I mean, we have 18-year-olds that go to war, and they can't even have a drink. So what does that say about society? I mean, what does it really say? So then when you have an 18-year-old in Hollywood, at a party, and maybe she sees drugs on a table…."
If Lohan seems especially candid, it's because scandal clings to her as tightly as her white cotton T-shirt (no bra) clings to her famous breasts. Whether they're real is only one question she's prepared to answer; there are rumors about cocaine, anorexia, husband stealing, diva behavior on the set, a nervous breakdown. "Even the doctor today," she begins, then moves back to the baritone. "He was like, 'Are you anorexic? Are you making yourself throw up? Are drugs involved?' And I was like, 'Are you saying this because you've read it in magazines?' Because I don't!" She scratches her new tattoo, a tiny star on the underside of her wrist. "People lose weight when they grow up; they lose their baby fat. But, you know, I'm around girls, even in the movies, that are like, 'I don't feel good, I just ate a lot, I'm going to go throw up.' Like at the Vanity Fair shoot of all the young stars, no one ate. I was going straight to the pasta, and the other girls were eating salad. And I'm the one who people say that about."
Lohan, who was paid $7.5 million for the Lucky project—a big bump up from the $1 million she earned for last year's Mean Girls and for Herbie: Fully Loaded, which hits theaters in June—has suddenly found herself in a different financial bracket than her fellow Hollywood teen queens. But she resents the shadow that her party-girl image has cast on her acting, and she understands how success in the teenybopper market can be a double-edged sword. "There's become this phenomenon of younger girls buying a lot of tickets," she says, referring to the success of Mean Girls and, especially, her 2003 blockbuster Freaky Friday. "And so automatically I'm typecast as a teen actress. Other girls my age, like Evan Rachel Wood and Scarlett Johansson and even Mischa Barton, they've done riskier roles. And, fashionwise, they become these icons. I could do that, but people won't take me as seriously, in a way. It's hard to get around that."
It would help, certainly, if "Lindsay Lohan Nipple Slip" and similar richly documented low points weren't so Google-able. But as for the drug rumors, Lindsay says they're false. "Scout's honor," she vows, and blows a kiss at the ceiling. "I'm not going to deny the fact that I've tried pot. I hated it. But I've never tried cocaine. I've seen my father, I've seen how it messes with families, and, you know, it f—s your life up. If I hadn't experienced that, I may have gone a different route, I don't know. But I've seen how it literally tore my parents apart. So when my mom calls me saying my dad's going to announce that I'm doing drugs and then they say that I'm in the hospital for drugs, that really sucks. The thing is, people get to the point where they're so bloody desperate that they'll say anything. And you really can't do anything about it because the more you defend yourself, the more it looks like you're guilty."
Lohan says she did not, as people have whispered, leave a walletful of rolled-up dollar bills at Marquee (the New York nightclub whose owner, Noah Tepperberg, is a friend of hers). She does not pal around with fellow nipple-slip victim Tara Reid ("She showed up at dinner in Las Vegas, and Paris said hi to me and didn't say hi to Tara so she freaked out and was like, 'I'm going to f—ing kill you!' And I was like, 'Hi, I'm Lindsay, nice to meet you'"). She did not proposition Colin Farrell on the Paramount lot when she was still underage (although they "hung out at a club," she says. "I guess we were spotted kissing. But it wasn't such a bad rumor to have!"). She has not tried to seduce Mark Wahlberg or Jude Law, who has also been filming in New Orleans ("When they say, 'Oh, she likes Jude but he's engaged to Sienna now'—I know my dad's cheated on my mom, and I could never be that person"). And she did not kiss anybody at P. Diddy's New Year's party in South Beach—although she had a very civil hello with That '70s Show's Wilmer Valderrama, her ex-boyfriend, who sat alone by the pool.
"People say I meet all these older men and sleep with them," Lohan says. "That's disgusting. God knows where all those guys in this business have been! They should start picking on them a little more." Room service arrives with chicken teriyaki, and Bella, a teacup Pomeranian belonging to a friend, jumps up and down with delight. "But, like, everyone is friends," she says of the byzantine tangle of intrigue. "It's like a big high school—that's what Los Angeles is, and now New York too and Miami and even New Orleans. Everyone that's out, you know them from being at parties and being on red carpets and being at events, and everyone is friends."
But the bum rap may fade as Lohan's professional output begins to overtake the extracurriculars. "I think Lindsay's kind of a genius," says Angela Robinson, who directed her in Herbie. "Stepping into a role is effortless for her. I get really upset when I read this stuff about bad behavior. I was there, and I can tell you that she works incredibly hard. She'd be recording songs in her trailer in between takes." Lohan recently switched to CAA, and she's thrilled to find that her new agents are putting more substantial scripts in her hands. This month she begins filming Robert Altman's A Prairie Home Companion, starring Meryl Streep, Lily Tomlin, Michelle Pfeiffer and Kevin Kline. ("I'm wondering how I'm going to get through doing the scenes with her," she says of Streep, who plays her mother.) Meanwhile, Lohan's first album, Speak, came out this past winter, and "Rumors"—a song about the hardships of celebrity—was a hit. Lohan spent her Long Island youth idolizing Ann-Margret (along with Jodie Foster and Kate Moss), and it was with Ann-Margret in mind that she decided to make a foray into music. "A lot of the people that I looked up to, the Ann-Margrets and the Marilyn Monroes, everyone was a triple threat," she explains. "You had to sing, dance and act, and you did it in all your movies. And as a singer, you can get away with being that kind of rock-star person, and it's okay to go to parties and stuff."
Her principal ambition these days, though, is to polish her acting chops. "The stuff that I've been doing, I haven't been able to really act yet," Lohan says, waving off the terrific reviews she has consistently received in comedic roles. "I feel better when I'm crying in a scene or I'm fighting with someone or I'm getting really upset. With movies now, it's very easy for a girl to dumb herself down or look ugly or be naked or be a lesbian or gain weight—those are the ones that win Oscars. The only one who didn't have to do that was Julia Roberts. And she never took her clothes off."
Lohan won't undress for the camera either, which may incite collective chest-beating on the part of American men. But it's not because she has anything to hide. "They're totally real," she says of her breasts. "I will admit that when I first started to develop boobs, my friends were like, 'Oh my god, what happened, and are your boobs real?' Even me, I was in shock because I was so flat that when I got a chest, it was like, wow. And compared to the rest of my body they kind of, like, popped. And they sit up." She cups them with her hands and laughs. "But I'm young. I'm young and I only got my boobs, like, a year and a half ago, so of course they're going to look good. I love 'em."
It's hard to begrudge her that. Lohan the watchable, surfable, iPod-able product may delight millions of kids—not to mention the quorum of old New Orleans patricians overheard talking about her curves while sipping turtle soup out of teacups at a Mardi Gras luncheon—but she's a thousand times more appealing in person. That's because, topic after difficult topic, nothing seems to rattle her contagious good humor. Well, one thing rattles it: the widespread reports, from movie extras speaking anonymously to the New Orleans Times-Picayune, that she's turned production of the Lucky project into a daily hell."Where is this being said?" she asks, visibly stricken. "Are you serious? Well, if I were a nightmare, I don't think I'd be doing it. I think it would be a karma issue. But that sucks and I don't want to know about it." She pauses and seems to roll the idea around in her head. "You know, I have so much s— on my plate that if I'm having a bad day and you aren't sympathetic towards that and I'm sympathetic towards you when you have your bad days, then I may say something to you, and I won't regret it. But people have been great on this movie. People really have, and it's been cool."
Lohan still has a few storms to weather. Her father has recently been in talks with TV producers about building a reality show around the Lohan family—to the extent that he has access to the Lohan family—and the show appears to be moving forward. "Whatever," says Lindsay. "As sick as it sounds, a reality show might help, actually. At least then people could get to the truth."