Lindsay Lohan, Former Paparazzi Magnet, Wants Former Royals Meghan and Harry to Heed Her Advice
If anyone knows a thing or two about how to handle unwanted photos, it's the former paparazzi magnet herself.
---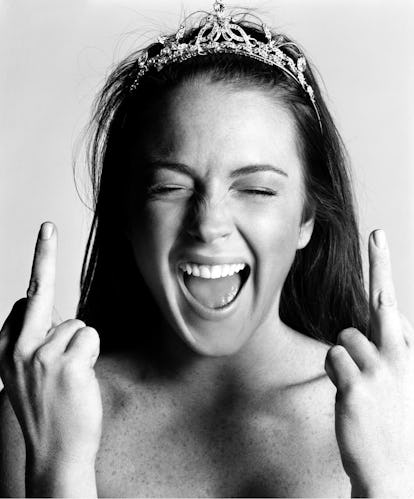 If there's one thing Lindsay Lohan knows something about, it's the nature of paparazzi.
After a life long career in Hollywood, the actress has managed to figure out a thing or two about when to expect that someone is taking your picture, how to handle the paparazzi when you do see them, and perhaps even most importantly, how to avoid the paparazzi altogether in the first place.
She's taking what she's learned as a subject of the paparazzi since her teen years and spinning it into advice for two somewhat unlikely people: Prince Harry and Meghan Markle.
When Prince Harry and Meghan Markle announced they would be breaking away from the royal family and renouncing their titles as the Duke and Duchess of Sussex, they quickly escaped to Canada, where paparazzi reportedly held stakeouts to catch pictures of Markle with their son, Archie. She and Harry quickly threatened legal action against the taking of photos without their consent while living their private lives.
So when they moved to Los Angeles, which is where they're stationed now, many questioned if the West Coast was ready for two former royals, especially considering their strained relationship with the paparazzi and the fact that they are essentially unavoidable around L.A. But, according to Lohan, they should have no fear—she's got an easy fix for them when it comes to paparazzi taking their photos in Malibu.
As a guest on Andy Cohen's Sirius XM show Radio Andy, Lohan spoke with the host about the couple and their Malibu house hunting problem. "I mean unless they own another, a different private beach, right?" she said. "You can't go to those beaches without being—you can't even surf out far enough."
"It's just really hard to do anything publicly [in Malibu]," she went on, before adding that there may be no better time than right now when it comes to looking for a house, since everyone else is quarantined away due to the coronavirus pandemic. "The timing right now luckily is everyone is more at home," Lohan said. "But, once that's over…just…get drivers."
Lohan, who recently announced a comeback for her music career, has been living abroad for quite some time, far away from Hollywood, but and even further away from the paparazzi.
Related: Lindsay Lohan Decides Now Is the Time to Announce "I'm Back"