I See London, I See France…
A new exhibition reveals the history of lingerie
---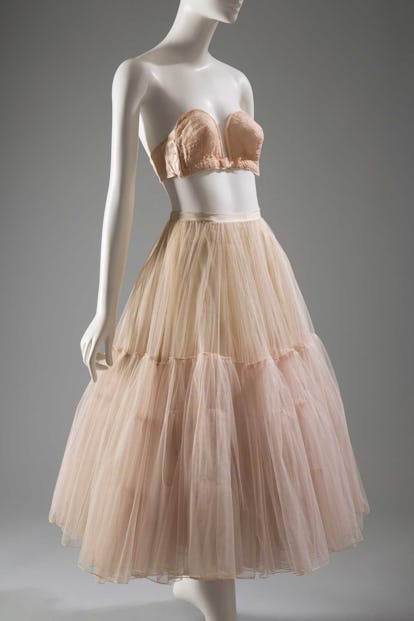 To know what a woman wears under her clothes is to have an insight into the times she lives in. Compare the many layers a woman of the 1880s donned on under her gown—chemise, corset, corset cover, bustle, petticoats—with the lightweight camiknickers her flapper granddaughter stepped into and you know straight away that not just fashion but social mores have undergone a radical shift; it's history writ in whalebone and silk. Exposed: A History of Lingerie, a new exhibit at The Museum at F.I.T. that looks at the last two centuries in undergarments, offers these and other illuminating lessons, all drawn from the Museum's extensive (and rarely exhibited) collection of unmentionables. "What I found really fascinating," says Colleen Hill, the Museum's associate curator of accessories and the show's organizer, "is how specific lingerie was. At the turn of the twentieth century, a fashionable woman would have tea gowns and dressing gowns, both of which were worn for specific functions. It's not just the shape of lingerie that has become streamlined but also its purpose."
Exposed: A History of Lingerie, The Museum at F.I.T., from June 3rd to November 15th.
Photos: I See London, I See France…
Corset, silk, circa 1770, Europe.
Corset, wool, silk, cotton, steel, circa 1880, France.
The M.A. Spencer Company corset, circa 1898.
Fernande Burel tea gown, chiffon, silk, and lace, circa 1900, France.
Bra, silk and lace, circa 1923, USA.
Nightgown, silk georgette, lace, satin, circa 1930, USA.
Poirette bra, nylon lace, 1949, USA. Christian Dior, petticoat, nylon net, taffeta, and horsehair net, 1951, France.
Iris nightgown, printed nylon, circa 1950, USA.
Warner's Corselet, circa 1960, Merry Widow line, USA.
Rudi Gernreich "no bra" and half slip, sheer nylon, printed nylon, circa 1965, USA.
Valerie Porr lounging pajamas, printed silk, 1976, USA.
Patricia Fieldwalker teddy, silk charmeuse, lace, circa 1985, USA.
Jean Yu bra and panty set, silk chiffon, grosgrain ribbon, spring 2005, USA.