The Subtle Secrets to Lip Contouring, the Anti-Filter Filler Trend All Over Your Instagram
Unlike the unnaturally puffed-up pout that's been popular since Kylie Jenner was active on Snapchat, lip contouring is the anti-filter filler trend you're probably seeing all over your Instagram feed, though you may not have even realized it.
---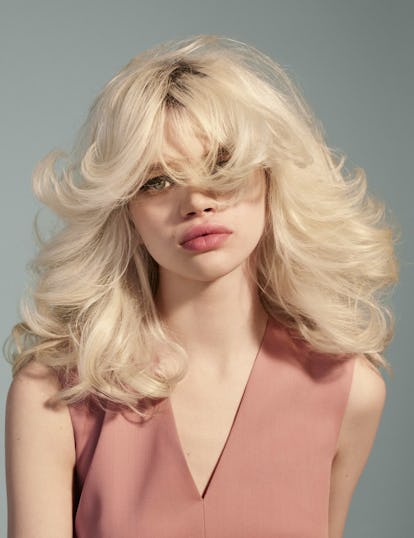 These days, the dermatologist Dr. Lisa Airan has the fashion crowd flocking to her Upper East Side office as if it were Paris for the collections. They're there for what Dr. Airan called her "high-tech natural aesthetic" approach to injections, which is a bit like adding the final touches to a painting. In other words, she works with the patient's natural shapes to enhance what's already there. I recently visited Dr. Airan's office to learn more specifically about lip contouring, the bespoke use of fillers in the lip—or, as I like to think of it, the anti-filter filler trend so subtle that you probably didn't even realize that you've been seeing it all over your Instagram feed.
"Like how a makeup artist would use either darker contouring powders, or highlighting powders to accentuate some features and recess others, that's what I do with fillers, so you don't need makeup to do it," Dr. Airan explained. "Obviously with the lip, while you can overdraw your line with a darker pencil to fix asymmetry, you can't add the volume without fillers, so that's what I'm doing with the Restalyne Silk, like an artist."
So what is Restalyne Silk, and what does it do exactly? "It makes you look prettier," Dr. Airan said. "Symmetry is what we're going for. When you balance features, it helps everything in the face. By balancing [the lips] out, and making them look more symmetrical, it brings you to a place where you think you're starting, rather than augmenting the lip. Your eyes look better, everything looks a little brighter. When you take selfies you notice because the asymmetry comes out more."
"Millennials," Dr. Airan continued, "They take a lot of selfies, so they notice the shape of their face the way an older patient didn't. But as you get older you need to add volume to add areas that tend to lose volume with each decade, so if I add Restalyne to that area, I'm not changing how you look, I'm just restoring the volume."
Prior to undergoing a lip contouring treatment, Dr. Airan recommended looking "at your lips closely [to] decide how you want them to look." Working with a thin lip, cupid's bow, or naturally occurring asymmetry, she pointed out, "is not easy. With a filler, it's hard to make a thin lip look bigger because when you're starting out with something smaller, the difference is subtle."
These delicate augmentations help modernize the bespoke procedure compared with the unnaturally puffed-up pout that's been popular since Kylie Jenner was on Snapchat, and it's important to remember that "not everyone is going to look like Angelina Jolie," Dr. Airan said. "At least if someone brings in pictures of Angelina Jolie I know they're looking for a big lip, but at least then I can explain if it's possible or not depending on what their lip shape is to begin with."
The results of Restalyne Silk can last anywhere from six months to a year, depending on your metabolism, but here, the derm shared her favorite essentials and skincare advice—including her mindful secret to inner and outer beauty in between touch-ups:
Best-kept beauty secret? Meditation. I think meditating is really important because it allows the brain to settle down. If you can find the time to meditate twice a day, those moments of relaxation helps everything about you, including your beauty.
Good skin starts with… Not going in the sun. As a dermatologist I'm always reminding my patients that the sun causes hyperpigmentation, uneven pigmentation, unwanted lesions on the skin. It causes fine lines and wrinkles, loss of volume…everything that's related to the skin not looking good starts with going in the sun. So if you [can't] avoid the sun, wear sunblock, do the best you can—it's really going to help the quality of your skin.
Must-have products? A product I love is the NeoCutis moisturizers because they have PSP in them, which are topical growth factors that help you as you get older and produce less growth factors in your skin. I must have the SkinCeuticals Blemish and Age Defense because I'm always breaking out, and if you wake up and find that you have a breakout and you apply a little of that serum, it really helps you and it's not too drying and not too oily. I also love Skinmedica's Total Defense and Repair Sunblock because it's the only sunblock in the marketplace that covers the entire spectrum of light—so not just ultraviolet, but ultraviolet, visible, and infrared.
What is your bathtub read? Avedon: Something Personal, which is the biography of Richard Avedon. He was one of the best photographers of all time and I'm obsessed with Avedon, and I was interested to learn about his life details. I would definitely recommend that book.
What is your favorite spa treatment? Foot reflexology. You can be fully dressed and ready to go out and get a 30-minute beauty treatment that makes you feel like you're walking on air. It's really relaxing.
Give us your best beauty advice. Stay out of the sun, which sounds so boring. I also think meditation is important, exercise is definitely important, diet is important. Taking care of your health in general is important for your beauty because it allows your body to function at its highest level. When you feel good, you look good.
Who is your ultimate beauty icon? Greta Garbo. She was so beautiful and mysterious and a great actress.
Three things you never leave the home without? Lip gloss, a credit card, and my iPhone. [Laughs.]
What is your exercise regimen? Currently I'm lifting weights because as you age you produce less muscle mass, and if you don't have the resistance from lifting free weights then your muscles will be…not as good. I also do yoga because I love yoga; I feel that yoga is so good for your balance and your strength. Those poses are a thousand years old, so I think the asanas do help you in different ways. Doing yoga once or twice a week can really help you with balance.
What's exciting you the most about fashion right now? One of my favorite designers right now is Demna Gvasalia. I find Vetements super inspirational—he was the first one to do all these deconstructed hoodies, and hoodies attached to jackets, and these reworked cut-off jeans when nobody was doing that, and now everybody's looking to him. His last collection at Balenciaga was so good. I really like Karl Lagerfeld at Chanel because of the spectacle. This last show was amazing. If you go on my Instagram there's a clip of him coming out of the end. He transformed the entire Grand Palais into an arboretum with real and trompe l'oeil trees on the wall. I also love Valentino; I love what Pierpaolo [Piccioli] is doing. I think it's very romantic and beautiful; the couture collection was amazing. I'm hoping to wear something from that to the Met Gala [laughs], but I don't know.