Top Makeup Artists Share Their Lipstick Secrets
From making any shade last forever to dealing with the dilemma of what to wear under a mask, industry pros share their tips and tricks in honor of National Lipstick Day.
---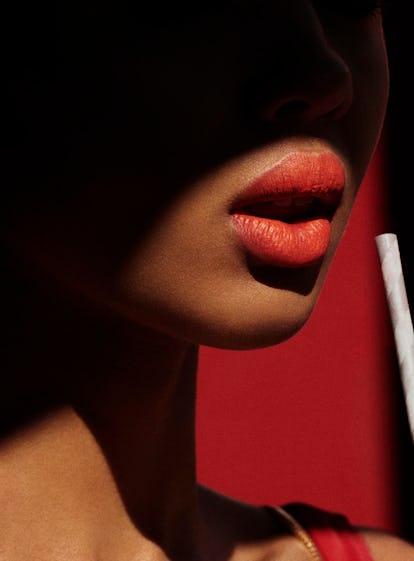 Photographed by Julia Noni.
"Lipstick is a form of self-care that raises your vibrations and makes you feel good. It's an emotional pick me up, especially during this tumultuous time," says Sir John, the makeup artist famous for his beautiful beats of Beyoncé, Joan Smalls and Karlie Kloss. Even if you aren't one to normally adorn your face with maquillage, just the act of dabbing on some lip paint can make you feel special. "It adds that kind of luxury feel to the self," adds Diane Kendal, the legendary pro responsible for the makeup wizardry at some of the fashion industry's most high-profile runway shows and campaigns.
In honor of National Lipstick Day, we've compiled lipstick tips, tricks and advice from some of the top editorial and celebrity makeup artists in the biz to help you thrust your best pout forward—even under a mask.
COLOR THERAPY
Siren Call: For the makeup maestro Tom Pecheux, there is nothing sexier than a matte red. "Burnt red to be exact. The shade is so sensual. It is on fire. It looks warm and cozy and sort of used."
Pinks for All: When it comes to choosing a pink that works for most skin tones, artist James Kaliardos favors hues with a bit of peach in them. "I love how Michelle Obama wears paler pinks. Some shades of pink that are a bit more skin tonal look great on medium to dark complexions."
Nude Gone Wrong: According to Nick Barose, whose clients include Lupita Nyong'o, Gugu Mbatha-Raw and Angelica Ross, when it comes to bold colors, there's no such thing as too bright. "It's fun and when you go bright, you're obviously not going for a natural look so anything goes." However, the reverse isn't true. "There is such a thing as too light. A lot of people think that nude is this pale color that's very light and pasty. That's entirely wrong. Nude should look natural. It's not nude if it looks like you are wearing concealer on your lips. It is as unsexy as opaque nude pantyhose that don't match your skin."
Neutral Territory: To determine the perfect nude shade for you, use your natural lip color as a starting point—never go lighter—to avoid looking washed out. "Then match the undertone of your lipstick to your skin for a natural look. Choose warmer shades if you have an olive complexion. Stick with shades that are more pinkish if you're a cooler skin tone," instructs Tyron Machhausen, a Chanel makeup artist whose regular roster features Zazie Beetz, Jessica Chastain, Tessa Thompson and Dakota Fanning
Uniform Lessons: If your lips are an uneven tone, where some parts are lighter than others, take a matching lip pencil and sketch it all over the lip as a good base coat so that it looks homogeneous. Then, layer lipstick over it. "It's simple and easy. I don't believe in adding too many things like color corrector on lips—it just ends up looking cakey," notes Barose.
Color Chameleon: "The colors in the tube can sometimes be deceptive," says Kendal. "The natural oil on your lips can affect the color. That's why the same shade might look different on one person than on another. The best way to know what a lipstick looks like is to just try it on."
MAKING IT LAST FOREVER
Blot and Repeat: "The easiest way to make your lipstick last is to take a single tissue layer, put it over your lips and apply loose transparent powder over it. This will blot the oils in the lipstick and set the color pigment. I like to do this step two to three times. It makes the lipstick last forever, it doesn't transfer and the color is ultra-intensified," says Machhausen
Glossing It Up: If high-shine formulations are your thing, veteran makeup artist Ashunta Sheriff, whose client list include the actresses Taraji P. Henson and Jennifer Hudson, offers helpful instruction to prevent your glossy lipstick from smearing and sliding. "I like to use a lip liner to contain it; then powder around the perimeter of the lips to help prevent bleeding and feathering."
LIP TRICKS
The Soft Edge: For a soft natural lip line that's still defined, use a lip brush instead of a lip liner. "It's less harsh-looking," says Kendal.
Effortlessly Sexy: To add oomph to leaner pouts, Kaliadoros suggests rimming your lips with a liner that is slightly darker in shade to your lipstick: "Matte works best. Then, add a punch of gloss to the center of your lip. It'll catch the light and make your lips look infinitely juicier, while still chic."
Noughties Update: The 90s trend of lining your lips with a darker shade than your lipstick is back—but now with a softer iteration."The best way to recreate the look is to line and fill in lips with lip liner and then add your shade of choice in the center of the lips—so it's a soft, muted ombre feeling more than a harshly drawn outline," says Sherrif. Instead of the more jarring shades that were preferred back then, opt for a medium brown or deep brown shade. "Just that change can elevate the look and render it more as a chic homage to Aaliyah or Mary J Blige."
SOFT TO THE TOUCH
Going Undercover: In the fight against Covid-19, donning PPE is a must. For mask wearers who would rather not go without their usual lipstick pick-me-up, most pros suggest wearing a lipstick that is transfer-resistant or mattifying, or opting instead for a lip stain or tinted lip balm. However, just because a formulation is mattifying doesn't mean you have to sacrifice hydration. "I like to use eye cream. It gives the perfect amount of moisture without changing the texture of your lipstick like a lip balm sometimes does. Plus, it doesn't break down the ingredients in a long-wear lipstick that allow it to stay on all day," says Sir John.
Getting Rid Of Dry Build Up: Nothing looks worse than dried, scaly lips. To ensure that your lips always look fresh and healthy, be sure to slough off flakes and dead cells before applying lipstick. Sir John likes the old school approach of mixing together cornmeal and honey or brown sugar for soft, kissable lips. If that sounds a bit messy, Kendal recommends using one of the ready-to-use lip exfoliators on the market now. Applying a hydrating lip conditioning treatment afterwards, like Codex Beauty Lip Salve is Sheriff's secret to a moisturized kisser." It's so amazing. It's always sold out," she raves.
OUR FAVORITE LIPSTICKS TO TRY NOW