Lisa Says Gah Is Lusting For Anything in Rainbow or Mesh
Former Nasty Gal buyer Lisa Williams launches her own shop, Lisa Says Gah, an eco-conscious and feminist online store.
---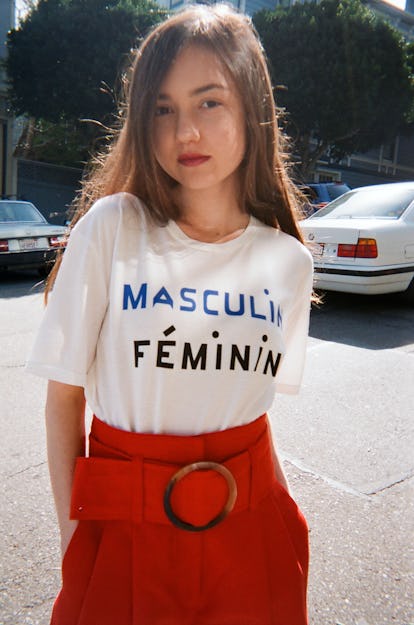 When Lisa Williams says "gah," she means business. "It's that reaction to something you really love, but you can't put your finger on why," she explained in reference to the contents and name of her online fashion destination, Lisa Says Gah. After leaving her job as a buyer at Nasty Gal in 2011, Williams, 30, moved from Los Angeles to San Francisco to be closer to her now-fiancé, but found herself in need of a creative outlet. At the time, "Lisa Says Gah" was just a blog where she aggregated inspirational fashion images, but she ditched it when "Instagram became the next best thing." Williams then decided to combine the two platforms with a shoppable website and Instagram, which she eventually launched in January 2015. The site is one part e-commerce, featuring designers like Maryam Nassir Zadeh and Ryan Roche, one part inspiration images, and another part blog, featuring interviews with creative women. The overall mission though is to highlight a crop of female designers who also use ethical production methods. "In an increasingly oversaturated market, our goal is to provide a stimulating and refined environment for the intelligent consumer, to shop, learn and, most importantly, find inspiration," Williams said. Here, she shares other destinations that satisfy all of the above and the secrets to digital fashion success.
Occupation: Founder of Lisa Says Gah.
How would you describe the Lisa Says Gah style and customer? Our shop is for the successful, secure woman who aspires to simplicity and elegance over trendiness. She's intelligent, curious, and values quality and original design. She knows what she wants and goes after it. For styling, it's an eclectic mix. I like to capture the confidence and ease each piece can offer.
Favorite stores in San Francisco: Heath Ceramics, Anaise, Ampersand floral shop, Stuff vintage, Internation Orange spa & beauty shop, Press rare book shop, General Store, Juicy News magazine stand, Hudson Grace, Leftovers.
Other favorite e-commerce sites: EBay.com for vintage shoes and bags, goodeggs.com for local food, violetgrey.com for beauty, santamarianovellausa.com for fragrances, net-a-porter.com, and charish.com for vintage home goods.
Daily uniform: A put-together, feel-good, feminine look that usually includes jeans, heels, turtleneck or blouse, blazer or coat, earrings, lipstick and mascara.
Style icons/inspirations: Sophie Buhai, Solange, Maryam Nassir Zadeh. All for their effortlessly cool, confident and understated luxurious looks.
Best recent discovery: Snapchat.
Style pet peeve: Tight, constricting clothing.
Last purchase: Early '90s chunky, eggplant colored Vintage Prada heels on eBay.
Lusting after: Anything in rainbow or mesh.
Nighttime look: Loose, comfortable, elegant, and always a 3rd piece like a jacket or scarf, evening bag, mascara, and lipstick.
Preferred footwear: Strappy blocked heel or Martiniano glove. Usually 3″ and under heel.
What's something you always carry with you/travel with: Phone, card holder, keys, lipstick, blotting papers, laptop, a giant bottle of sparkling water, and a new book or magazine when I am traveling.
Most prized possessions in your closet: My mother's camel wool coat from the early 80s. She bought it for commuting to her first job on the east coast. A handmade lace dress I bought in Bali. Lastly, a couple of pairs of vintage denim that are on constant rotation.
Favorite accessories you own: My engagement ring, a vintage gold chain choker from my friend Cherysse, Gold hoops from my parents, a slim Gucci watch from 2002.
What's the secret to social media success for your brand? Authenticity. Be yourself and it's easy. You'll attract the right people and gain momentum when you're consistent and genuine. Regarding the #SayGah contest, it follows our ethos of community and sharing. It's a fun and creative way to get people to participate in a promotion.
How conscious of you of "the grid" on Instagram and making your profile have a recognizable aesthetic or "filter?" Not very. We do not use a filter, but I am mindful of post timing and product vs. inspirational posts. A lot of images are photos I've taken on film alongside arbitrary imagery of what has us excited right now. Somehow it ends up looking cohesive-ish.
Instagram muses: We post a muse each Monday. A few recently posted favorites: @lilleeee, @alyssaneilson, @camilladeterre, @amy_sall, @tony_gum, @_chicadeoro.
One male designer you love: Simon Jacquemus. There is confidence in his design that I admire. I bought a coat last season. It dominates the outfit- key for winter dressing when you want to be warm without sacrificing style.
Pieces on your site that you want to own right now: All the Common Muse pieces, Bower swim, Maryam Nassir Zadem Martina Daphne stiletto, Myers ring tote, Land of Women briefs, Fur oil.
Photos: Lisa Says Gah Is Lusting For Anything in Rainbow or Mesh
Photo courtesy Lisa Says Gah.
Photo courtesy Lisa Says Gah.
Photo courtesy Lisa Says Gah.
Photo courtesy Lisa Says Gah.
Photo courtesy Lisa Says Gah.
Photo courtesy Lisa Says Gah.
Photo courtesy Lisa Says Gah.
Photo courtesy Lisa Says Gah.